Currently viewing the category: "self-timer shots"
As much as I wanted to just put on my sweats after church… you know, the ones that I have practically lived in since Christmas when I bought them for myself. (Thank you to me!) Yes, they were sounding mighty nice especially since the last two hours of church are spent in the nursery where I take care of the cutest crying kids, snack on goldfish crackers & fruit snacks, and teach them about how much Jesus loves them! Which is a very good place to be, if you ask me, but also very tiring. As much as I wanted to just crawl in bed… I decided that this little angel, who is about 11″ long now, really deserves to have his little life documented. Or in this case my belly's picture taken… in all its growing glory!
And it's also proof that I do change out of my pajamas.
I remember when I was pregnant with Avery, my first, I swear it's all I ever thought about. Every second. It's a little different this time around and sometimes I forget for a moment that I am pregnant. Obviously because there are three other girlies distracting me from daydreaming about that yummy baby smell. Or freaking out about those 3 am wake up calls. But it's kinda fun because when I do remember it's Christmas morning all over again. I don't know if having another baby at this moment was part of my plan… but that's the ease of this life. We are not in charge. Someone else knows what's best for us. Or knows when we need to learn and grow.

Self-portraits taken with Canon Mark II and my self-timer remote
I always feel like I need to apologize when I don't post something creative on Monday… and give some excuse or something. Because I really really did make things, pinky swear! Instead of posting them I boxed them up and delivered them to the publisher of my book. And right now I should be finishing up the rest of my projects but I am definitely procrastinating. Quincey is at a friend's house. Lola is napping while Avery should be home from school any minute. Instead of working on said projects I keep pouring myself another bowl of cheerios. And now, apparently, I'm blogging.
This week is going to be cray-zay town… but I am excited because this weekend I will going to SNAP! and I'm also a presenter. I am speaking on a panel Friday at 10:30 about turning your  passion into a business. Are you going to Snap!?
Friday & Saturday I sold a few different items at Bijou Market and we sold out the pleated lace & brown feather slips. Don't worry, I saved some to post online so you don't feel left out. : ) It was an incredible market and inspiring to walk around and see everyone's goods.
Shoes and my favorite necklace: Ruche//Pants: Target
Peach + Grey + Mint is one of my favorite color combos right now.

Last week I seriously was on one. It must have been everything on my plate but I was bugging myself so I know I was on Collin's very last nerve. I'm grateful for someone who will love me & cheer me up on my bad days.

Happy Monday!
Valentine's Day is never overrated, in my opinion. It's a holiday to celebrate love and usually involves flowers and chocolate and some serious cheese. And I don't mean cheddar… though I do love that too.
If my calculations are correct, and they usually are not, this is our tenth Valentine's Day together. 10. What the? One of my favorite parts from yesterday was when Collin took my face and cheeks in his hands trying to see how I'd changed over the years. Examining until he confirmed that my eyes are the same. Which reminds me of a quote… ahem, pardon me while I quote Antoine de Saint-Exupery, Love is not just looking at each other, it's looking in the same direction. That's right Antoine… high five!!! But honestly I do love this quote because through all our years together the clearest image I have of feeling connected is when we were on the same path. Growing together keeping the same end result in mind, I don't know if it's necessarily love, but it sure makes loving easier.
Like birds that flock together… okay I am so done… but like I warned earlier there would be cheese.:) Hope you had a lovely day or at least I hope chocolate was involved.
xo, Lizzy

This morning I wanted to share one of my secret weapons for adding a pretty effect to your photos in Photoshop… & it doesn't require any actions. Huzzah!
The photo is a self-timer shot at the airport. I timed it perfectly so it took a pic before any cars drove by and smashed my camera… phst and Collin doesn't trust me toting it everywhere. (Thank goodness most of the time it's cozy in a jo tote.)
Annnnyways, generally I edit with Photoshop CS5 but I am sure you can adapt this to work with any software. Since Totally Rad Actions are used on the daily for me, I will show a bit of brightening and sharpening with them in my editing process. Hopefully it's not too boring and you make it through to the cheery song at the end.
xo, Lizzy
If you are reading this in your email: click here to see the video.
I am not a morning person, and since our kids wake up at the butt-crack of dawn, most often I am missing my pillow. There are mornings when I want to hide under the covers and drift back to dreamland not ready to face the world. But not today. Instead of slushing around in my slippers drinking a cup of sulk. I strapped my camera around my neck and embraced it. Capturing the chaos, the coziness & fresh feeling. The rush to get Avery to school then the calmness of our mornings.
These will be fun in my Project Life when I start on mine after CHA… but for now I'm going to hold tight to the certain marvelous found only in the morning.

We still have balloons floating around from the Neapolitan Video shoot. 
Seriously? I can't believe this baby is that trained that she even smiles at self-timer shots. haha! jk… she's such a cheerful girl. A cheerful girl who climbs up everything… the ladder to the bunk beds, chairs & here to the kitchen table to eat the last few bites of her sister's oatmeal.
Toes and shoes on the wrong feet.

Considering the fact that there is a shiny pile of Hershey kisses wrappers staring at me with shame, one of my goals had a bit of a rough start today.
Good thing I have 364 more days to eat healthier & not to mention a giant chalkboard memo in case I were going to even think of forgetting!  Some peeps use a tiny string tied around their finger… we need an eight foot wall as a reminder.
After sharing our goals and explaining what goals are, I asked Avery what her goals is: "Be good to people." Could there be a more perfect resolution? Oh, wait… you didn't hear Quincey's yet: "Draw a picture of a goat." Collin and I got a good laugh about that one. But both ideas could truly change the world! !!
Happy New Year!!
This Christmas will forever be known as the one when I cried about a blender. A happy-cry that is.
This is what my life has come to, you guys. I'm thirty with three kids and I didn't ask for some sexy stilettos or diamonds… I asked for a kitchen appliance. Collin looked at me from behind the video camera, as I opened my present, with a puzzled look on his face, "You're crying?!"
There was never an official letter to Santa wishing for one but I did want to start drinking those green smoothies every morning… oh my goodness. I just realized it only gets worse. Not only did I want a blender but I want to mix up kale and spinach and actually drink it. Willingly! This is coming from a girl who eats brownies for breakfast. Well, I guess I am officially growing up… and the happiest green smoothie drinking, blender hugging momma around!!!
This time of year I get anxious and thrilled for the new year. A fresh start. A new list of resolutions… since I sucked at last years! haha But the anticipation for what the new year has in store is always exciting!
PS If you have any good green smoothie drink recipes please, please share!!  
Excited to announce that I am joining in at Studio Calico and their awesome new Photo-A-Day workshop. My photos were all self-timer shots like the one above.  Can't wait to see what the other teachers came up with and to attempt a photo-a-day for 2012. I am not usually successful at the photo-a-day challenge but the ones I do capture make it all worth it.
High five… for actually being able to see my desk. Wahoo! This place has been a scary sight. Well, about a year ago I moved my office to our dungeon of a basement. It was nice but seriously I just never would go down there. Usually I craft in spurts when the kids are distracted playing for a minute or I sneak in a few minutes here and there but when it was downstairs I couldn't really sneak away. I am happy I moved it all back upstairs and I'm back in business baby! Tonight Collin hung some spiffy shelves and a rail to hang stuff on. We hit up Ikea for it all and got lost in their mouse maze but rewarded ourselves with an ice cream then piled all our goods into the car. Soooo, I got everything off my desk and and am enjoying the next 5 minutes while it remains clean… it is still clean… it is still clean…
I also have a high-top table on the other side of the desk by some windows that is piled with stuff at the moment so don't be too proud of me. I'm going to share more about my space and details when I get it more cute for ya. Until then ladies, I am resting up since I'm sick and trying to work on some fun things when I feel up to it. In a couple days I have a pretty cool announcement and also a giveaway. Stay tuned my friends!
xo, Lizzy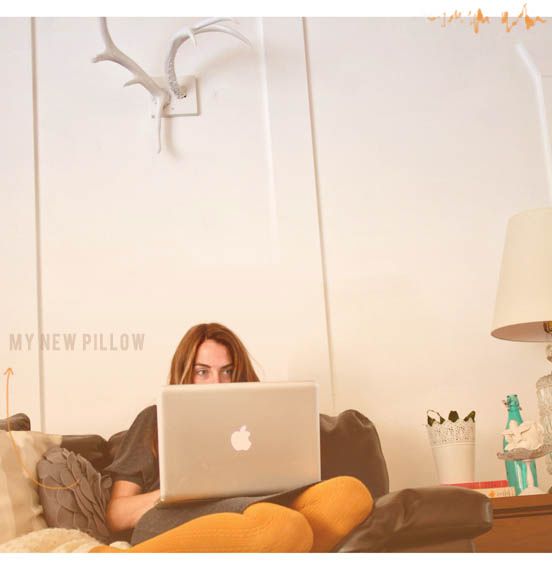 "Your time is limited, so don't waste it living someone else's life. Don't be trapped by dogma — which is living with the results of other people's thinking. Don't let the noise of others' opinions drown out your own inner voice. And most important, have the courage to follow your heart and intuition. They somehow already know what you truly want to become. Everything else is secondary." Such an inspiring quote from the late Steve Jobs
PS Yes, we have antlers hanging up in our home. It was quite the fiasco to get them up there. But I coaxed Collin and after some battle wounds (those things are heavy) and some bribery there they are. I like 'em. I should hang tiny twinkle lights from them soon.
PPS Did I mention it was snowing here today? Snow was falling from the sky for a few hours. Yep, if you don't believe me–
evidence right here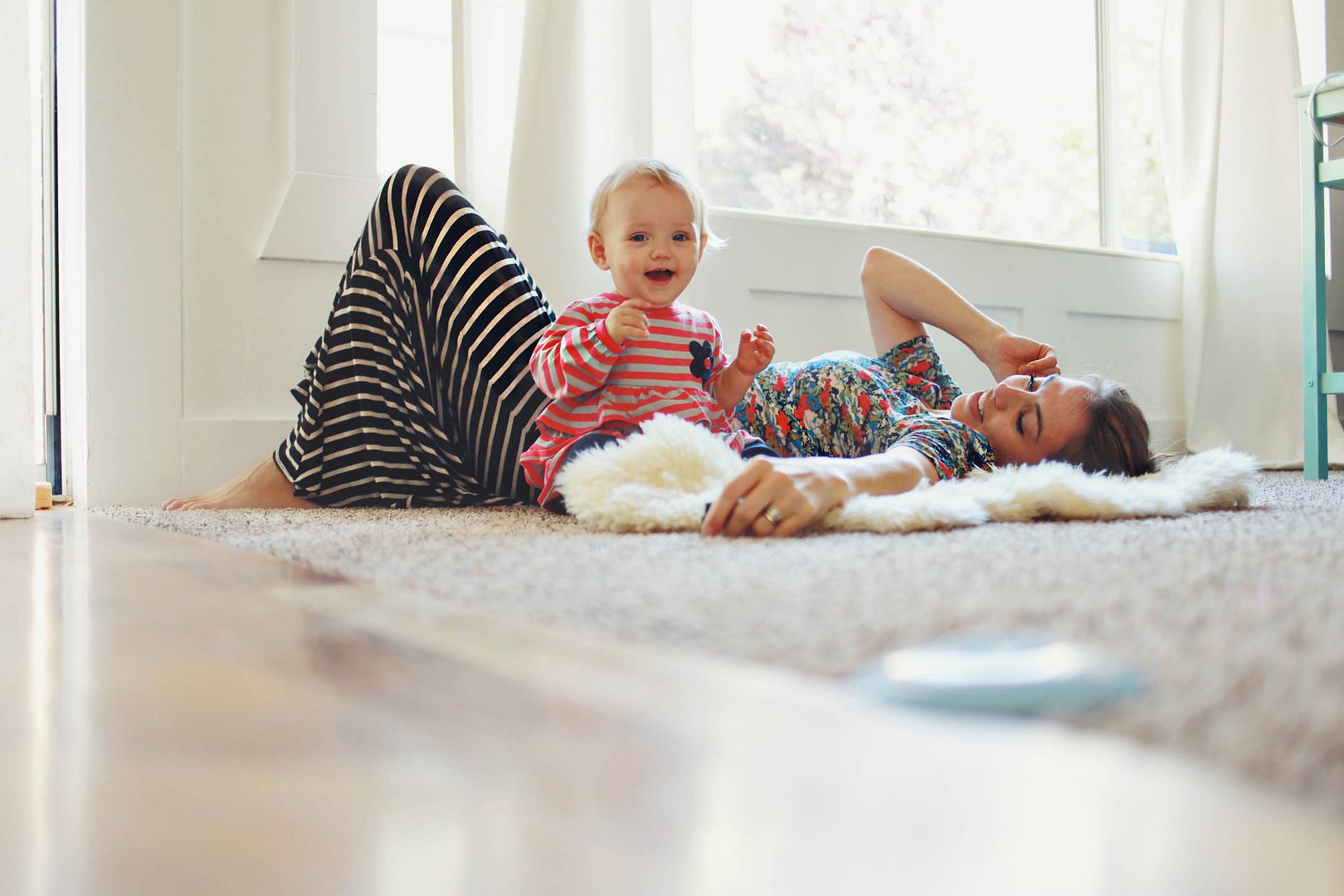 (As much as I love to travel I really missed being home. This is where I am the most me.)
Self-timer photos definitely have to be spontaneous because they turn out best if you try to capture a moment rather than forcing the picture. Yesterday I took a few different snapshots. Some outside during our tea party and these when we were inside hanging out. Some of my favorite photos are taken using the timer because they aren't perfectly posed but more of a peek into the day-to-day.
I used my self-timer
camera remote
for these photos.

Well, it took a few times, Lola was distracted by the camera beeping and wanted to eat the camera & Quincey wanted to hide in my skirt. But no one ever said these photos are supposed to be perfect.