Currently viewing the category: "party time"
We celebrated Lola bug's birthday yesterday. This girl is so cheerful, loves everything girlie, frilly, pink, rufflly! Loves dress up, crawling in our bed at 4 am, and dancing to Annie. And she's got some serious sass.
Her day started with a waffle breakfast & crown then a date with mom and dad of playing at her favorite trampoline-jump place, dinner, shopping and dessert. A tradition we started last year where mom and dad get one on one time with the birthday girl/boy… it's my new favorite thing! We went to Texas Road House and she was not shy about sitting on the saddle and yelling "Yeeeeeeehaw!!" Then she filled up my stroller with everything at the Disney store she could reach and ended up with an Aerial doll. Course.
Because if you want your daughter to look up to someone– it's the 16  year old princess who rebels against her dad for some boy she says she loves that she's never even talked to and then she runs away to find an evil, crazy person to help her who ends up tricking her and almost killing everyone. Haha! Love Disney movies.
Growing up my mom made sure that our birthdays were such a special day. I can remember a Strawberry Shortcake Doll cake she made and I even have an invitation in a keepsake box she sent out for my second birthday. Man these girls' birthdays sneak up on me but I managed to make some quick fringe garlands, ombre table cloth from last birthday and ballon garland… Trying to do my best for them to feel that same love I remember.
-BALLOON BANNER: this is so easy. Just blow up a bag of balloons and then tie them about 6 inches apart, depending on how big they are. Use twine or curling ribbon. Then hang it up.
-FRINGE BANNER: I shared how to make fringe banners in a previous post. Using plastic tablecloths and a rotary cutter. I hung up the fringe as garlands and also vertically on the ends of the balloon banner.
-PAPER GARLANDS: You can find some garlands at party supply stores or online that add some dimension to the decor.
-OMBRE TABLECLOTH I used RIT dye and some fabric and dip dyed the tablecloth… I've been wanting to make one for ages and thanks to this pipsqueak's birthday I had an excuse to do it.
I told my sister when she opened this dress from her that I guarantee she will sleep in it. And she did.

This morning was cake for breakfast & the after party! bwaha! xo, Lizzy
What can I say? I love birthdays! A great day to celebrate the life of someone in your life. Like Collin. He is everything to me and so I needed the perfect, meaningful sentiment for his Happy Day!
Apparently turning five years old is critical information because this little dolly has to tell everyone she's five years old. If I'm talking to a friend we ran into somewhere she will tug on my shirt until she interrupts, "Tell your friend I'm five." Or when we were stopped at the hospital parking entrance she's yelling "Mom! Mooom!! Mooom" from her carseat… "Did you tell that lady I'm FIVE?!"
Instead of a handful of rambunctious five year olds celebrating her birthday, we took Quincey out for some one-on-one time with Collin, Myles and me. Swimming, dinner at Texas Road House and then a stop for a cupcake at Sweet Tooth Fairy for dessert were on the agenda. You could tell she needed and adored the undivided attention. Bascially, she was in heaven.
Each year I have back to back birthdays for Quincey and Avery… seeing that this year I had a newborn baby I kept it pretty simple. The focus being on the girls… oh, and the birthday cakes. Last year I went a little overboard with cakes and the madness continued this year.
To keep decor simple I used things I had on hand:
-BALLOON BANNER: this is so easy. Just blow up a bag of balloons and then tie them about 6 inches apart, depending on how big they are. Use twine or curling ribbon. Then hang it up.
-FRINGE BANNER: I shared how to make fringe banners in a previous post. Using plastic tablecloths and a rotary cutter. I hung up the fringe as garlands and also vertically on the ends of the balloon banner.
-PAPER GARLANDS: You can find some garlands at party supply stores or online that add some dimension to the decor.

The baby boy is still cooking in my tummy. This Friday is my due date but a little bird told me he will be here before then. eeeek!
My sisters and mom put together a rain theme celebration for our baby boy. My growing/kicking/keeping me up all night baby boy and I definitely felt loved and supported by the lovely women in our lives.
The rain theme was cute for the shower and she made darling decor to go with it.
Including a rain drop cloud pillow below. Cloud tissue paper puffs with rain drops sewn and hanging down. Guests wrote their name suggestions on the rain drop. We all know I've needed all the help I can get with that.
There was a Baby trivia game my sister in law, Allison, put together. The winners got some fun prizes.
The brunch menu was delectable… but that's no surprise because my sister Camille always goes above and beyond!
\
We didn't get a pic of the whole group but managed to snag this one with Avery's six year old photo skills!
xo, Lizzy
You guys, as much as I try to steer away from pink it is just not possible with these three sprouting girls.
But hey, there's nothing wrong with pink everywhere and on everything, right?!
We celebrated this tot's birthday among all the Thanksgiving hoopla… and we did our best to knock Thanksgiving's meat and potatoes party out of the park with our little shin-dig. Darn it! I think my mom's sweet potatoes and Collin's apple pie won!
Pink Ombre ruffle cake and painted toys for jar toppers. Avery wasn't to keen on seeing her toys painted and glued to a jar… thank goodness I had candy close by to repay her.
I put together some favors for the kids coming… I used my Olivetti typewriter and wrote, "Thanks for coming party animal!" Added some Dear Lizzy chevron paper and a tag sewn on the bag and the bag sewn shut. 

I used RIT dye and some fabric and dip dyed the tablecloth… I've been wanting to make one for ages and thanks to this pipsqueak's birthday I had an excuse to do it.
In case you were wondering… nope, my love for giant birthday balloons has not seized. I will let you know when it does. ; )
I strung one of my glitter Dear Lizzy banners and at the end grouped together some honeycomb balls and balloons.


Darling party hat sent from Miss Ruby Sue… the queen of hair accessories.
The after party is when the real fun begins…

When I thought that my heart might already burst for being a mom and having these cherished daughters to call mine… god sent me Lola.
Ever since she was a baby she has been cheerful.  I've been anxious to see how that particular trait grows and changes as she does… and although she's added some newfound sass and attitude that beaming happiness is still there… Like when I leave the room for a few minutes, or wake up in the morning or leave for date night when she sees me again it's, "Mommma!" and a run with arms-wide-open hug. She loves to cuddle still which is really sweet since her older sisters were too busy for that mushy garbage at this age. She says "sorry" with the softest, squeaky voice whenever she might have accidentally… or purposely hurt you. She loves her sisters and is one step behind them trying to keep up. She loves her daddy. When she wakes up in the middle of the night she's calling for him. She'll ask me periodically during the day, "Where's Dadda?" Just to make conversation. She'll laugh and laugh if you laugh along with her and although she doesn't even know what's funny she knows that she feels happy. Oh, my heart!    Love you sweet girl!
A quick how-to for one of my favorite party decor ideas… FRINGE! All you need is a rotary blade and any paper or supplies for the banners.
I used plastic table cloths for Avery's Birthday party, mixed in with some gold tissue paper.
Cut to desired height and make sure you fold it in half, keep the fold at the top.
Cut it to the desired height then use a cutting mat to know how far you are spacing the fringe. (Loving my new cutting mat from American Crafts!)
I spaced out my fringe to about 1/4″ and left about 1/2″ from the top.
If you make one out of tissue paper follow the steps above then to lengthen the banner I sew all the pieces together along the top.

Another one of my glitter word banners. For those of you who emailed me requesting one–I will email you next week after my trip!!! I apologize if that is too late and I missed your party! xo


I must be having party withdrawls from the back-to-back birthdays so I added a little festive Be Nice banner. Seriously, maybe my kids are bored with it being summer and school is out but my two oldest girlies have been really quick to hit or not share. This was the appropriate saying for the occasion.
Actually a nice reminder to all of us. ; )
Running around in wings with your face painted must be pretty magical. And hearing her say, "this is the best birthday ever" sealed the deal. Although I did have to force her to wear her birthday dress and bribe her with cake!
A couple days before her birthday we decided to do a fairy birthday theme… This meant running a few errands one night getting most of the stuff at Zurchers and Hobby Lobby. It was a pretty simple party with a few fun details.
Punched butterflies with my Neapolitan collection paper and cut two slits in the center of the butterfly and attached to the straws
Jars with Pixie Dust and candies
Donut Holes with sticks and punched papers with butterflies
Magic Wands aka suckers
Cake from Piece of Cake
Collin cut the grass and I made flowers from crepe paper.
Tiny fairys on toothpicks: Meri Meri Fairy Magic 
I'm having way to much fun with designing the cakes for these littles' parties. For this one I decided on ruffles, flowers and ombre pink cakes inside. Pretty dang girlie!
One of the highlights of the party was having a face painter come. A couple nights before the party mentioned the idea and so I google searched local face painters and was so happy to find someone. She was great and it was awesome to watch her paint butterflies, tigers… and a sunset on Collin's forehead.
When Quincey woke up the next morning the first thing she sleepily asked, "where's my face?" Cracking a smile I told her it's still there… all smudged from sleeping. She fell asleep while our family was still over on the couch and so we didn't wash her face off yet. Her dreams were sure to be magical that night.
The picture below makes me laugh every time I look at it. Her first look at her wings.
My darling fairy niece.
A stack of donuts and tiny fairy: Meri Meri Fairy Magic
There was a kids' craft but my sister laughed because we never get around to making those… another day I guess.
Birthday party madness is the best! Thanks all of my family who came. Love you all!
Some Instagrams of the day.
Stolen Instagrams from my familiy:
xoxo, Lizzy
Some of my Dear Lizzy collection I used:

Thanks for your emails, messages and reaching out to me during my blogging hiatus! I'll share more thoughts soon but I just needed a break after working on my next Dear Lizzy collection and a book. I sure missed you!  xoxo, Lizzy
A Birthday party pow-wow came about for one reason. I wanted to make a tee-pee! Avery was thrilled for the idea because one of her favorite movies is Peter Pan and she insisted on being Tiger Lily & she knew there would be cake involved.
Here are some of the details:
-Chocolate dipped huge marshmallows topped with rock candy (nerds), gold rock sprinkles, grated cookies etc
-Jars with diecut lids and striped straws
-An arrangement of mini succulents each in a pot then in an wood Ikea candle holder
-Felt Fox stuffed toys for favors
-Made my own arrows with wood, washi tape, and felt
-A pretty plant from Home Depot. The leaves reminded me of feathers.
-Burlap Tablecloth
-Dip dyed bags with favors

ARROW CUPCAKES

PARTY HATS FOR INDIAN FRIENDS

THE CAKE: was my favorite part! I found a local cake extraordinaire and I told her what I wanted. Chevron stripes, flowers and make even a fox somewhere. It turned out amazing. It's called Piece of Cake. Do you like the little pokes in the frosting from anxious, drooling indians?

RIBBON WANDS:

PARTY HEADDRESS & FRINGE

FELT FOX FAVORS AND SUCCULENTS

What I used to display the Roasted Marshmallows (chocolate dipped mallows) A canister that I spray painted and filled with white beans. Wrapped with fabric and added a diecut feather from Silhouette and a real feather with yarn. You can also see the diecut jar lids and straws.

Her headdress was so fun!
I cut a piece of felt. Sewed some vintage lace at the top and elastic in the back. Put washi tape around some pasta noodles and some string. Added feathers inside the noodles and along the felt.
This birthday feels much more different than 30. Thirty one… eek! My sixteen year old self would definitely think I'm so old but, yet, I don't feel old. Except after 3 days of Disney and I couldn't even walk the next day. ha!
I always thought by thirty I'd have it all figured out. But this past year has been a bit of a growing year for me. Growing is a nice way of saying sometimes really sucky. There wasn't anything life threatening or anything I should even complain about but I just learned a lot about myself and am trying to continue to take all I can from this life and become a better woman. There were definitely high and lows and sometimes they occurred at the same time. And sometimes all there was left to do was cry… or eat ice cream. Sometimes everything felt clear and other times life was a murky mess. S0metimes people I don't even know tried to bring me down but always someone I love was there to lift me up. What can we do but get on our knees and pray, then get up and move forward. (That last part sounded like a really bad version of a quote.; )
Anyways, thankfully I am quite blessed even during the growing times and Collin is without a doubt there to make me laugh & my girls are there to give me loves. My family is all I need. As cliche as it sounds: my life is definitely filled with sheer joy… I just hold onto that. I'm also learning that it's actually my attitude that determines a lot of it. So bring it on thirty one! I can tell already it's going to be a great one.
My birthday started out with a little house cleaning and work emails. Then Collin held down the fort and I got to take Avery with me on a lunch date with my sisters and mom. Pedis and Malawis pizza were on the agenda. I realized I don't do this enough with my sisters. That night Ashley and I stayed up past 2 am talking. This is very out of the ordinary for me since I love to sleep but it was totally worth being a zombie the next day. ; )
Since it's my birthday I got to choose the restaurant to eat dinner at and since Collin didn't like my first two choices we ended up at Thai Drift. It was our first time eating there since we usually eat at our favorite, Thai Ruby, but we were surprisingly impressed!
cheeeeeeesssse & uuuuuhhhhhhhh.

Clearly, I still need to unpack from my trip since this is the randomest outfit but at least it was comfy. Beatles and Polka Dots: Skirt, Shoes: Ruche//Pleated Slip: One of the slips we will be selling really soon.
For some reason we always, always forget to get a group shot at Birthday par-tays…!
(Thanks for everyone who came! Love you all!)
I sold glitter banners at Bijou Market but if you are interested in a Happy Day or any custom glitter word banner email me: Lizzy@MakeSomethingSplendid.com
FABRIC GARLAND:

Cut fabric. My strips are 1.5″ x 35″ (before folded in half)
1 Fold fabric in Half length wise then fold the loop end over twine
2 Pull the end through the loop
3 Tighten to your liking and continue along twine
4 I used 27 fabric strips
We kept it pretty simple for my birthday this year since Collin likes to go over the top but it was a nice, low-key night… He planned on watching an outdoor movie but it was kinda cold… instead we just hung out and enjoyed ice cream sundaes!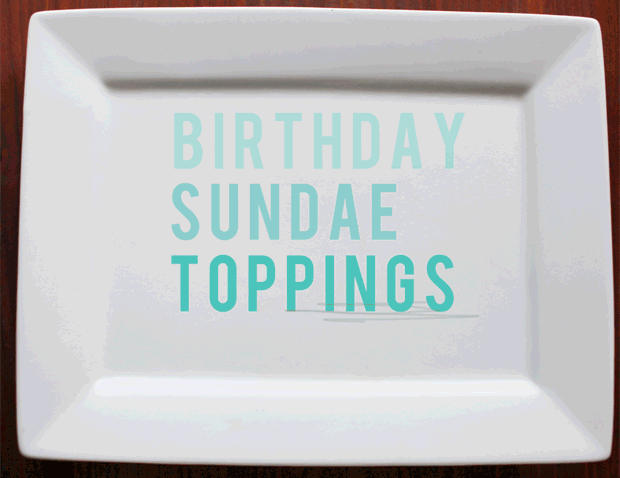 Family came over and we ate Sweet Tooth Fairy cupcakes, I think there were over 40 cupcakes total and every single one was a*mazing!  Even though it is my birthday I had fun putting together these little bowls and stamped wood spoons.
Toppings:
Cherries, Crushed Butterfinger, Crushed Mint Oreos, Chocolate Chip Cookie, Caramel, Hot Fudge
On another plate we had Diced almonds, Crushed Pretzels and Sprinkles.
I used regular ink and some tiny alphabet stamps I've had for ages then stamped on the ends of the wood spoons. Spoons are from Orson Gygi in Salt Lake.
What would you top your ice cream with? I was allllllll about the caramel, almonds and whip cream!