Currently viewing the category: "kids craft idea"
Fairy Birds is a darling book that teaches kids to give to others by spreading acts of kindness through out their day. Even better– they do so while dressed up in wings and sprinkle confetti hearts as they go. This children's book series is about Fairies who are actually in Fairy Godmother training. If you notice the wings my girls are wearing… each feather is earned when they are in training. In the first book they can grow their pink "givie" feather as they give to others. I love what this teaches and in a fun-interactive way!
Head over to Small Fry Blog for more pictures, videos & details including 3 giveaways for books & darling accessories…! Such a great gift idea and prezzie for your own Fairy Birds. Thanks to Emily and Nicole at Small Fry for the pictures and magical afternoon adventure!
Avery liked the poms I decorated our advent books with, sooooo, yesterday I taught her how to create her own. Since I had to google how to make them here's a little tutorial…
1 Wrap 100 times around 3 fingers (more or less depending on the size you want.)
2 Cut a 12″ piece of yarn and tie it around the whole wrapped piece. Leave this piece long until you are ready to use your pom. Tie from the back to the front so it kind of looks like a bow. Do not tie it from the center of the wrapped yarn to the front. It has to be tied around the entire wrapped piece.
3 Cut the edges
4 Fluff and trim. It was actually a lot more trimming then I thought. But you can leave it shaggier or nice and short. You are basically giving it a hair cut. If it is at a bad haircut stage keep evening it out.
There is also a great way to do this with two pieces of cardboard cut like a donut with two notches but this was easier for us. : )
You can string them along a garland, put on presents, on your tree or make ornaments.
My twin and me making some under the tree. Funny that this happens a lot where we are dressed the same. The other day we had the same teal colored pants on. I didn't even notice until the end of the day and Collin pointed it out. I do draw the line, however, when three of us four girls are rocking leopard print. That was a bit much. Only one girl allowed to wear leopard at a time. ; )

For the past couple years I have wanted to start that fun tradition where you unwrap a Christmas book everyday leading up to December 25th. I love seeing all the pretty stacked books on pinterest & blogs. And thinking of the kids all excited to open the next one sounded too fun to miss out on.
Well, I only had 20 books but I was ready to wrap. Collin helped me one night and we used just brown paper and string. I made some of them fancy with gold numbered thickers and ribbon. Since we started wrapping them before the kids went to bed I made it very clear that these are old books not new presents so don't be sneaky and open them early… we are opening one every day until Christmas. I looked at their cute faces and thought, hey, I think they are finally listening to me! Fast forward to the next morning when I was in the kitchen making breakfast and Lola came walking in with one of the wrapped books now unwrapped!! I ran to the living room and there was Quincey with every single book unwrapped!!!!!!!!!!!! The horror. Avery kept apologizing for her and Q said she was looking for her Olive, The Other Reindeer book. Of course she was. I wish I would've taken a picture but I think I was too bugged then. ha! Well, I wrapped about half again and they aren't as fancy but I used some pom p0ms and yarn and I strung some smaller poms on twine. Those little stinkers!! Definitely on the naughty list at the moment. ; )
A few of our favorite books:
POLAR EXPRESS
WHO IS COMING TO OUR HOUSE?
A WISH TO BE A CHRISTMAS TREE
RUDOLPH
IF YOU TAKE A MOUSE TO THE MOVIES
ROOM FOR A LITTLE ONE
THE GRINCH & I also wrapped our Mr. Krugers Christmas VHS (a classic from the 80s)
You can also go to the library and check out books for the countdown.
What are some of your favorite traditions?
Since my kids are too young to carve pumpkins, each year I search for other fun things we can do. Last year we made jar lanterns.
This year I diecut different Halloween shapes with my Silhouette and then we painted. This was fun because it was the best of both worlds. They got to paint and I got something cute to display.

STEPS:
Diecut vinyl with Sihouette or other system//Attach to pumpkin very well, re-sealing edges if needed//Paint//Remove vinyl
LAST YEAR: Painted Pumpkin Jars
The thing I love about these crafts is that I had fun too… and you could do them with out little munchkins. That would also mean less mess.
SEASONAL SUPPLIES:

"Here we goooooooooo!!!" Said like Peter Pan, of course. Which is quite fitting since we are off to Disneyland! That's right people. The kind of vacation where you are more exhausted when you get home. But you don't complain because… it's Disneyland. I will be eating my share of churros, pushing a sexy double stroller, and taking pictures of my kids standing by adults dressed in giant mouse costumes. Collin is already planning out the Splash Mountain pose for the pic. He wanted to be reading a book, or pouring a bowl of cereal… I'm scared.
Last night, I couldn't sleep because I had taken a non-drowsy allergy pill and earlier I drank a Diet Coke. This must have been a toxic combination. I was still going strong to the wee hours of the morning. But I'm glad because now I have this little book and what do I have to show for our last Disneyland trip? Nothun.  I haven't done anything with my pictures. This trip I am prepared with 4 cameras. This isn't a joke. : ) I don't want to lug my slr around everyday so I have some smaller options. Clearly, I am determined to document our time togetha. I grabbed some of my favorite supplies for a travel art kit.
Starting with Kraft Cardstock I used my Cameo and cut quite a few pages with one or two words on each.
Then I added some elements to about 5 of the pages. So they are ready to go. I am mostly going to add Instax to the album and possibly some Instagrams.
I spray painted the coils with gold metal paint and used my Bind-It-All to put it together.
The only adhesive I packed is my Glossy Accents since it is tiny.  And it's my favorite adhesive for the wood accents. Can you tell I am obsessed with SC's veneer pieces??!! Just slightly.
Also packed the least deadly scissors I own. The memory marker is perfect because I will use it for journaling & to stamp with my Dear Lizzy roller date stamp.
I painted my cloth bag with neon pink using a stencil. And I put together two journals for the girls. Because we have a 12 hour drive ahead of us…!
The striped paper is one of my favorite papers from my Neapolitan line and the little bow is too.

Everything fits perfect into my bag. I might even squeeze my Tim Holtz Tiny Attacher in there too.
Also, here is the Kid's Art journal kit I put together last year for our Lake Powell trip. Which had a lot more down-time and worked out great!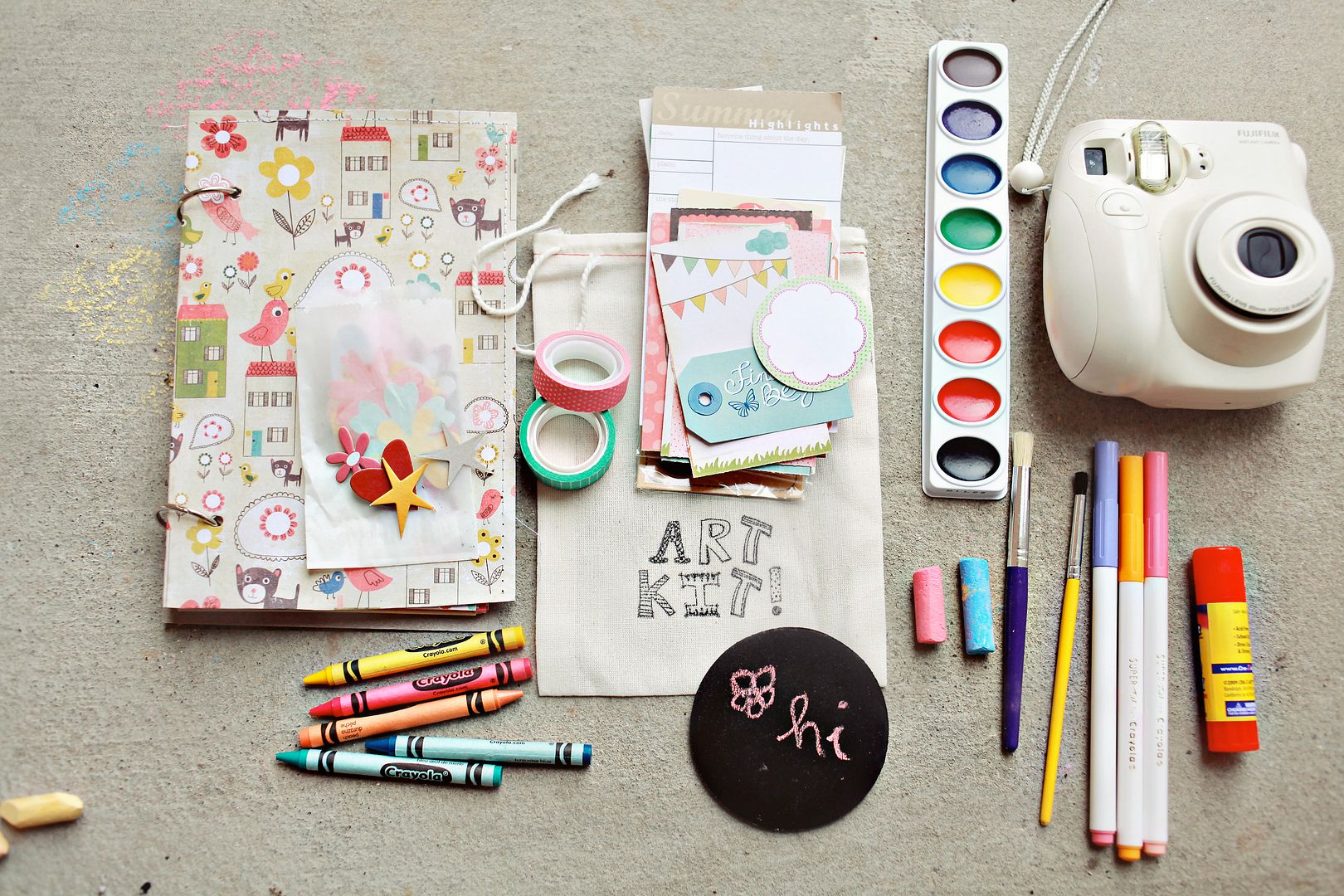 Leaving in an hour… gotta go pack!
xo, Lizzy
Click on the images to check out the supplies:
To celebrate one of my favorite holidays, Valentines Day, I put together a 1-14 day countdown. Each day has a package to open with a love note, an activity or goodies to eat or play with.
I used my old school Martha Stewart number foam stamps to paint the numbers on a board I found in our garage from one of Collin's projects. I used a hot pink paint, like neon pink, but the lighting was so horrible in my house the colors are a bit off.
Next, I hot glued clothespins to the side of each number and added a sewn package with kraft wrapping paper. 
 I even had Avery color on some of the hearts before I sewed them to get her involved in the process too.
Add glitter and heart sequins to the hearts as well for even more of a fun surprise.  C'mon do it! You have to vacuum anyways.

HOW TO fill the hearts: First cut your heart shapes with two pieces of kraft wrapping paper back to back so they are the same shape. Then I sew the heart and leave an opening for the prezzie. After I add the goodies then I finish sewing the heart.
We will see if the packages are still around when I get home from my trip to Anaheim.
If you are ever looking for something to lift your spirits… spend the morning with 30 five year olds and make Valentines.
It's even more funny when they proudly try to pronounce your last name the whole time.
It will make you smile when they happily show you their hand-cut heart which really looks like a banana or a guitar.
How about when one of them gives you a valentine? (sigh) How sweet… but too cute to accept so I politely persuaded him into giving it to his momma.
Or when Avery was SO proud after the boy next to her said: "Your mom has a lot of yarn." Avery: "Yes, she does!!"
Yep, aside from all the nose picking, it was just what I needed!

Sometimes after one of these craft projects there is such a mess…! Last night was no exception. Glitter was everywhere. At dinner there was glitter on a pieces of Avery's cucumber and specs on Lola's cheeks. But who cares? It's so fun to see them being creative, helping each other, & the daily battle of learning to share. Who cares that my kitchen floor rug is sparkling with glitter…? It's festive right?!
Supplies needed: Plastic ornaments. I'm not brave enough to use glass. Bowls of fillers including: ribbons, tinsel, feathers, glitter, snow (I used white embossing powder cause that's what I had on hand), glitter star stickers, some felt balls I made, mini bells, ornaments metal flowers, knitted flowers, and more glitter.
A funnel for adding glitter and snow. Only put out as many spoons as you have funnels… I learned this the hard way. We also added 2.5″ photos punched into circles rolled them up to fit inside they look best in the flatter ornaments versus the round ones. Then we used a popsicle stick to flatten out the picture once it was inside. The girls also used the popsicle sticks to push the ribbon inside and stir them up. They don't need to stir but it just added to the fun and extended the time they worked on their ornaments.
Patiently waiting for me to stop taking pictures so she can start.
The aftermath. They sucked me dry. 

When we were finished I added some trims to a few of the tops and rub-on sayings to the outside. Have a hot glue gun ready to glue down the tops when finished. We are going to save a couple and then send some to Great-Grandma and Great Auntie in San Diego. They turned out so cute and would brighten their day.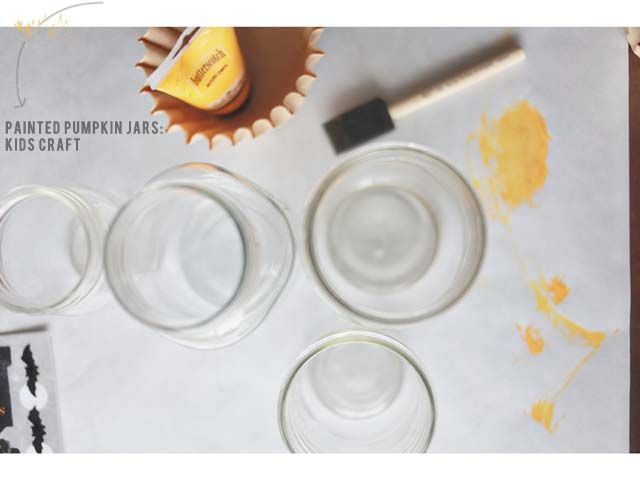 While browsing a magazine in the doctor's office my sister told me about this kids' craft. She told me she probably saw it in Family Fun & that her kids enjoyed it… so we gave it a go.
One of our annual Halloween traditions is to
carve pumpkins
at my sister's home, this will tide us over until that night. Collin's pumpkin usually wins for uniqueness: one year he carved H1N1 and has carved other clever, current issues. My pumpkins, for some reason, haven't changed since the 3rd grade and always have one big buck tooth.
See below…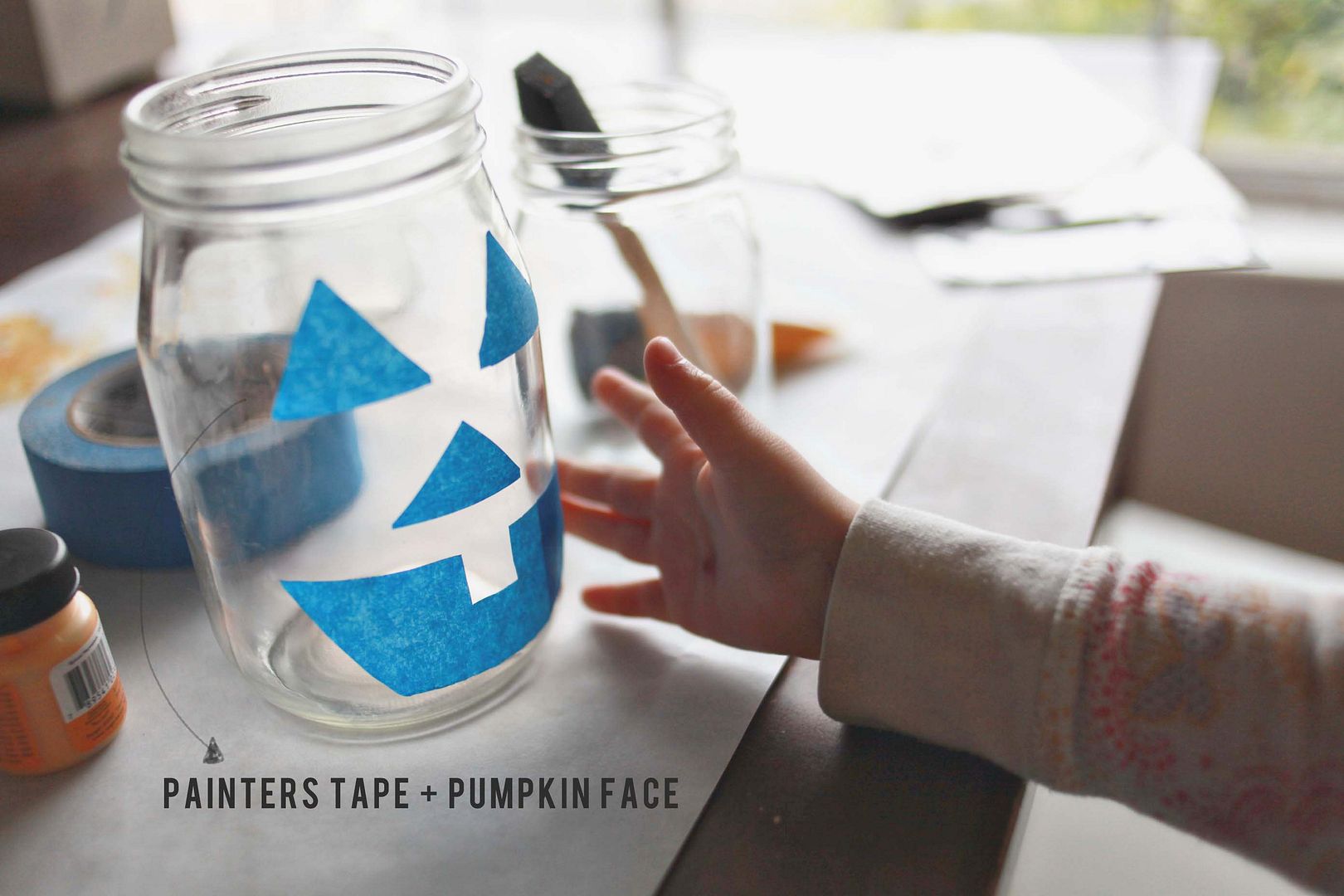 Supplies needed for this:
-Painters tape
-Jars
-Paint/Paint brushes
-I lay down wax paper or freezer paper or butcher paper… any kind of paper to limit the mess. That way you won't want to kill me when your kids paint all over your table.
Just make sure they don't paint the inside. You may want to add tape to the opening of the jar to avoid that.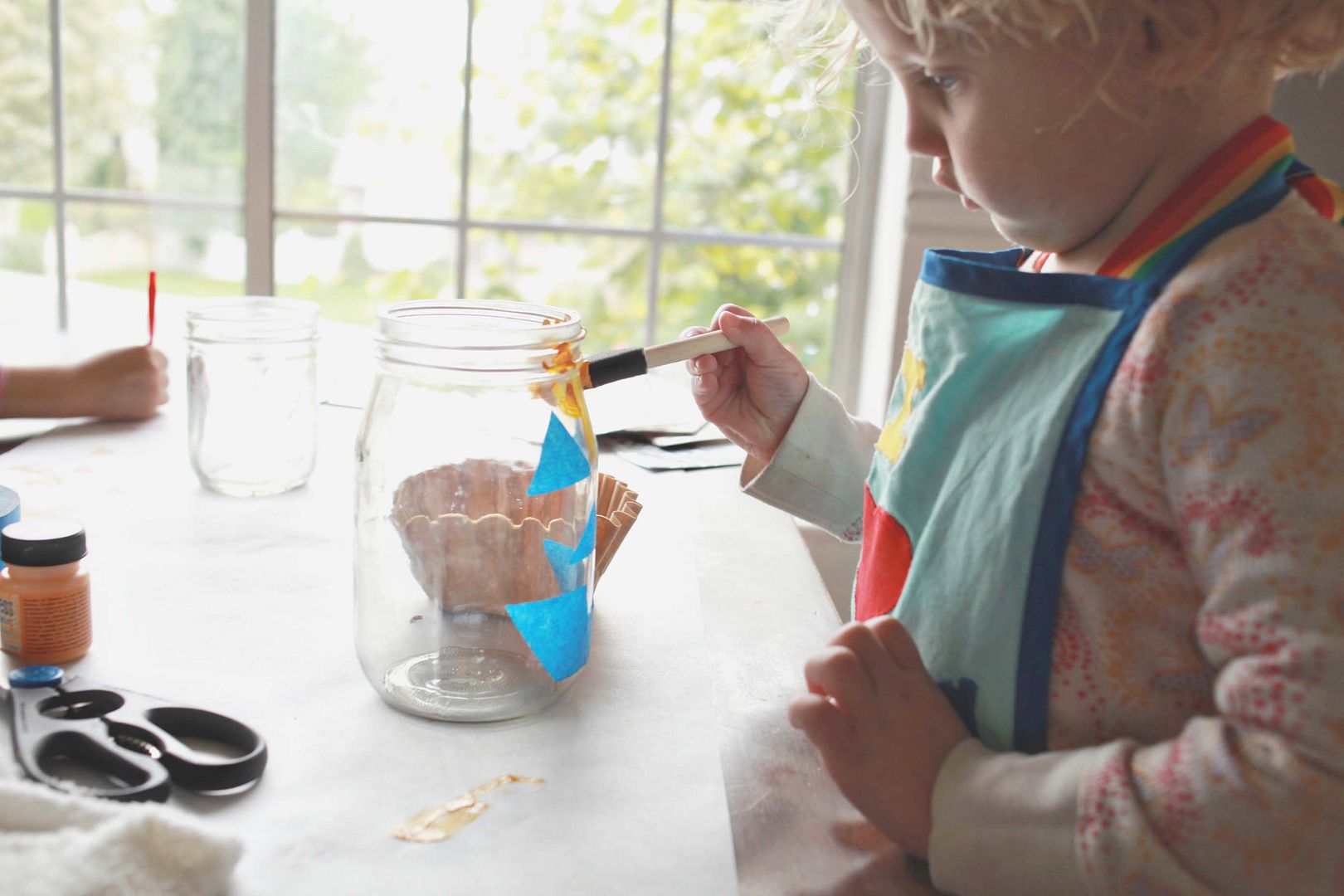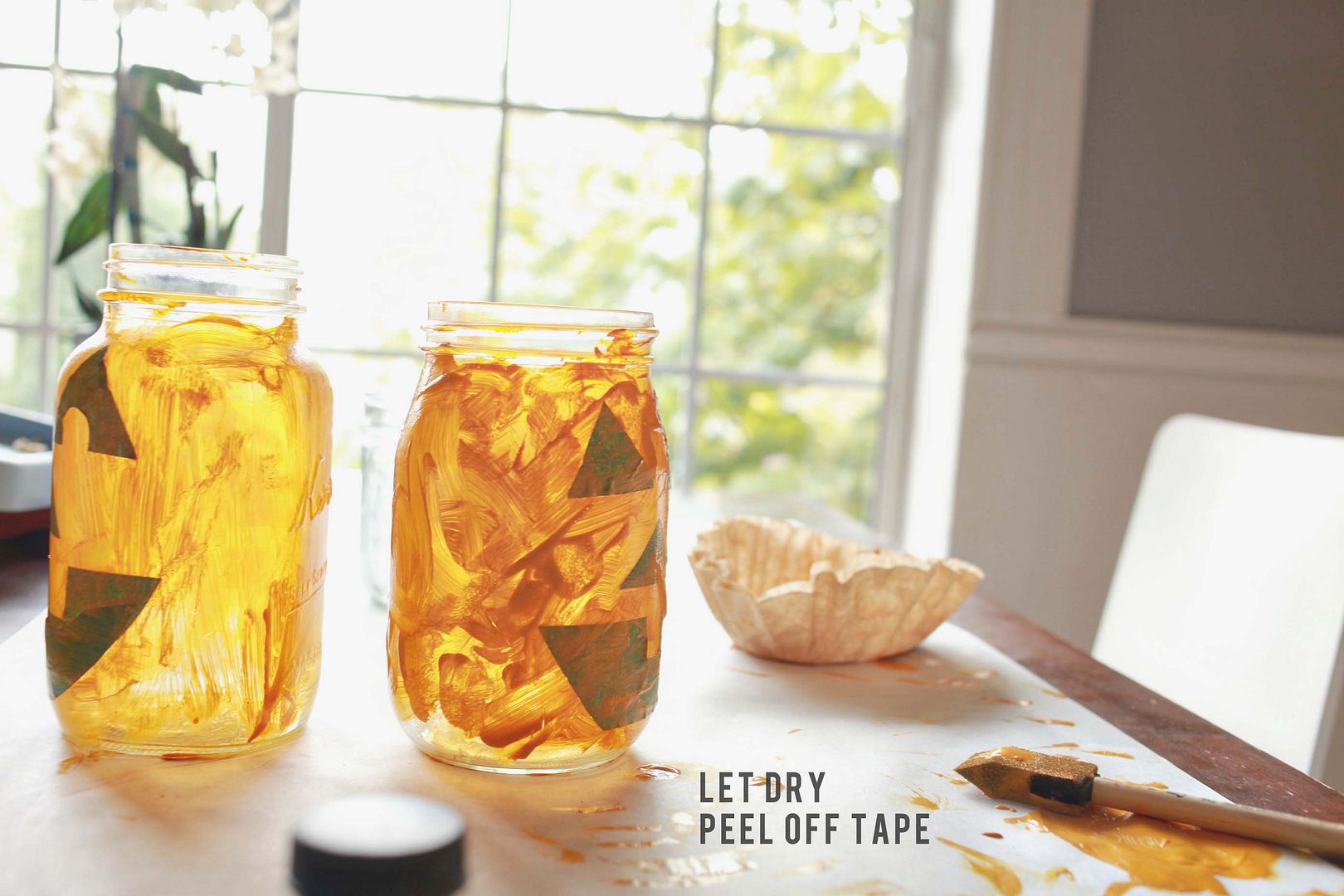 I joined in the fun and added stickers to a couple jars. Then turned them upside down, t
o make sure no paint got inside,
then spray painted them. One white and one black. Lastly, wait for them to dry and remove the stickers.
Tonight I added candles to the inside. I think I dropped about 10 lit matches inside the large jar missing the wick every time. Collin pulled through with his MacGyver skills…
My
diy: Art Kit
ended up being a success for our trip to Lake Powell. Usually in the afternoon around lunch time when the kids had enough sun for a while we came inside onto the houseboat. We sat on the second level with a gorgeous view and spent time with the
art kit
and journal. I brought a larger fabric bag to hold everything along with my paints, scissors, Elmer's glue, stuff for me to supervise-otherwise known as damage control.
I wouldn't say that I
stole
the art kit from Avery, like I
joked before our trip
, but it worked out perfect because I scrapped the
Instax
pictures while they watercolored, painted shells & drew pictures. It was kinda fun to only use, scissors, Elmer's glue, construction paper & the kit.
Everything in this art journal I brought in the art kit. When we got home I added the metal rim tag, a 2″ punched sun,
sticker letters
,
ELASTIC ribbon
(I'm obsessed)
, the vellum envie, fabric scrap and some staples. I love the Tim Holtz
mini stapler
. Mine wasn't working but I McGyver'd it & it works like a charm again. It even staples through acrylic & chipboard. Did I mention I
love it
?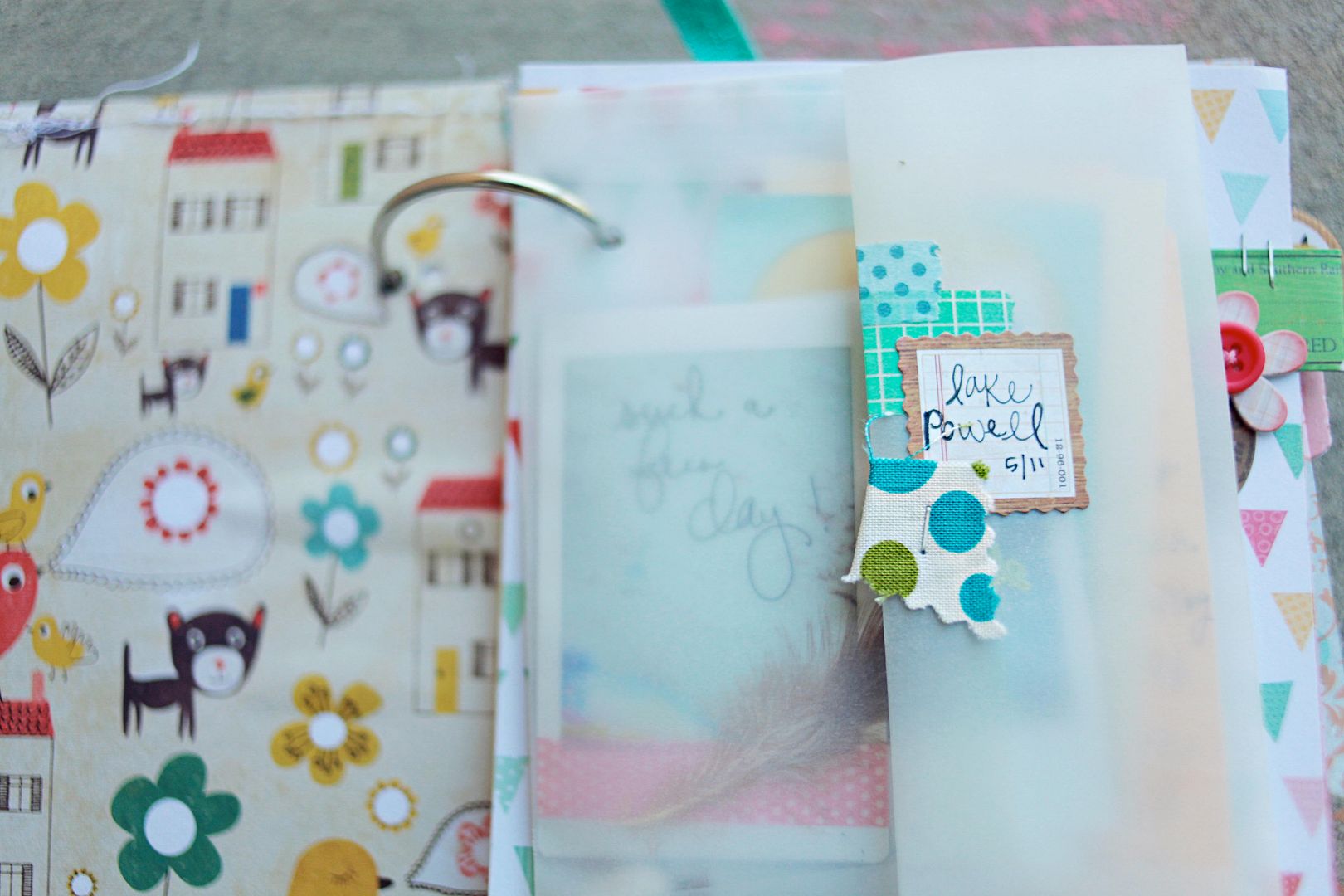 Inside the envie I added extra
Instax
photos, a shell Quincey gave me, a painted wood dog from Avery, a tag with journaling and extra chipboard shapes. Plus, I added the feather because the girls were so funny whenever a duck came waddling along. This I added at home as a reminder of those ducks.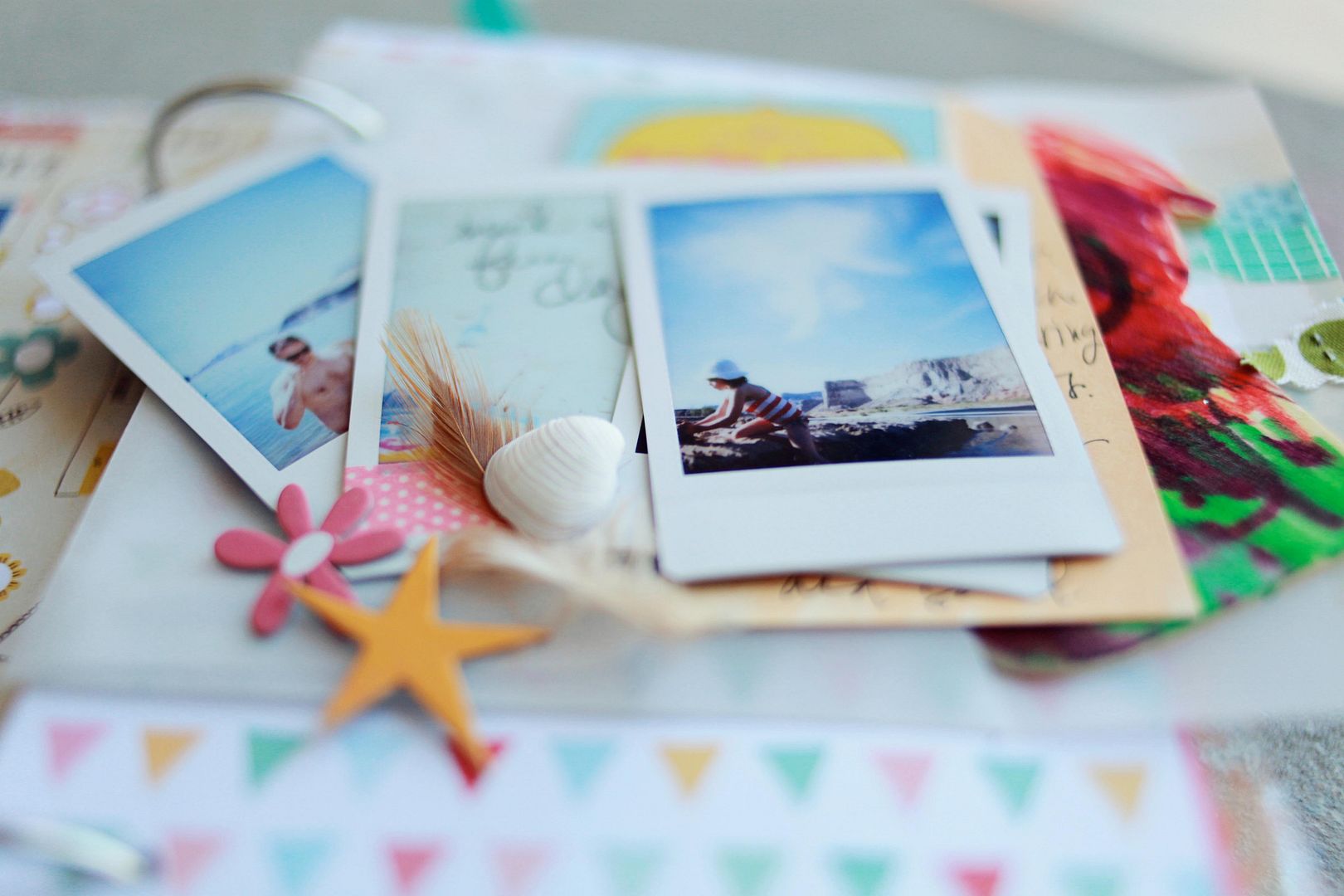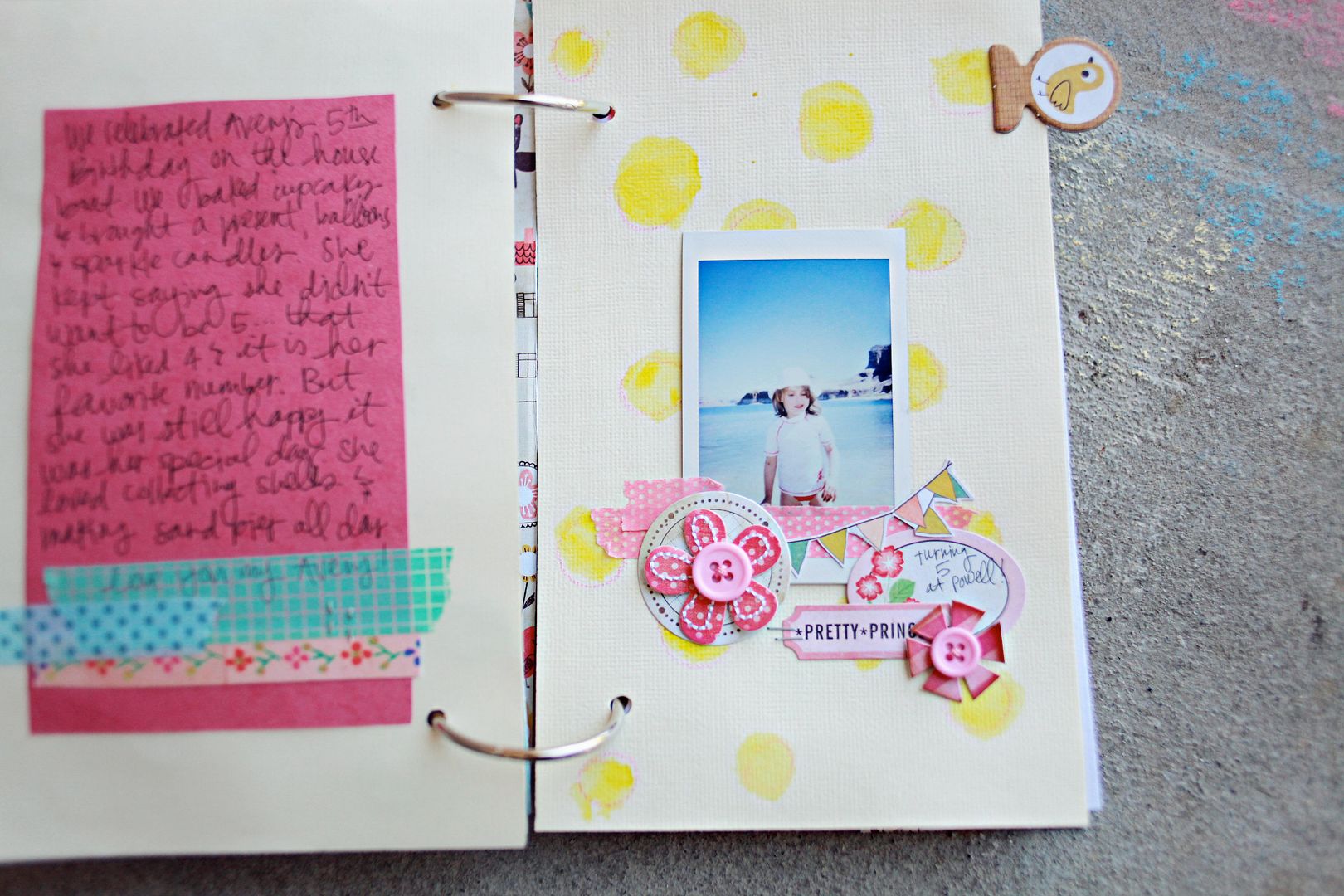 Watercolor + crayon circles,
deco tape
,
label stickers
,
pre-strung buttons,
paper flowers
, Instax photo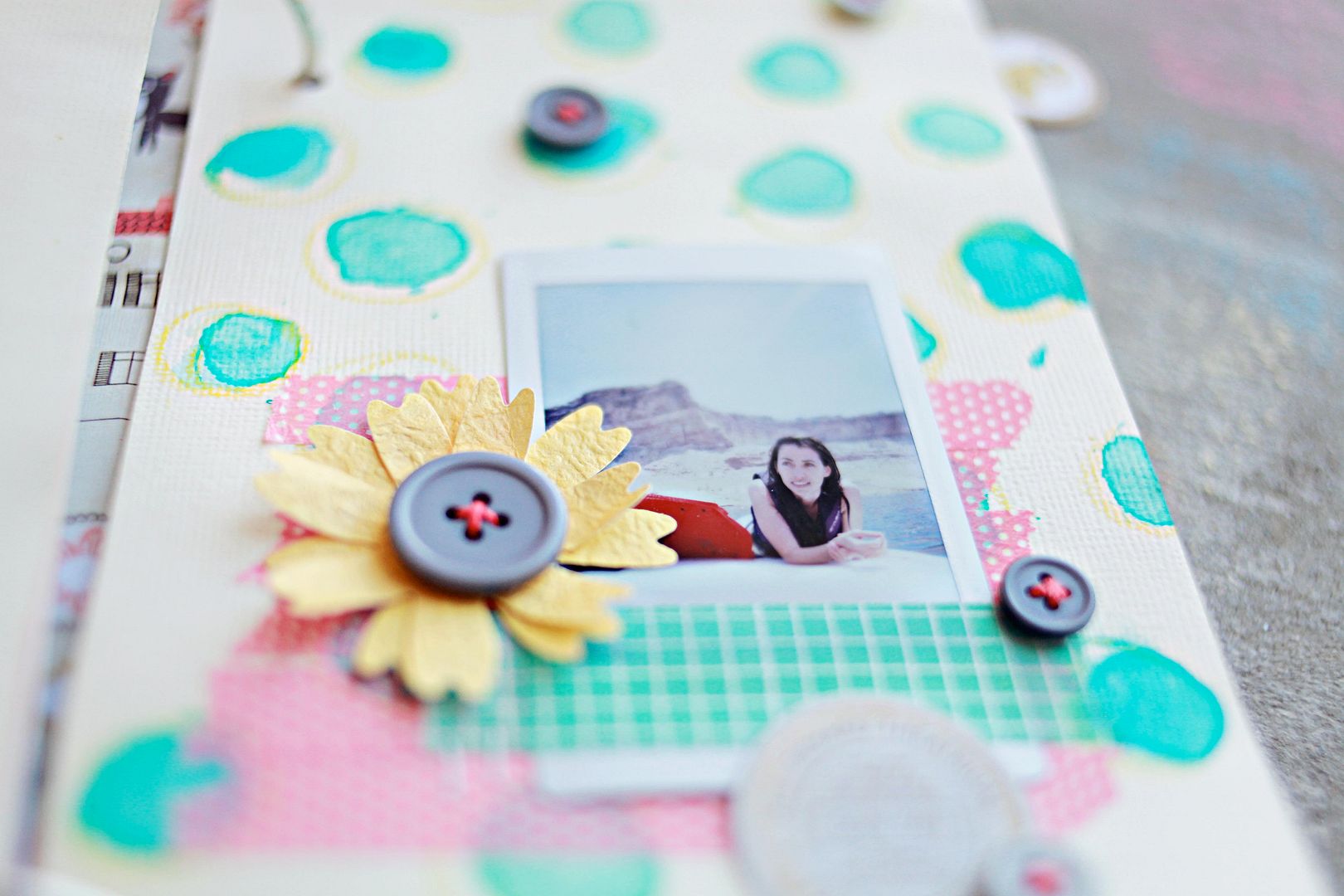 The girls enjoyed painting shells & I included one in the book here. Along with an Elle's Studio tag.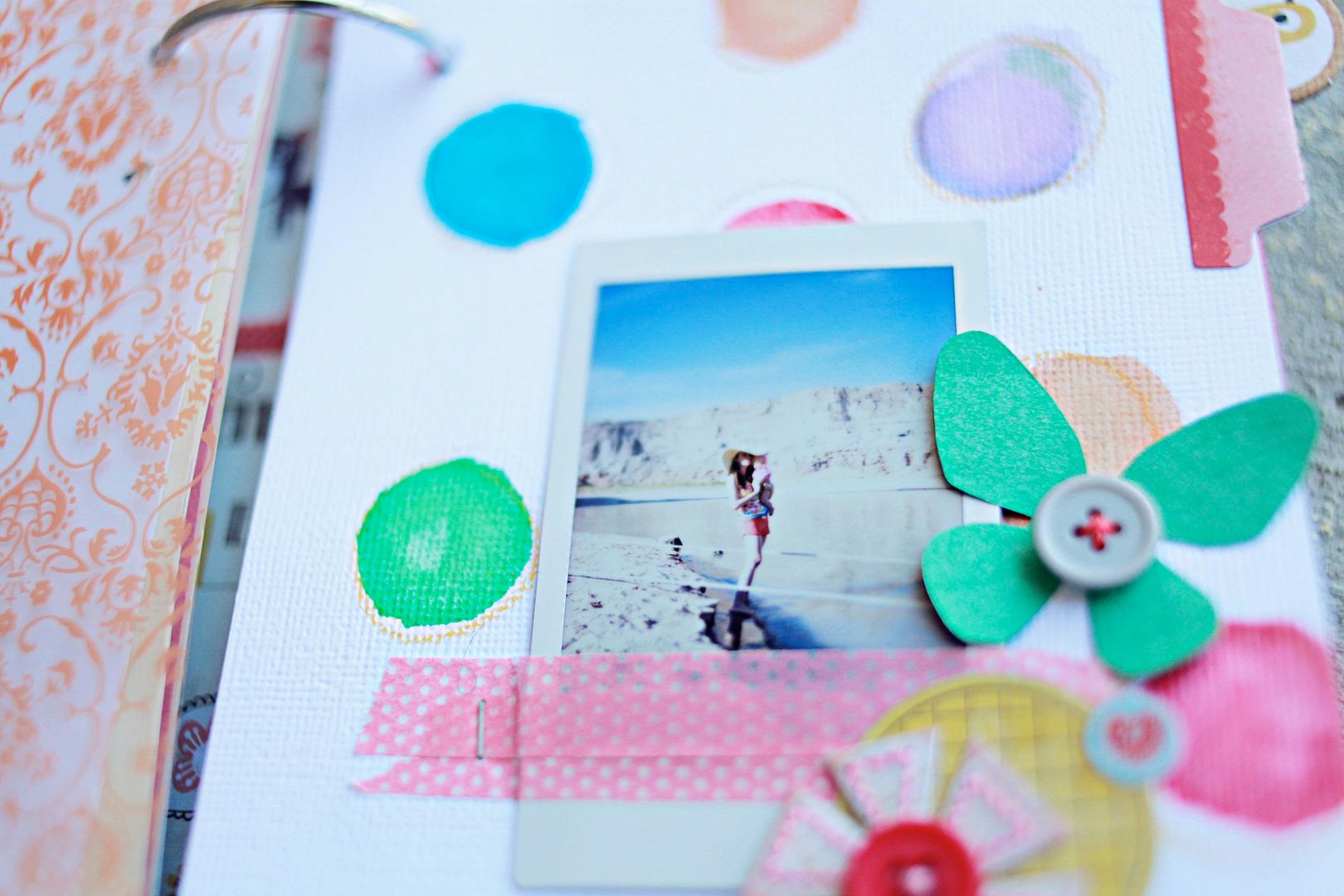 Precious drawing of Avery & Alfie… and she drew a "toy snowman" too. What I would do to have a peek inside her silly mind? haha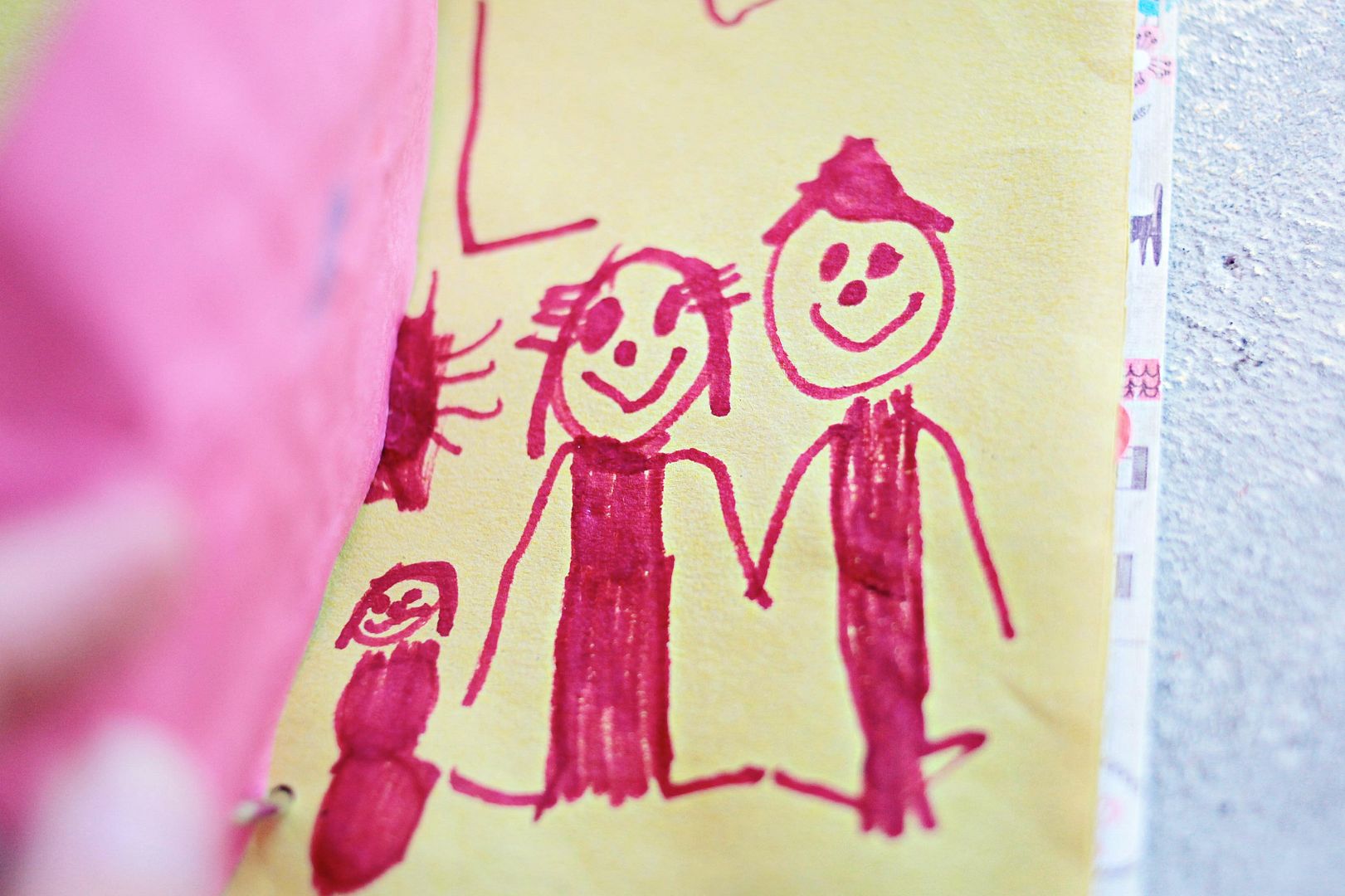 More pages of Avery & Quincey's art. There's journaling behind the flashcards. It's basically a colorful mess but I adore it!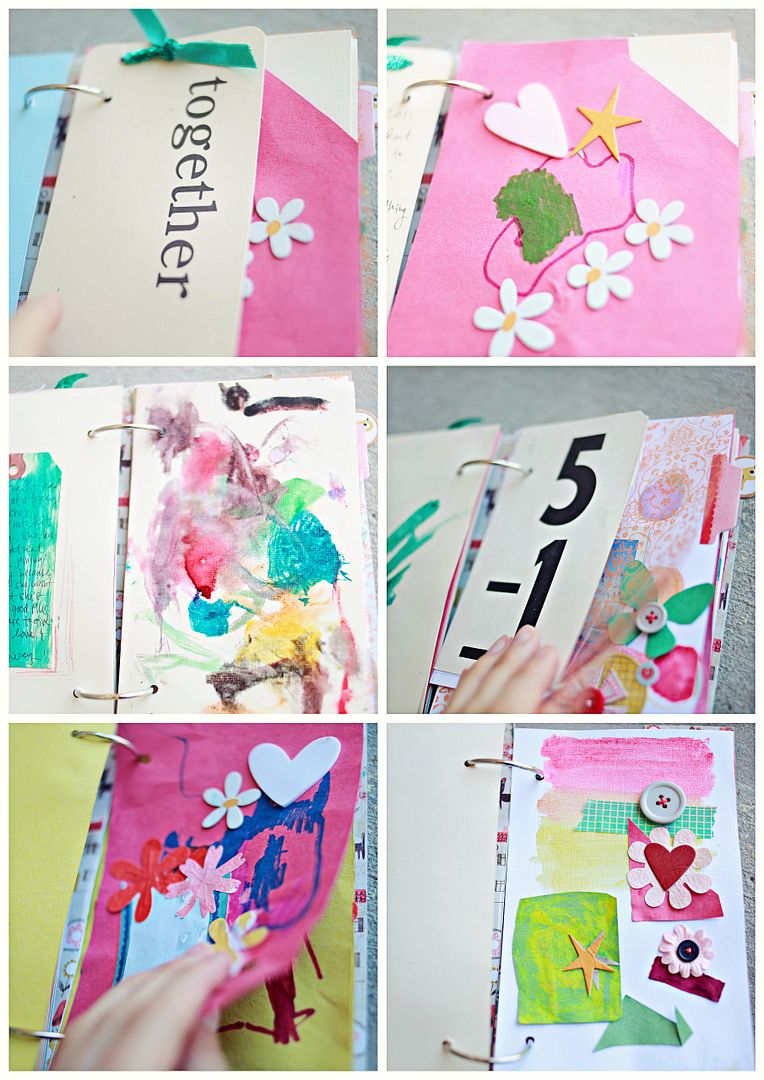 This is so perfect for a vacation… or even if your kids are out of school because it's all in a bag so when they are done for the day just put it all away and it's ready for next time.
Congrats if you made it to the end of this post!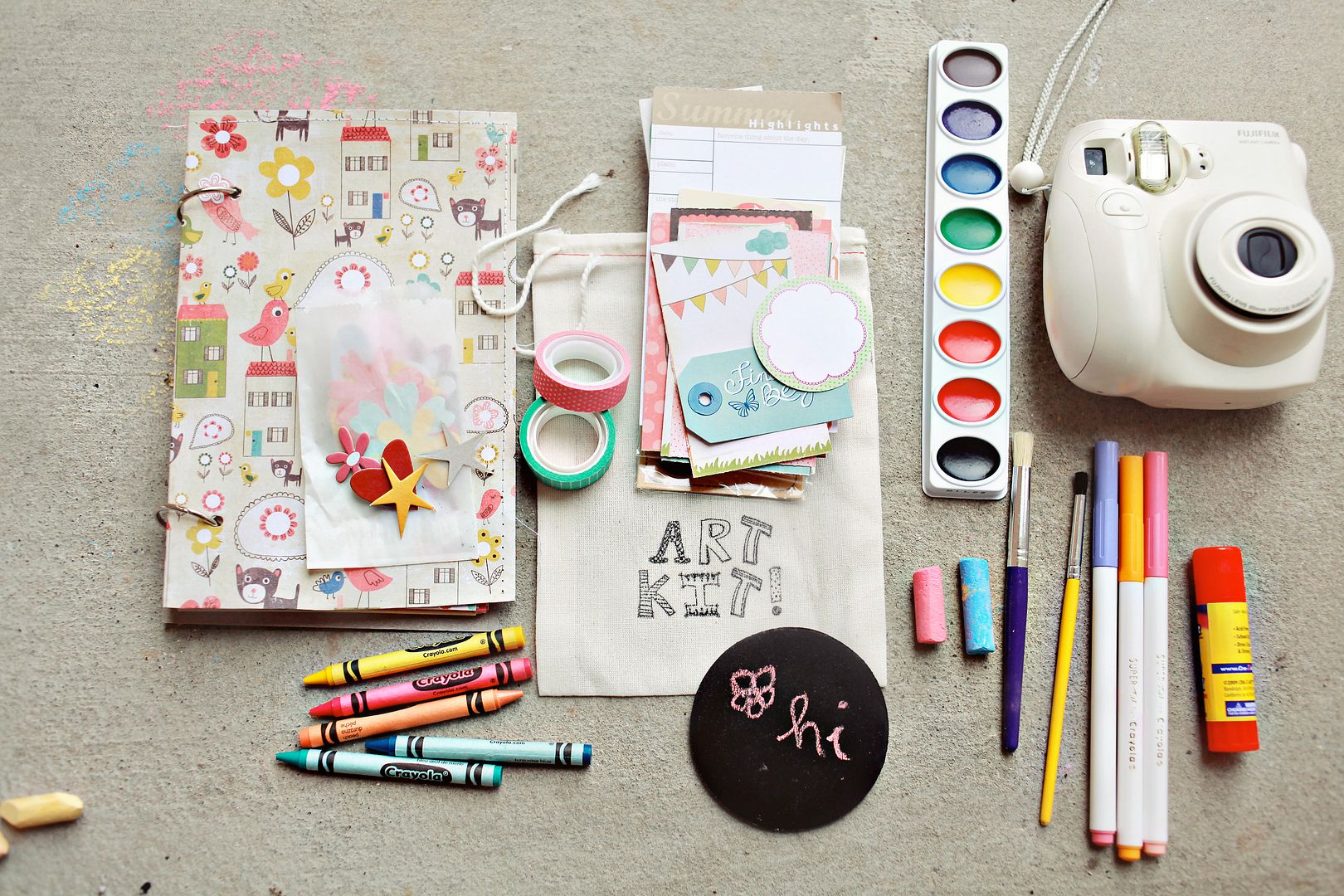 Along with the memory game I posted on Wednesday I put together an art kit for both girls on our trip. The contents:
1 Art Journal: full of construction paper, pages from coloring books, cardstock, flash cards and other fun stuff. I will show more of the inside when we fill the pages.
3 A stamped fabric bag to hold it all
4 Watercolor
5 Journaling Cards and tags
6 Markers
7 A wood circle I painted with chalkboard paint + chalk
8 Paint Brushes (To paint rocks. the paint is in my stash.
10 Gluestick
11 A glassine bag full of chipboard shapes, foam heart and paper flowers.
Which wouldn't be nice since this will post on her birthday! (love you avery girl! I don't know why I just wrote that since she can't and doesn't read my blog. But maybe someday she will.)