Currently viewing the category: "how-to"
This year I was hoping Halloween would slip by and no one would notice that I didn't decorate. Not because I don't LOVE Halloween, because it's truly one of my favorites. But because I was totally being lazy… and I am freaked out by our storage room. (spiders, dark etc) A week ago my plan was going smoothly… I almost caved when my sister, Ash, came over & was completely ashamed in me. But I couldn't ignore Quincey asking every. single. day. to hang up Halloween stuff. "We need to decorate mom!" So I braved the spiders and ghosts in the storage room, appropriate for this holiday, dragged the bin upstairs and went to work on the mantle.

The other night Collin asked me what I was making… Oh, you know just a hat and mask for a fake crows.
I added some blanket and pillows, witches hats, and a photo album. The photo album is this darling, stuffed cat with an album attached that I purchased from Old Navy the first year of our marriage. I wanted to put each year of costumes in it. My goal this year is to catch up and print pictures for it and display it every Halloween.
Last year, I used my Silhouette to cut bat shapes from vintage book paper and then sewed them together. As well as the fringe garland. To make use crepe paper sheets. You can use the typical crepe paper rolls but it won't be as wide. Start by cutting it as wide as long as you want it.  Then cut into fringe on the edges.
Spray painted the skulls and skeleton… I am hoping to glitter them up for next year. I honestly wanted to fill my fireplace with skulls but might be too creepy for my kids.
Despite my 5th grade level sewing skills, thanks to Mrs. Thompson for teaching me all I know in Home Ec., there were a couple reason as to why I decided to make some cute stuff for our baby Myles. For one, I had absolutely no baby boy clothes and unless I dressed him up in pink I had to get everything brand new. Yes, I love shopping but not that much shopping… especially for things he'd grow out of quickly.
And the other reason is that there's not a huge selection of stripes and solids for boys. I'm okay with the occasional truck or dog "I ruff you" but it's nice to have some basics too.
I started collecting some striped knit fabric & during all the nesting that went down before the baby arrived, I found some clothes I was going to get rid of but would be perfect to reuse.
While this sweet  babe is sleeping I wanted to post an easy tutorial for making some knotted baby hats.
For this hat, I used fabric for a maxi skirt that I never wore. I got it on clearance at Forever 21 but it just fit weird so I never wore it. In the end, it was cheaper than buying that color knit at the fabric store. It also has a finished edge so I use that for the bottom of the hat.
I used this knotted hat template for the hat but cut off the bottom dotted line portion because I didn't want it to fold over. Then sized it down quite a bit to fit an infant. If you use a hat you already have as a template then just add the top part for the knot. That would work just as well.
To get the triangle print:
I used the triangle background Silhouette cut by Loni Stevens and cut it out of Freezer Paper. Next you iron the shiny side onto your fabric. Then paint with fabric or sometimes I use acrylic paint… and peel the paper off. It works like a charm!
Tomorrow I will share the pants and blankets… Thanks to my babelicious model… kisses…
Ssometimes I wish this whole nesting bit wasn't such an innate motherly thing, at least for me. I am the mother hen of all hens right now. Kind of driving me nuts because there are so many creative things I want to do and get messy making and bloggity blog–instead you find me cleaning out closets and drawers. But it was a miracle over the weekend because I made something and finished it. Hallelujah!
We started getting the nursery ready that Lola and baby will share. Yeah, better late than never. The room was painted Ralph Lauren Sun Washed Blue color but it's there's a fresh coat of white. The theme of the room will be airy, graphic, with pops of bright color so it will work for a boy and a girl.
I made these coat rack hooks inspired by Danielle Thompsons Eames Coat Rack DIY.

I gathered the wood balls at Joanns. They already had holes in each one so that made it easy. First I spray painted the bottom with colors I had on hand. Next, I placed each one on a wood skewers and painted each one then poked into grass to dry. Last, I attached them to the hooks. I found the coat racks at Home Depot but they are made for a grid shelf. I didn't realize this until I got home so instead of glueing the balls on I am going to check out a couple more places today to see if I find something better, since these racks were tricky to hang with nails. Until then, I was impatient and couldn't help but display something in the blank canvas of a room. Also inspired by Oh Happy Day's kids hooks with the Disneyland hats and masks.
I was texting a friend today and joked how I am an emotional wreck. Seriously I will cry at anything and this is coming from someone who is already a softie.
But I just wanted to say thanks for all of you for reading this blog. Sometimes I am sad because there's so many things I want to make and share here. Or things I want to do to inspire all of you but I just haven't lately. Instead I find myself nesting & nesting or resting & resting. Which is pretty normal since I have less than 3 weeks now until this baby is in my arms.
But I do share what I can.
I share a part of who I am.
I share pieces of life and our love.
I share them hoping they will inspire you in some way.
So thanks! (group hug)

Evidence of nesting going on up in here!
Need to finish up my vacation album I started a couple days ago. My instax polaroid photos seem to often get me excited about scrapbooking and putting our memories in a mini book. Also getting messy with splashes of Mister Huey. Going to finish it up during nap time today.
See some of my recent scrapbooking projects and videos at Two Peas!

Dyeing bottle brush trees was such a fun project and fool proof. Seriously anyone can do this.
I started with Tim Holtz Bottle Brush trees. They are a nice, natural color making it so easy to dye the color you prefer. If you have green trees simply soak them in bleach until they are a neutral color.
To dye: I used Tim Holtz Distress Reinkers. All the colors are incredible: Spun Sugar was one of my favorites and Peacock Feathers.
You can use anything to dye including mist colors you already have, RIT dye, fruit, or seriously even kool aid.
For dyeing one tree: I filled a 2 ounce bottle halfway with water then a 3/4 full droppper of ink. (Watch video below for hands on.)
(Snuggling my girl even tighter since the shootings in Connecticut. It is heartbreaking and I am still aching for the families. xoxo Adding my prayers and tears for Connecticut & searching for ways to support causes that help prevent this from happening again!)

CLICK HERE  to WATCH this fun, little VIDEO/// If it doesn't show up above. xo, Lizzy
So far it is pretty random the things I have made with my silhouette… from mini albums to polka dot pants.
Now add these phrase napkins to the list.
This morning I posted a pic on my Instagram and realized I hadn't shared these napkins yet. I don't remember what provoked me to making these, but so far the random sayings have done nothing except put a smile on my face.

STEPS:
Diecut freezer paper///Iron freezer paper to napkin///Paint onto napkin/// Peel off freezer paper
I used gold paint because, well, I love gold anything right now.
Quincey painted the polka dot dishtowel below. It's only a dishtowel so who cares if she messed up. Actually, it's quite tricky to mess it up since she paints on top of the freezer paper so it worked out great! I used the same steps as the Polka Dot Pants tutorial.
My sister got me hooked on this healthy snack: tomatoes, cucumber (or spinach) feta cheese & Balsamic Vinaigrette. Don't worry, after I eat that I have a bowl of sour watermelons.
Do I have you wishing for a Silhouette Cameo yet?
This little teacup bird feeder has made my garden so much cheerier! My friend, Annie, put together this DIY for a mother & daughter tea party at our church. (I have more pictures since she threw a darling party and asked me to take some pics…! But they are on the hubs computer, sooooo, this will have to do.)
She purchased a set of the teacups and saucers, spoons at thrift stores, and the dowel at Home Depot.
FIRST: she painted the dowels so they were ready for the party. Next, we sanded the bottoms of the cups and the center of the saucers. Then we used a strong adhesive for glass to attach the glass pieces together and the spoon to the saucer. I recommend 'Super Glue' Glass Adhesive.
Last, we used a hot glue gun to attach the saucer to the dowel. Isn't this a darling project to make together and to take home with you after a party?!
There was also this cute poem included to take home with your bird feeder:
"I've never made a fortune and it's probably too late now. But I don't worry
about that much, I'm happy anyhow.
And as I go along life's way, I'm reaping better than I sowed. I'm drinking
from my saucer, 'Cause my cup has overflowed.
I haven't got a lot of riches, and sometimes the going's tough. But I've got
 loved ones around me, and that makes me rich enough.
I thank God for his blessings, and the mercies He's bestowed. I'm drinking
from my saucer, 'cause my cup has overflowed.
I remember times when things went wrong, My faith wore somewhat thin. But all
at once the dark clouds broke, and the sun peeped through again.
So God, help me not to gripe about the tough rows that I've hoed. I'm drinking
 from my saucer, 'Cause my cup has overflowed.
If God gives me strength and courage, when the way grows steep and rough. I'll
not ask for other blessings, I'm already blessed enough.
And may I never be too busy, to help others bear their loads. Then I'll keep
drinking from my saucer, 'Cause my cup has overflowed." Author Unknown
PS It's a freaking Christmas Miracle! My garden is growing. I planted the above carrots from seed.
Also, the quail were eating my raspberries and I was ticked at those birds. Even though a few years ago Collin became obsessed with a quail family that would scatter around our yard and he had a whole spiel about how quail stay with their companions forever… But now they are eating my garden and this is serious.
Must get a gnome asap.
Of course cute gardening tools are essential.
Yeah baby!
My next project is to make some garden markers. Loving these garden labels.
As I was getting my cameras ready for our trip to Mexico… (Yes, as you read this I will be sipping pina coladas and sitting by the beach… not to rub it in ; ) But I want to share a long over due post about my favorite camera gear and what's in my camera bag. Since a common question is what camera and lens I use.
I shoot with the Canon 5D Mark 2 and I really love it. I've yet to name it but it's definitely my pet. Over the years I've upgraded my cameras to that one. If you are a beginner I would suggest getting a Canon Rebel or the equivalent in Nikon. Then as you learn and are ready to upgrade you can sell it and get a step up. That's what I did. I started with the Rebel, then upgraded to the 50D then sold both of those and got the 5D. I also really like the 30D and the 7D cameras.
(Camera bag c/0 Jo Totes)
My favorite lenses are:
Canon 35mm 2.0: A great lens for the price. I travel with this one and used it everyday before I upgraded to the Sigma. It's a light weight, fixed lens and since it's a 35mm you can get in close on your subject. I love getting in on the action. Use for portraits and macro shots.
Canon 24-70mm: A great, versatile zoom lens. Perfect for a setting where you need to zoom in and out quickly and want to get more of a wide angle shot of your setting. It's a bit heavy but produces beautiful shots.
Sigma 50mm 1.4: An incredible portrait lens! It is fixed at 50mm so you are not able to zoom in or out. Great for portraits, sharp and goes down to 1.4 in the aperature setting which produces great macro shots. I use this very frequently.
Diana Super Wide Angle: This is a toy lens that I bought to mess around with. It's pretty cool but I am not super impressed with it yet. It's fun because there isn't much to it and it produces an instant dreamy effect.
My second favorite camera is the Fuji Film Instax Mini. I've had it for a few years now and I love it! It's instant gratification at its best! I am not the best at printing out photos so when a photo appears in minutes, I love it! The photos are the size of a credit card, and probably cost about .75-1.00 depending on where you buy your film. Sometimes the subject your are photographing may show up off center on the photo but I think that adds to the fun. Fuji Film also makes another version of Instax. It's Instax 210 wide and the pictures are twice the size of the Mini pictured here. I want to get that one next.

You can also purchase a creative filter and lens kit set that comes with colored filters, glass shapes filters, ombre colored filters that jazz up your photos.
I have a couple toy film cameras that are very fun to shoot with. I took the white glitter Lomography on our trip to California and since it's film the first thing I did when I woke up the next morning from our trip was develop the pictures. Seriously, it was so fun to see what we captured and especially to have the physical pictures in my hands instead of sitting on my computer.
The other cutie is a Golden Half. It's a film camera that I recently purchased for this trip and am excited to see the results. What's cool about it? Well, it takes a photo in half the frame and then pairs it with the next photo in the same frame. You get two photos in one. I'm going to experiment taking photos together to tell a story and see what happens when I don't think about it and how the photos turn out. It also comes in some other cool designs.
(I mentioned this camera above.) This particular camera is a fisheye lens. It gives you an ultra wide angle and distorts the edges of the photo to achieve this artistic look.
It was a sad day years ago when polaroid enthusiasts heard that Polaroid wasn't going to make film anymore. But in 2008 The Impossible Project saved the last polaroid production plant for instant film and started making new film for polaroid cameras. How incredible is that? I need to order some film, since I've been talking about doing just that for months!
The cameras I decided on taking for my trip. Of course that will include my phone… for the love of Instagram.
Golden Half//Lomography Fisheye//Instax Mini// Iphone 4
This is Collin's fun, little toy for our trip. You probably cannot tell the proportions from the photo but this camera is tiny! It's called GO PRO and is a still photo and video camera. It's in a waterproof casing and you can buy all sort of attachments. The one on the right is a suction cup that we stuck to our car during a road trip and even though we were scared it would fall off and die on I-15 somewhere it didn't even budge. The cool thing about this little guy is that you don't worry about lighting, manual settings, shutter speeds etc there's one setting and you just have fun messing around with framing, angles, compositions instead. A very discrete, cool camera.
A quick how-to for one of my favorite party decor ideas… FRINGE! All you need is a rotary blade and any paper or supplies for the banners.
I used plastic table cloths for Avery's Birthday party, mixed in with some gold tissue paper.
Cut to desired height and make sure you fold it in half, keep the fold at the top.
Cut it to the desired height then use a cutting mat to know how far you are spacing the fringe. (Loving my new cutting mat from American Crafts!)
I spaced out my fringe to about 1/4″ and left about 1/2″ from the top.
If you make one out of tissue paper follow the steps above then to lengthen the banner I sew all the pieces together along the top.

Another one of my glitter word banners. For those of you who emailed me requesting one–I will email you next week after my trip!!! I apologize if that is too late and I missed your party! xo


I must be having party withdrawls from the back-to-back birthdays so I added a little festive Be Nice banner. Seriously, maybe my kids are bored with it being summer and school is out but my two oldest girlies have been really quick to hit or not share. This was the appropriate saying for the occasion.
Actually a nice reminder to all of us. ; )
Some of my favorite paper pretties that have caught my eye and that I want to make or make something with!
When I launched our Something Splendid site I made a few custom wood handle stamps to use with our packaging. They are my favorite and I am itching to make some more… or pick up some of Ann Marie's Wood Stamps!! Love her clever sayings! I have that song stuck in my head now…! (I know what you are thinking? What's with all the exclamation points? I guess stamps with lyrics from my favorite hip hop song in '95 will do that to me. ; ) Also pictured some of my Dear Lizzy vellum. Cute cute.
Make your own decor with paper lanterns and paper circles. Since I have two birthday parties in the next mont this project is definitely on my list to-do. Via Martha Stewart  Don't you love a project where you think, I can do that!!
Such a darling and simple project! I am loving the unique ways to dress up some twinkle lights. Via Hey Gorgeous 
We kept it pretty simple for my birthday this year since Collin likes to go over the top but it was a nice, low-key night… He planned on watching an outdoor movie but it was kinda cold… instead we just hung out and enjoyed ice cream sundaes!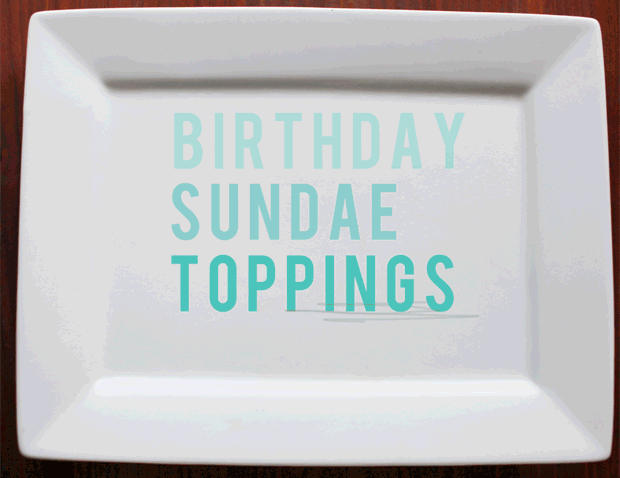 Family came over and we ate Sweet Tooth Fairy cupcakes, I think there were over 40 cupcakes total and every single one was a*mazing!  Even though it is my birthday I had fun putting together these little bowls and stamped wood spoons.
Toppings:
Cherries, Crushed Butterfinger, Crushed Mint Oreos, Chocolate Chip Cookie, Caramel, Hot Fudge
On another plate we had Diced almonds, Crushed Pretzels and Sprinkles.
I used regular ink and some tiny alphabet stamps I've had for ages then stamped on the ends of the wood spoons. Spoons are from Orson Gygi in Salt Lake.
What would you top your ice cream with? I was allllllll about the caramel, almonds and whip cream!