Currently viewing the category: "home style"
Ssometimes I wish this whole nesting bit wasn't such an innate motherly thing, at least for me. I am the mother hen of all hens right now. Kind of driving me nuts because there are so many creative things I want to do and get messy making and bloggity blog–instead you find me cleaning out closets and drawers. But it was a miracle over the weekend because I made something and finished it. Hallelujah!
We started getting the nursery ready that Lola and baby will share. Yeah, better late than never. The room was painted Ralph Lauren Sun Washed Blue color but it's there's a fresh coat of white. The theme of the room will be airy, graphic, with pops of bright color so it will work for a boy and a girl.
I made these coat rack hooks inspired by Danielle Thompsons Eames Coat Rack DIY.

I gathered the wood balls at Joanns. They already had holes in each one so that made it easy. First I spray painted the bottom with colors I had on hand. Next, I placed each one on a wood skewers and painted each one then poked into grass to dry. Last, I attached them to the hooks. I found the coat racks at Home Depot but they are made for a grid shelf. I didn't realize this until I got home so instead of glueing the balls on I am going to check out a couple more places today to see if I find something better, since these racks were tricky to hang with nails. Until then, I was impatient and couldn't help but display something in the blank canvas of a room. Also inspired by Oh Happy Day's kids hooks with the Disneyland hats and masks.
I was texting a friend today and joked how I am an emotional wreck. Seriously I will cry at anything and this is coming from someone who is already a softie.
But I just wanted to say thanks for all of you for reading this blog. Sometimes I am sad because there's so many things I want to make and share here. Or things I want to do to inspire all of you but I just haven't lately. Instead I find myself nesting & nesting or resting & resting. Which is pretty normal since I have less than 3 weeks now until this baby is in my arms.
But I do share what I can.
I share a part of who I am.
I share pieces of life and our love.
I share them hoping they will inspire you in some way.
So thanks! (group hug)

Evidence of nesting going on up in here!
Need to finish up my vacation album I started a couple days ago. My instax polaroid photos seem to often get me excited about scrapbooking and putting our memories in a mini book. Also getting messy with splashes of Mister Huey. Going to finish it up during nap time today.
See some of my recent scrapbooking projects and videos at Two Peas!

Not sure if it's the beginning of the year or my nesting kicking in, but I am wanting to redo and refresh everything. Starting with our bedroom since I dragged our old black bedroom frame down to the garage yesterday… and continue taking this house by storm. Nothing is safe. Especially not the garbage bag full of maternity clothes that should be burned… it definitely had it coming. I figure if I don't want to wear any of it now I probably never will.
In the perfect world my house would have white floors. I dream of them. But I'd rather have three crazy girls running amuck than my dreamy floors. Yes, it's one or the other in this house. White floors would be the death of me. It would say that on my tombstone: she died trying to keep the floors clean. Maybe I'm being dramatic but that's normal. Thankfully they definitely make up for my vain wishes. Like today, "I'm not a pillow mommy… I'm a human." (When I was snuggling up to her after school.)
Thanks to everyone for checking out my new Paper Party site!!! xoxo
Yes, this morning I changed out of my sweats to take this pic. Not sure why since my pjs were polka dots as well and much more comfy.
You also should know that I am moving my office… again. To a different room in our house… again. But I'm excited to redo and refresh everything. Including purging supplies, simplifying and decorating. That's why I made this calendar for myself… it's a reward for my hard work and something cool to hang in my new space. I had it printed at Costco onto 16×20 photo paper and also as an 8×10 for Collin's office. There are other designs that are available and an even larger size-20×30. I wanted to try this out first and see how I liked it. And I love it.
Santas's elves have already gotten busy making calendars for Christmas presents!
Such smart, little guys.
Calendar: Paislee Press
Sitting on the computer and pinning my heart away is my new hobby. Photography, scrapbooking, pretending to know how to cook & pinning. But I stepped out of my comfort zone yesterday and decided to actually make something I pinned.

It's based on this print you can buy that's a really cool herringbone pattern. I saw someone explaining how to make it so I gave it a go. Little did I know in the end, it would be one big fat craft-FAIL.
Actually, this morning I didn't think it was as bad, but don't you hate when something doesn't turn out like you envisioned? I should find a funky frame for it and see how that looks.
STEP 1: I had this old painting I thrifted in my garage. I updated the colors a bit with paint I had on hand.
STEP 2: Start taping. This took freaking forever. After a while I thought, sheesh 50 bucks for the real deal doesn't sound so bad. Next, paint the whole thing white. Last, peel off the tape.

I was so excited when I started peeling off the tape because it was looking pretty cool. But once I peeled off all the tape I realized that I had it backwards of what I wanted white and what I wanted to show through from the painting. So I didn't like it. I should have taken a picture at this stage but I was so bugged so I just started taping again and leaving big chunks of white everywhere. Making a messy chevron/herringbone pattern.
 
I don't know… what do you think? Fail or win?
I think I need a frame or may it could be cool to layer things in front of or even actually on it. I could tape or stick a bunch of instagrams or Instax on it? That could work.
Collin was nice when I was bugged last night, "Your art is the prettiest art of all the art." heehee


While searching for some old frames at a thrift store I happily stumbled across this cool shelf thingy. I am not sure what it was used for before. But I love it. I've been wanting to do something similar with an old letterpress drawer but a larger version so this was perfect.
First, I painted it white then modge podged some of my Dear Lizzy papers inside. I lightly painted glue on just the back of each paper then set something on top of the paper to dry flat and not curl up.
With the newest Dear Lizzy collection the papers also come in a 6″x6″ paper pack so all the patterns are shrunk down. And since I love anything miniaturized this made me happy! I used the mini chevron, floral and grey polka dot below. (Yes, I will let you know as soon as these are ready to purchase somewhere.)

If you notice the darling snails in the picture above I cut up one of my decorative prints by Suzy Ultman my friend Margie gave me for my birthday. You get 12 full color prints and they are all so cute. I have a few hanging in my girls room. (Home Sweet Home prints)

Another tip is that I used toys that they don't necessarily play with everyday. But, of course, their interest perks the second I put it on the wall. I included a mix of treasures and keepsakes.
1. Mini snow white book 2. Calico Critters (my kids are obsessed) If you've seen that Steve Carrell movie with the taxidermy mice then they might make you laugh 3. A Willowtree plague from my mom titled Friendship. Reminds me of Miss Avery 4. Another Calico Critter 5. A porcelain doll from Gigi 6. Mini teacup with flowers 7. Another teacup with a carebear 8. Some of their jewelry 9. An Instax, mini toys of mine when I was a girl, ribbon on a spool 10. Aerial and Mini reminds us of our Disneyland trip 11. A shell Avery kept from the beach and BE blocks 12. Dear Lizzy tiny metal flowers, a gift from a friend No 2 box and Dear Lizzy pinwheel flower
To the right you will see Washi Tape holding up 2 polaroids. One of my Avery at the beach and one of my parents when they were engaged.

This Tim Holtz configuration is really neat if you have trouble finding something at a thrift or antique store that suits your fancy…! And it's on sale.
InLinkz.com

I am also loving these kids room ideas from House to Home. First, spray painting kids toys and attaching them to the tops of jars. How cute is that?!
Using a spice rack to display books! Genius. And if you are about to run like heck to the Ikea in Utah to buy spice racks like I did yesterday. Sorry, they are sold out. Sad face. But I'll race you to Target to see if they have anything similar.
While I caught the flu bug Collin caught the home-remodel bug. He helped me paint the entire hallway after hammering in the boards for the stripes, tiled the bathroom floor, painted the bathroom vanity and painted 3 doors all on Friday and Saturday. When he gets in that mode I just stand back in awe.
After deciding it could be fun to paint stripes it was just figuring out where and how. The hallway between my office and the girls' room and a bathroom seemed like the perfect spot. After all, it would be pretty difficult to look worse than it already did. I took a before picture but  just imagine a tan painted hall of death because that's what it looked like. Excited because now it's such a happy hallway.
I think it might have been Collin's lack of faith in my taping skills for painting the stripes so he decided to cut 6″ boards instead. Which was a brilliant idea! It took a couple hours once he got all the materials and the stripes look awesome! We added a yellow door to the right for a pop of color. We've painted the door a couple times to get a nice yellow. The first one wasn't mustardy enough. Last we added a wire and clips from Ikea and a mix of pictures, polaroids, kid's art and prints.
Hey, while you're here I need your opinion. Should I do another of these hanging wires? I bought two but wasn't sure if one was enough. Plus, it'll might be low for curious kiddos to snatch things off.
Start by painting the wall white. Then measure out the wall according to how many stripes you want. We used 6″ x 1″ boards and they were 6″ apart. We started from the bottom and worked our way to the top.  We used about 4 finish nails to nail in each of the boards. Next, caulk the nail holes and the edges of the boards. Caulk is what you use to smooth over the nail holes and the edges of the boards so they look flush to the wall. Then we painted the inside of the boards white. Last, we only painted the very front of the boards grey. We used a foam roller and used a baby wipe to wipe off any grey that seaped to the white before it dried.
My mini baker is such a big helper. Except I can barely turn my head to grab the next ingredient because who knows what she will stir in, making it her own tasty concoction. That's why it's always eat at your own risk. So far so good… I haven't been poisoned (yet) & the pumpkin chocolate chip cookies are delicious!
Ready for the world's easiest pumpkin cookie recipe?
Spice Cake Mix (no eggs, oil, water etc) + Can of pumpkin 16 oz + Chocolate chips. That's it.
I bake them small about 3Ts and then cook them at 350 for about 15 minutes. Don't overcook them. I check them like I do cake with a toothpick or small knife in the center.
Thanks to my sister Em for that recipe, although my
toosh
does not thank her.
They are
soooooo
yummmmmmy
!!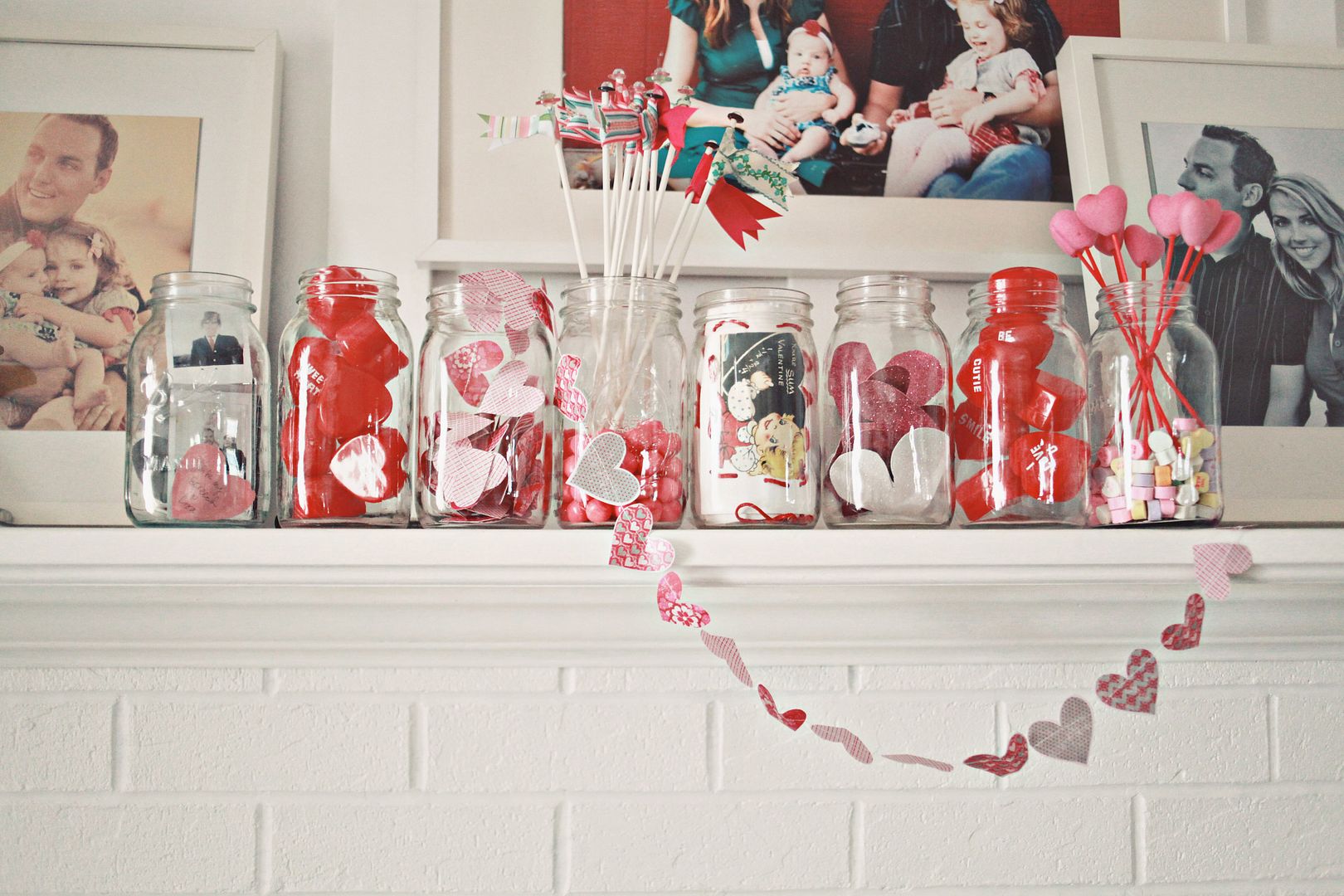 Inside the heart jars:
I found these
vintage lace up valentines
at a local fabric store and I adore them. Avery's going to give some to her cousins & keep a couple in the Valentine decor box.
They are darling and spotted them
here.
I already shared the
love notes jar
in my last post. I also added some photos from my beloved
Instax
C
amera
of my family when they came over yesterday. The plan is to have this chalk full of sentiments and snapshots by Valentine's Day.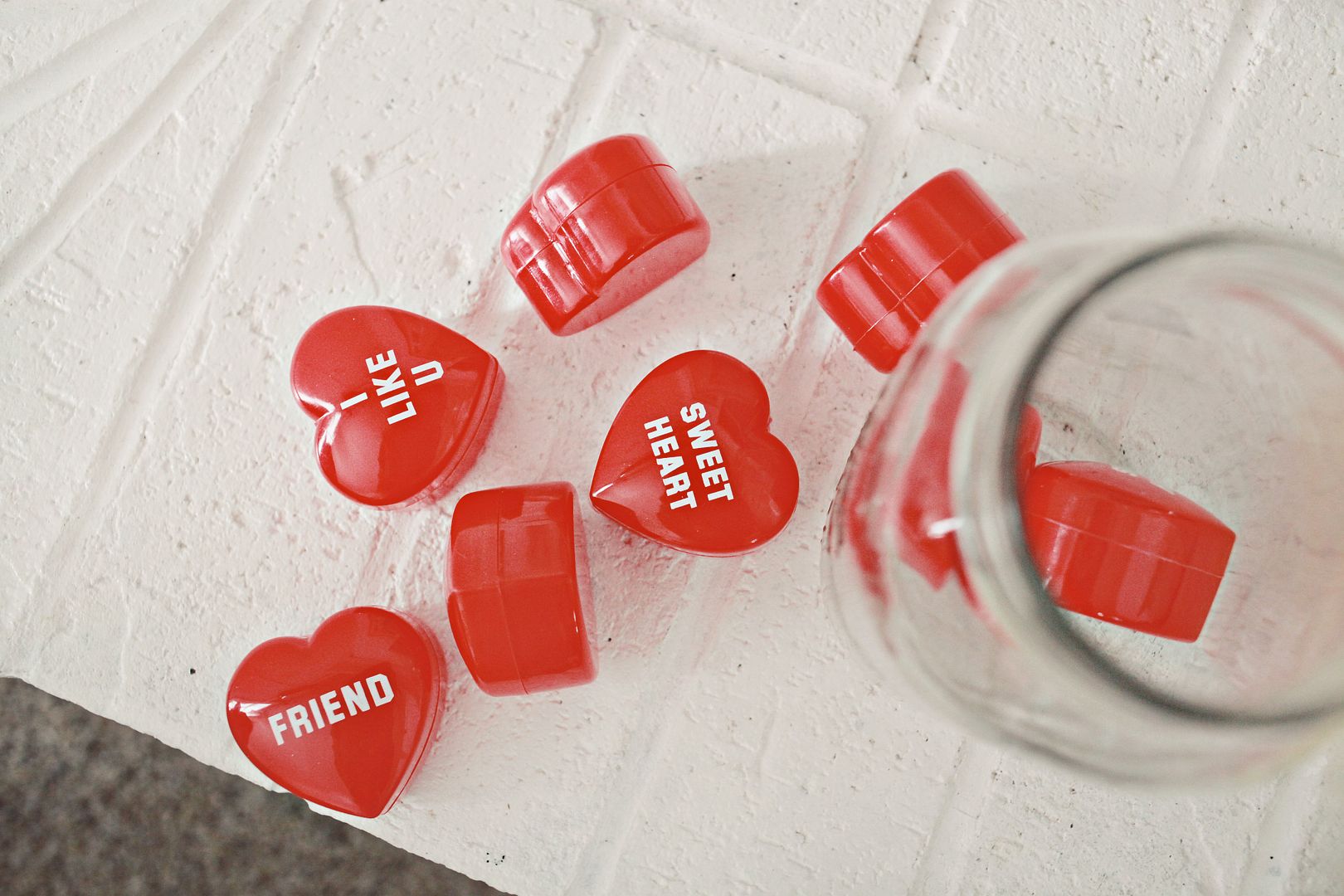 The plastic hearts open and you can fill with candies.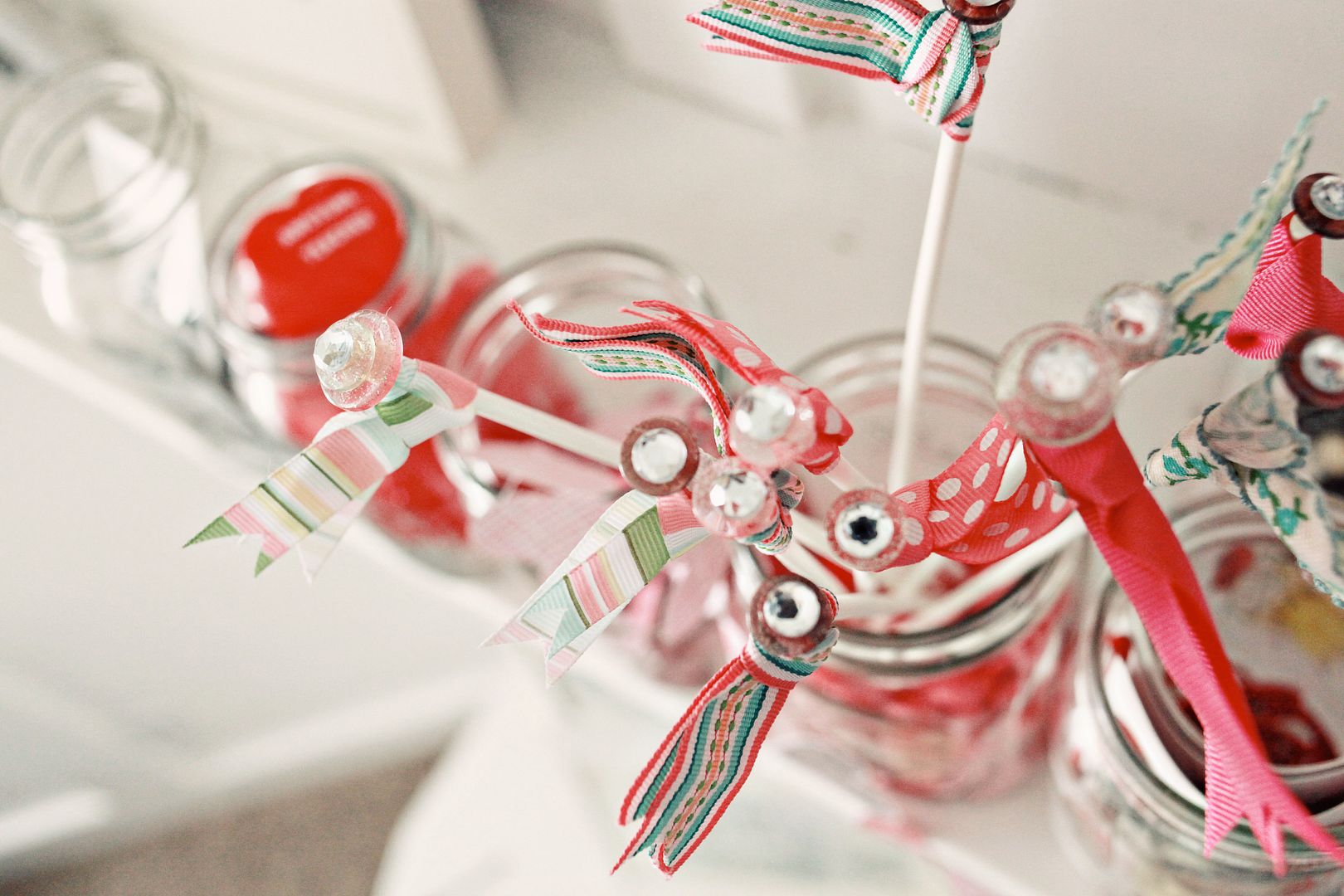 As I continue to put together Lola's nursery I know I'll be spending lots of time in it so I want to make sure it was filled with things I love.
I'm almost finished with the frames on one of the walls. I need to add some photos. But one of the frames already hanging that makes me happy during those wee hours of the morning is pictured above.
I cut a page from one of my favorite books by
Compendium
called
"
She…
"
It's an inspiring gift book that would make a great present to any mother, sister or friend. But make sure to get one for yourself–or two if you cut it apart like me.
"She went out on a limb had it break off behind her and discovered she could fly. Celebrate her faith."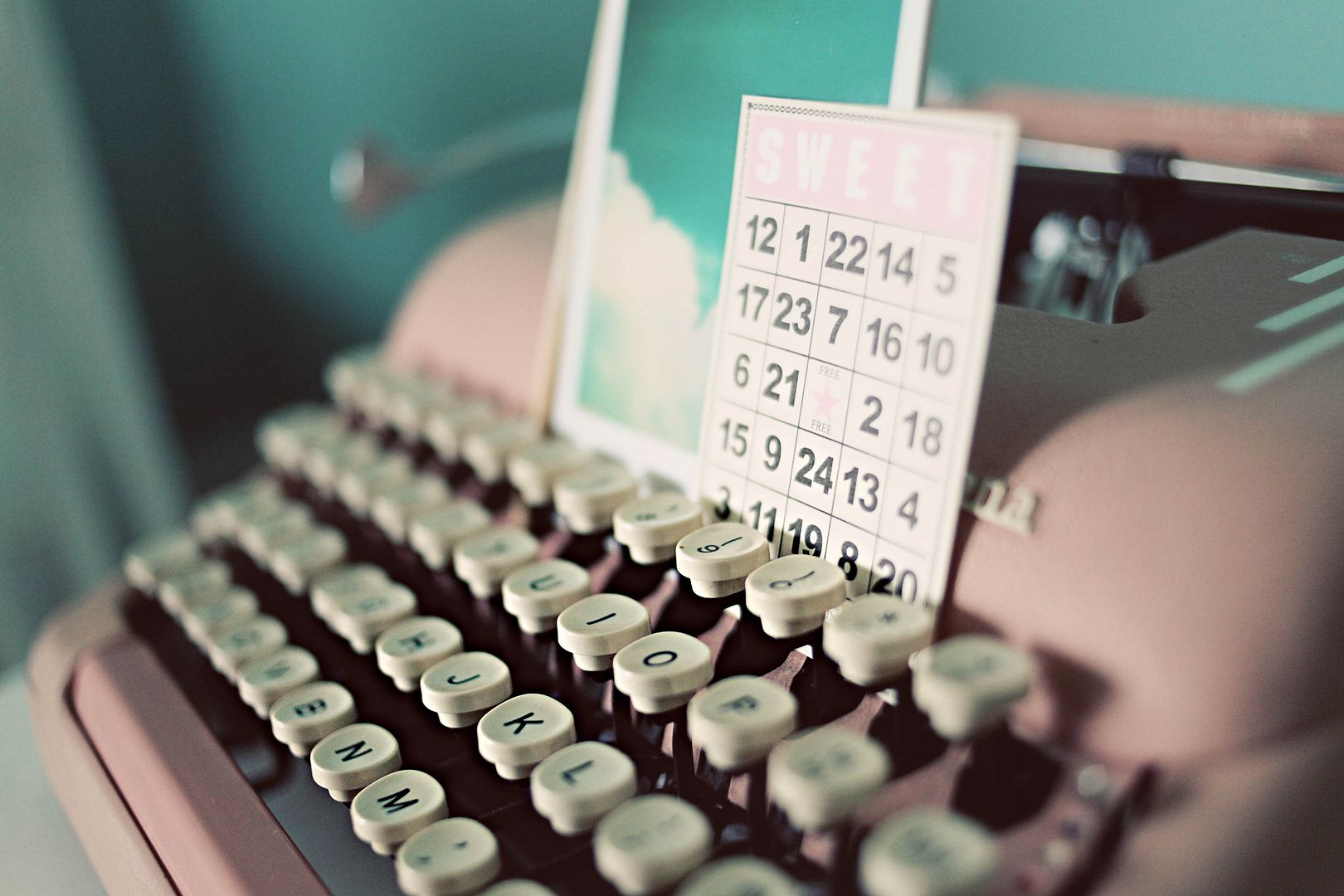 I can literally hear the clock ticking in my head counting down to our baby, or maybe that's the cuckoo clock I just hung in her nursery. Either way I've got one week to go… hopefully.
Just a couple quick shots of details coming together in the baby's room including a pink typewriter,
bedding
, paper cranes folded & frames are mapped out on the floor just need Collin to hang them later tonight. Me + nails + his precious dry wall are not the best combination.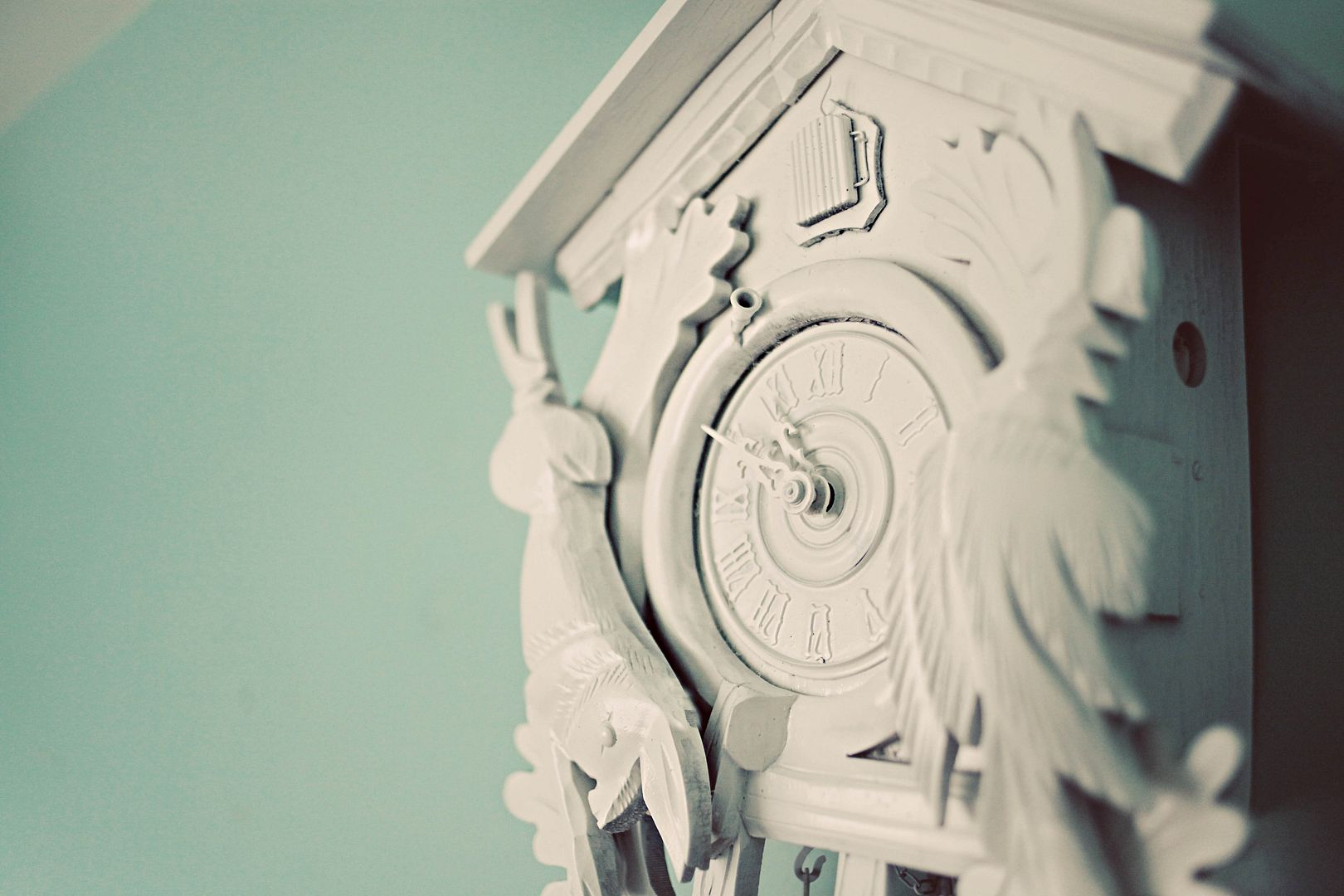 Found this beauty at a garage sale for 5 bucks and Collin painted it white for me. I have another one in our living room but I want to collect more. Not sure what I love about them.
The crib bumper is being made but here's the
quilt
we'll be cuddled up in in the wee hours of the morning. This is such a random post but just wanted to share…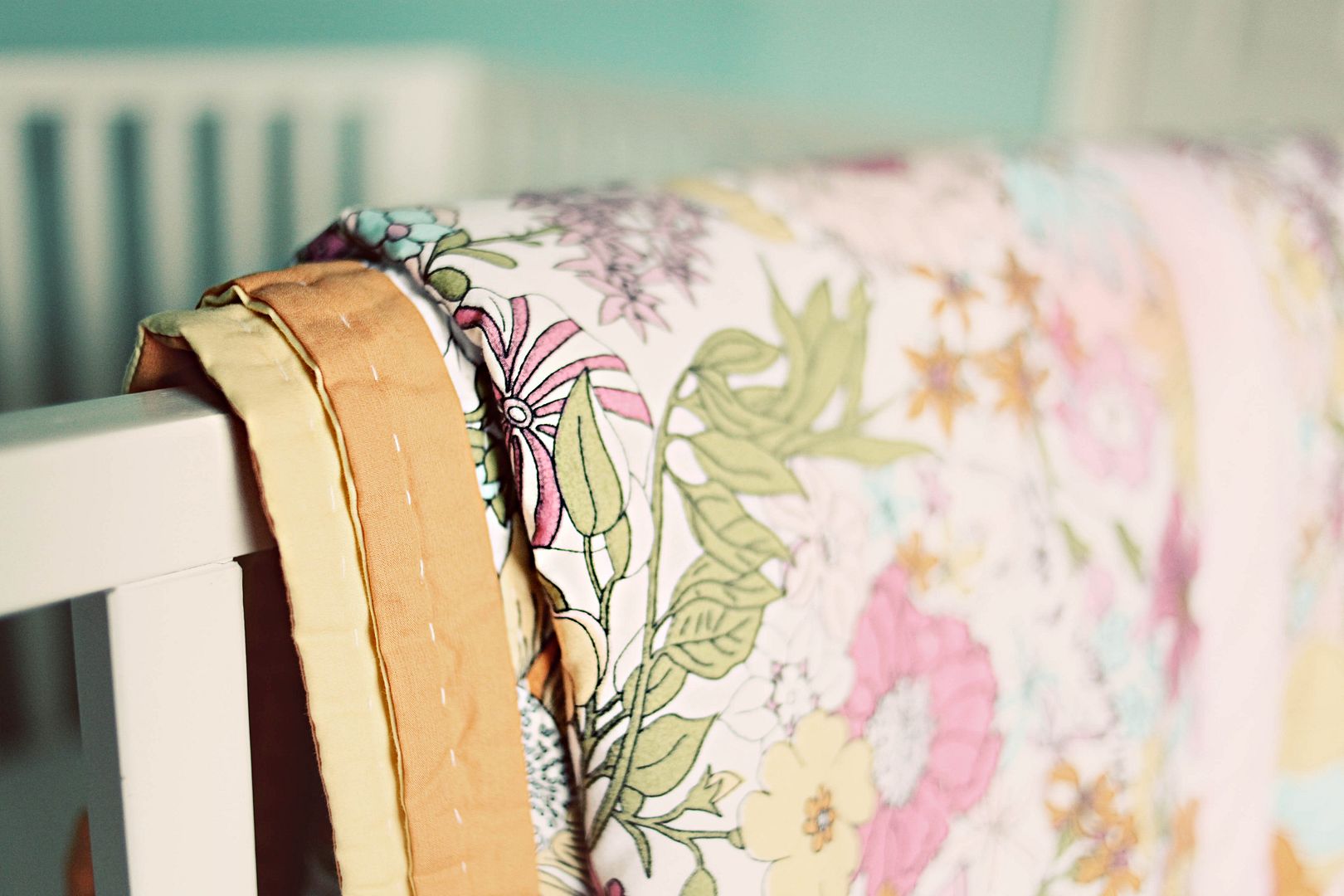 PS If you haven't already, you should check out the =>>>
packed-full-of-goodies
GIVEaway
!