Currently viewing the category: "favorite things"
Yesterday I got some great news from the doctor about the progression of baby boy's arrival… Let's just say next week I'll (most likely) be holding him. Which makes me freak out and do the happy dance at the same time. Although my dance moves are pretty awkward right now so don't even picture that for your own sake.
I still need to get lots of stuff for him. But I'm picky because some of the boy stuff out there are dang cheesey! Here are some of my favorite things I found today browsing online. And I was browsing online sick in bed with my laptop. Pregnant with a cold… not cool! Actually it does force me to relax… and do some retail therapy.
In December an Instagram friend, Lexi, posted a pic of her printer and how she was printing from her phone. I was on a mission to find a photo printer with those capabilities but wasn't having much luck. Excited to try it out, I forwarded the info to Santa. Dear Santa, Please get me the Canon Selphy CP900 printer…
Since I was a good girl and all, when Christmas rolled around I unwrapped my new toy. Fast forward a couple months and I am finally getting around to playing with it, and I must say, it's really fun!
This past weekend, I followed my Avery around & filmed her. For some reason she likes to set up her toys and take pics of them. Or her and Q love to sneak my phone and take funny pictures and videos on it. Then I showed her how easy it is to print her photos directly from my iphone.
(Follow the Canon Selphy instruction manual and it's pretty quick set up. I just had to make sure that my phone and the printer were on the exact same wireless network. At first it wouldn't work because one of them was on our guest wireless network. Otherwise it was easy.)
You need two apps you'll see in the video: Canon iepp & if you want to print two Instagrams on one 4×6 paper you'll use a collage app like PicFrame with the 3:2 ratio option and save the collage to your photo library then print.
Instagram lovers will appreciate this printer because it encourages us to get our photos off our phones and on display.  This makes me so excited for taking it on our trip next month too since it's very compact.
If the video doesn't show up below CLICK HERE See my other videos on vimeo
Song: Katie Herzig
Dear Lizzy: film, edit, text
Collin Kartchner Studios: film printing shots and edits
Let me know if you have any questions.
Thanks for watching! xo, Lizzy
I'm kind of obsessed with notebooks and journals… I have one in my purse at all times. Ya know, for when some amazing inspiration strikes and I can write it down. Like, we are out of peanut butter or make sure to call Grandma on her birthday. Not to mention lists and lists to clear my mind… and to not necessarily ever check off.
These gold foil journals are amazing!! Check out more of Whitney's eye candy pics and a tutorial on how to make them.
Take it for what's it's worth, but I think journals or notebooks are such a great gift idea. I included six of my favorites and I have half of them already… I love the Carpe Diem journal. I actually carefully cut out two pages and framed them in my studio. Remember the Ice Cream print?
For Christmas last year I gave Collin the One Line A Day: 5 year journal. Sometimes I just hand it to him and because it's the most low maintenance journal, instead of setting it aside for when he has more time to write, he'll just record a quick one liner. Besides that's all there's room for each day. Perfecto!  I also have the typewriter notebook. It's a good size, like 5×7, and one that I keep random notes in and carry in my purse.

Ikat Cloth Journal///Carpe Diem Journal///Typewriter Notebook///
One Line A Day Journal/// Q&A Journal ///Yellow Shapes Notebook///
Also, another one of my favorites to carry around is this Mini Daybook Journal 3 pack
Happy list making!
Dear Lizzy, What are your favorite apps for photo editing and Instagram? 
For those of you who are not familiar with Instagram it's a free app for your iphone, android, ipad, etc. Once you download it you can find your friends and follow them. Your feed will automatically show their photos as they post them. There are a bunch of photo filters Instagram comes with that are great. You can like your friends' photos and leave comments. It's basically Twitter but with photos.
Here are my top 5 photo app recommendations for all you Instagram lovers!!


PicFx (1.99):  for all your bokeh filter and light texture needs. I have only used this app for the bokeh effect/light textures. I haven't even looked at the other options on this ap because that's the only thing I need and use it for. When you add a light texture that you like, tap on the picture and click rotate to move the filter around the picture to where you like. Then use the sliding bar on the right to change the opacity of the filter. You may also click the arrow to save or add more filters which is cool if someone wants to layer on different effects.
VSCO (.99) : Love this one for adding a cool fade filter to my photos. I like the exposure, contrast and other basic editing options. I also really like the Black and White filter on this one. There are a couple little things that bug me when I am uploading and saving but overall I really like this ap.
Snapster (Free or I upgraded to the 2.99 version): I like the filters it comes with, some cool frames, I like the light leaks and it will open to Instagram for convenient posting. My favorite part is you can create your own custom filters and colored lighting. The advanced settings are really fun to play around with like I did below with the ferris wheel. The one of the left is one of the "Pop" filters and it comes with the app.

Picture Show (.99) Great for light leaks, a cool bokeh effect, a grid overlay. The filters are ok. I do like the multi exposures filter I've used it a few times like the photo below. The basic brightening and contrast tools are good.
My next photo editing purchase will be: Snapseed (4.99) I've heard really good things about it for all your photo editing tricks. I've heard it's the only ap you'd need so I am excited to check it out. Also, as I was finishing up this post I saw my friend Rhonna sharing a cool tutorial for using Rhonna Designs fonts with your apps!
-As if there wasn't already enough ways to waste your time with Twitter, Facebook, YouTube and now Instagram. It's definitely easy to become addicted to social media without knowing… or even knowingly. Instagram is my recent poison of choice. I love the spontaneous pictures and how they tell our life story. I recently ordered a book with all my instagram pictures (I'll share next week) and love it! It's also inspiring to see how the peeps I follow capture their everyday life. My username is (@dearlizzy or profile here)
At times it can get on Collin's nerves if I am looking at my phone excessively… but when he's home from work I think 'oh, now I have a break and get lost on my phone' but I try to wait for the right moment and Insta-responsibly…! ; )
 Email me with a Dear Lizzy question: lizzy@MakeSomethingSplendid.com
*The Cheerfully Charmed Giveaway is still open below.
It's almost my birthday so naturally I put together some of my favorite things.
1. Polaroid film for my 600 camera: Film from The Impossible Project
2. Luckily my birthstone is a stunning emerald. I would love to get three stackable rings of my daughter's birthstones: Von Eshna
3. Wood bowls dipped in colorful paint: Wind & Willow Home
4. Yes, I adore this white gnome with his fancy gold hat: Mod Cloth
5. Navy dotted dress… or anything from Madewell
6. This camera is my next purchase: The Golden Half. It has the option of taking two shots for one picture. I brought a film camera on my trip and developed the film and now I am kind of obsession with 35mm because I am not that great at printing my pictures but I developed my the very next morning. Find this and other cool cameras at Four Corner Store.
7. Stripey wedges: Asos 
8. This bag has been a fave for a while! Thunder In Our Hearts: Fieldguided on etsy
It's full speed ahead to CHA (Craft and Hobby Show) at the end of January where I'll be at the American Crafts booth releasing the new Dear Lizzy line of products. Lots lots lots to doooooooooooo! But I stole away some time to splurge on something to wear at the show. I didn't end up getting anything below but now I am having second thoughts about that foolish decision. Especially since I am loving those pleats and pumps. Yes, I am one of those weirdos at CHA that wears heels despite the fact you are on your feet all day long. I guess it runs in the family since we literally had to talk my mom out of wearing heels to Disneyland. She's a glam grandma…! Speaking of the Happiest Place on Earth it is right down the street so hopefully we will get to sneak over there at some point during the week.
Well, while I decide what to wear, I better get back to work… in my pjs.
PS Is anyone going to be at CHA?  Would love to have a meet up.
Skirt:Anthro//Similar Polka Dot Blouse: Ruche//Sequin scarf//Floral scarf, Feather ring, Navy blouse, Frames: H&M//Clutch + shoes: Mod Cloth//I wish Watch//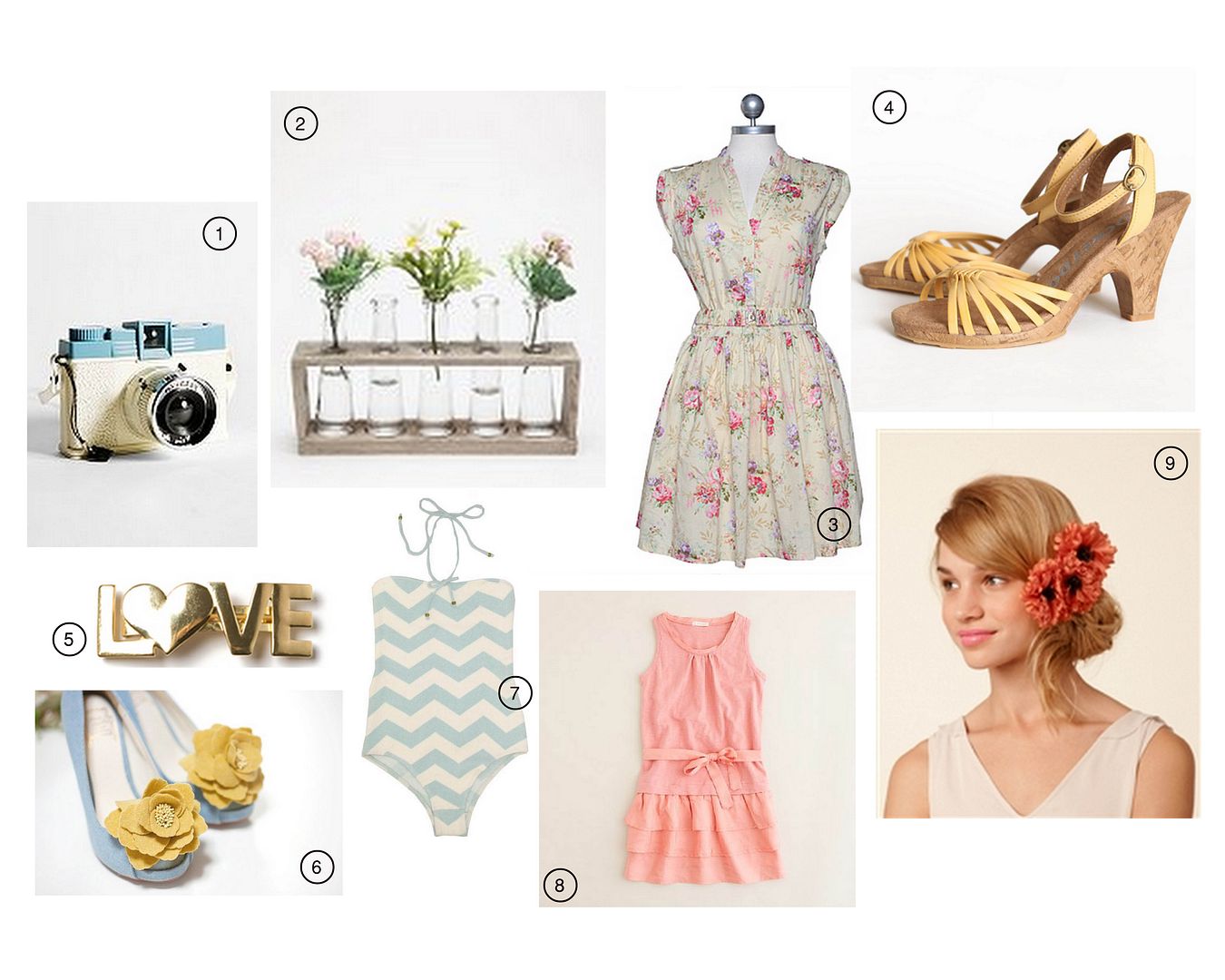 Today was the most cheerful, warm day of the year! I am
so ready
for it to be spring. But I can't get too excited since we usually have snow falling in May. I do enjoy this time of year… not only because American Idol is on and Collin entertains us with his performances between commercial breaks.
(Yes, we still in the primitive times without tivo.)
But also for the anticipation of springtime.
Here are some of my favorite spring things.
2 Flower vases: Urban Outfitters