Currently viewing the category: "family"
Despite the fact that Collin is outrageous in his humor and pseudo-personality Cleetus – He actually is a softy and wouldn't hurt a fly. (Except a couple days ago when he literally squished a fly with my Anthropologie catalogue, what a disgrace! ; ) As a hobbie and side job he enjoys making videos and is amazing at it! Being the giving person he is, he was looking for an opportunity to share his talents with video to help someone tell their story. The Koffard family contacted him and it was the perfect fit. He cried with the family during the interview and when he was editing I would peek in on him and he would be wiping tears.
Saturday night I went with Collin to view the video with this incredible family and it was touching.
As a mother, I think it's natural to worry about anything ever happening to our children. It's something I try not to think about too much but it's on my mind. I can't even fathom the thought of holding or kissing one of my girls for the last time. I think also having lost my father, I don't want to feel that desperate pain again. I really don't think that I could handle it with as much grace and hope as Jana has done so. She amazes me. The whole family does.
Now about the last song in the video, a few months ago I was asked to be in a video for BYU women's conference and the filmmaker introduced us to this song. Since then Collin learned it on the piano and it really is my favorite song he's ever played. It's called To Build A Home… The lyrics are moving. There's a tree in the Koffard's yard you'll see in the video and after they watched it Collin mentioned how when this trial came to blow them down they held onto each other and were stronger because of it.
By the cracks of the skin I climbed to the top
I climbed the tree to see the world
When the gusts came around to blow me down
I held on as tightly as you held onto me
I held on as tightly as you held onto me
'Cause, I built a home
For you
For me
Until it disappeared
From me
From you
And now, it's time to leave and turn to dust

Click here to watch the video!
Check out CooperRun.org! Come run with us July 28th to honor this sweet boy's memory and a good cause!
I've missed you all this week in blogland! ! I'm not kidding either.
We've had an eventful few days with family in town including my Auntie and my sister and family from Germany. After Ash flew in they came over for french toast and we stuffed our faces and laughed and it was like she never left. My Auntie Cheryl is also here from California who I've been so close to since I was a little girl. Every summer my sisters and I would fly out and spend a few weeks with my cousins. (Aren't cousins the best?!) One of those summer we sat by the pool and ate cream cheese + salsa & chips. It changed my life. I'm not kidding, try it! Just pour salsa over cream cheese and then dish out a little of both with a chip. Yum!
A couple evenings ago I was driving home from a meeting at American Crafts and thinking about how the last thing I want to do right now is make dinner, my phone rings and it's Cheryl calling because she and my mom were coming over to make my Grandma's homemade spaghetti sauce and noodles! Sweet! When can you move in? I asked.  While we cooked, or she cooked and I watched, we talked about how she wants to start a company to help people get organized in their home. I opened up one of my cupboards and our junk drawer and she seriously was salivating… literally excited to dig into all those loose paper clips, pennies and old phones! (Hey, what's this? A discman?) I'm not a hoarder but who knows when I may need a coupon that expired in 2007 or some dead batteries. Okay, I have a problem. ; )
Later that night my 2 sisters, mom and my auntie all chatted it up the pink room. Collin walked in for a second and walked right back out. I think it has to do with the volume, topic and the fact that we all talk at the same time. Someday that we will me with my girls and I'll wonder what happened to my babies?
It felt refreshing to have a break from the computer I might just continue that through this glorious weekend.
What are your weekend plans…?
PS I promise I haven't forgotten and will post the giveaway winner asap.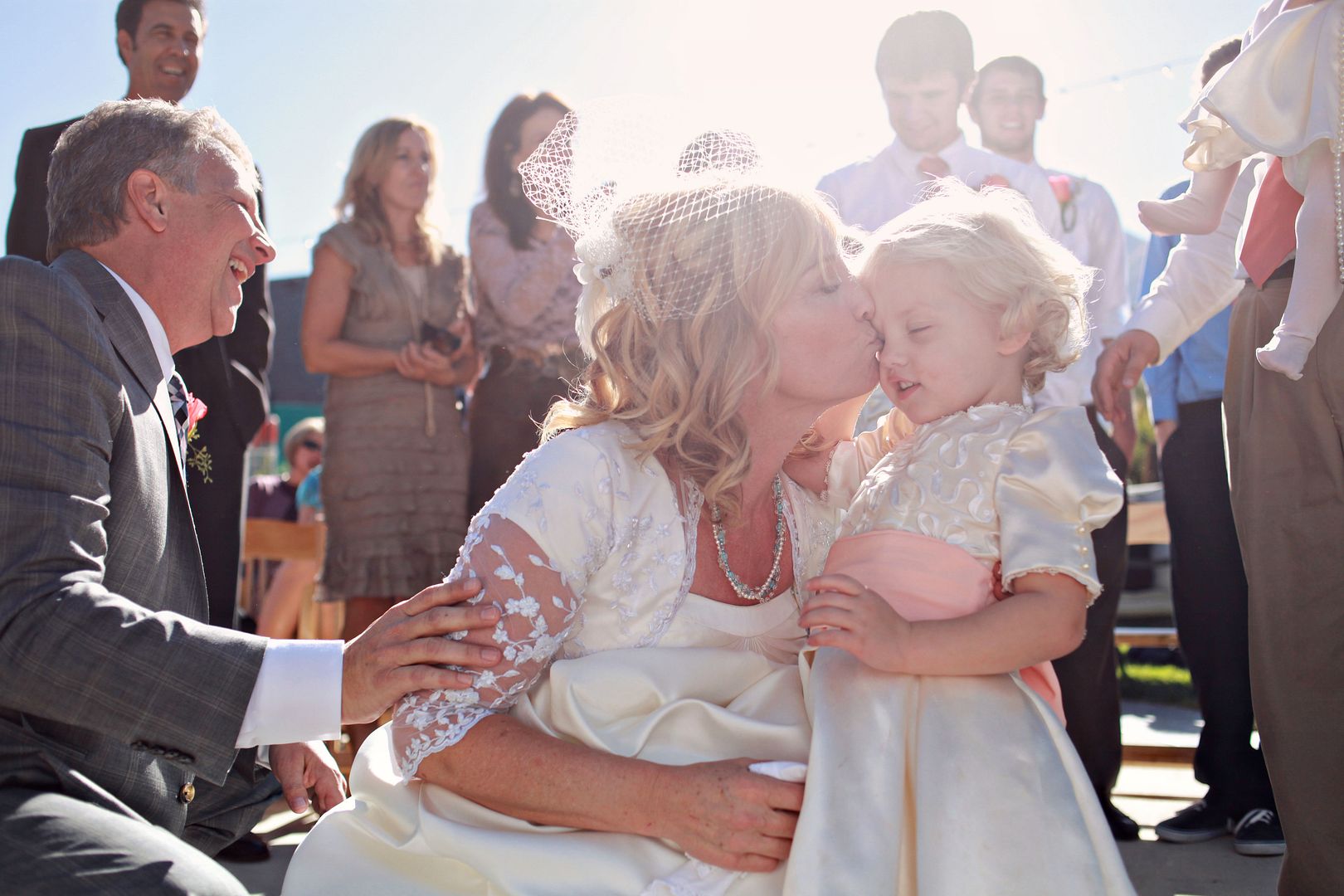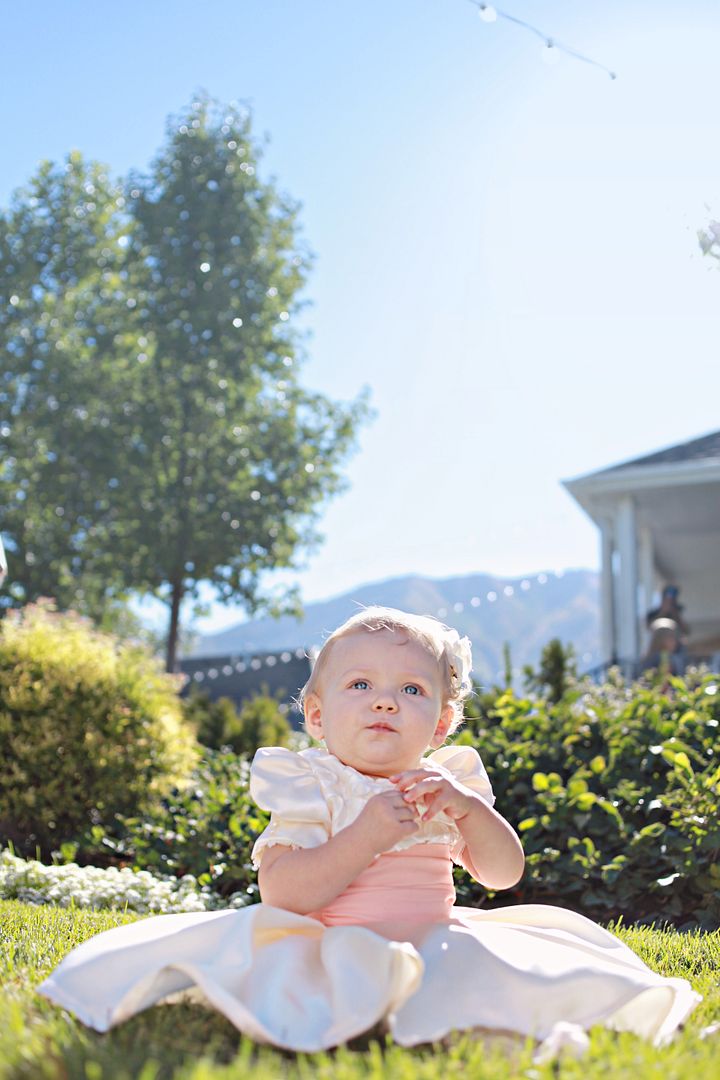 What you don't see in this picture: Collin and I doing anything in our power to get her to smile. Including making silly faces & noises and being obnoxious.
Stole a picture with Collin. I think all the kids were crying while we took this but I wanted one of us together before the wedding was over.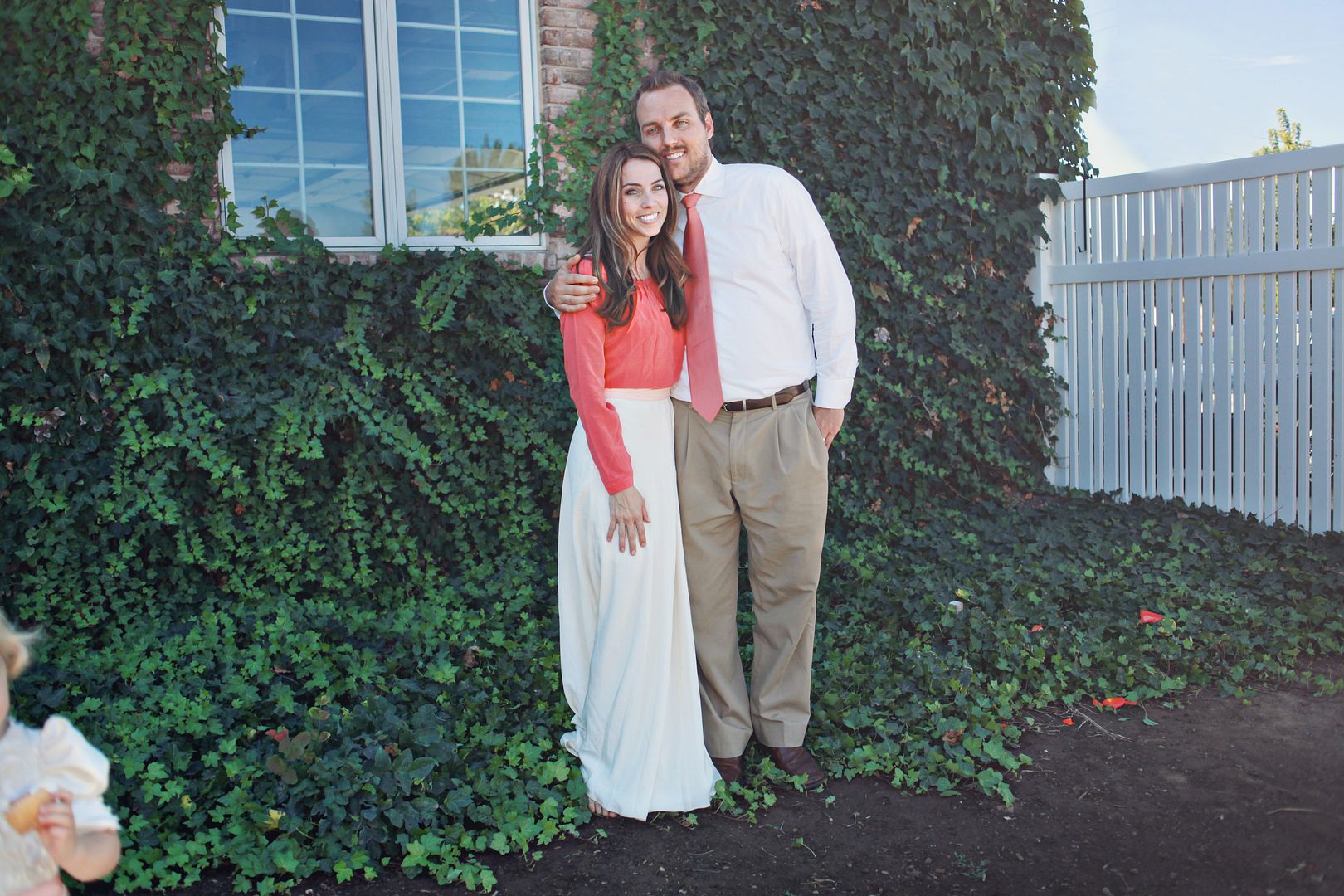 Flower girl dresses: Handmade
Dress: J Crew//Handmade sash//Blouse:

Ella Moss
I can't remember if this was before or after my new father-in-law's mother told me that Quincey will be the President someday. Sweeeet! She even had a list of reasons that nearly had me convinced. I told Collin and his reply was… "The president of what? Crazytown."
She's in that really darling yet sometimes defiant 3 year old stage! But we still love her… our little miss future President.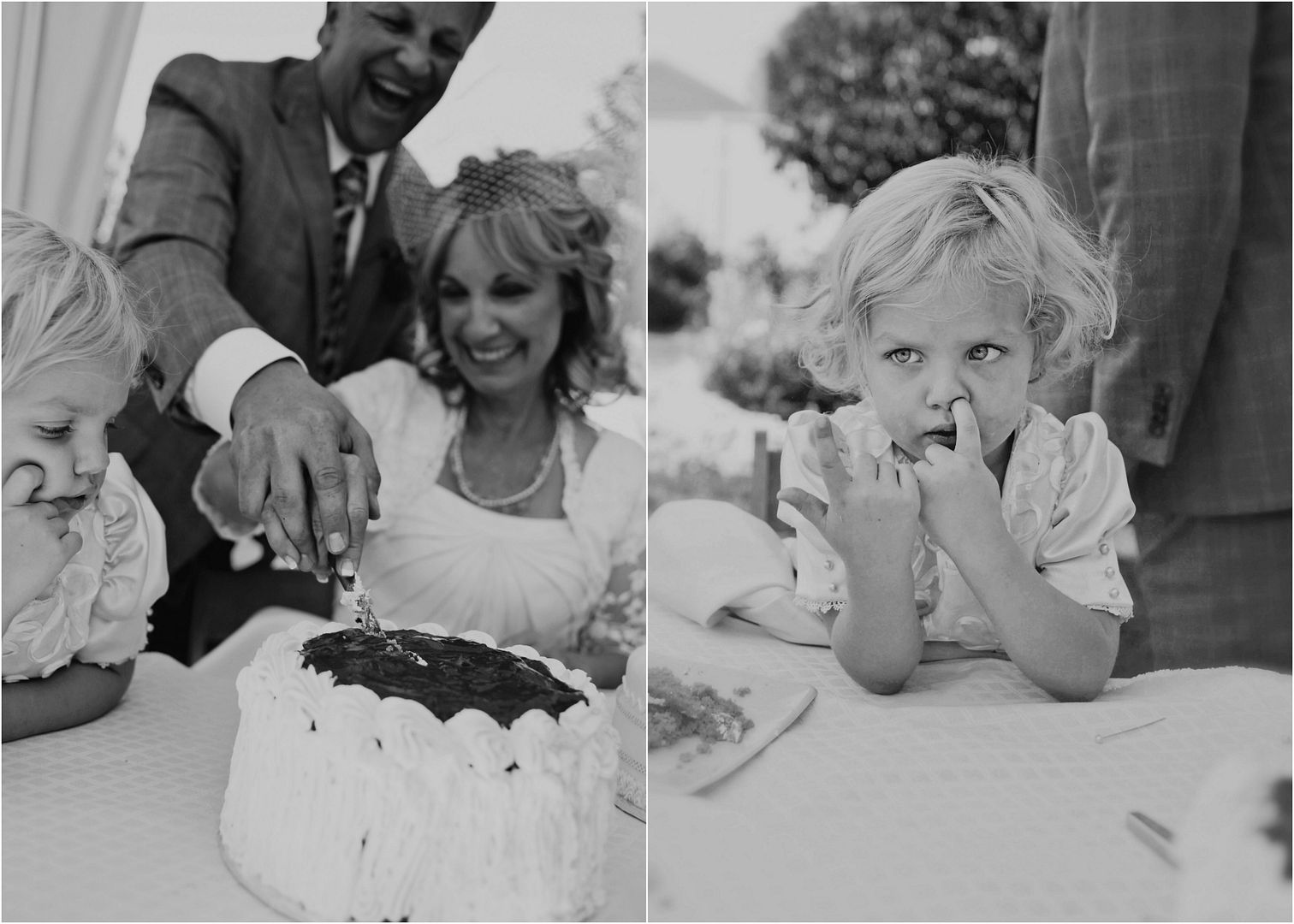 Sure, I could reminisce about the days before we had 3 munchkins… but those days don't have nearly the same warm light or contagious laughter.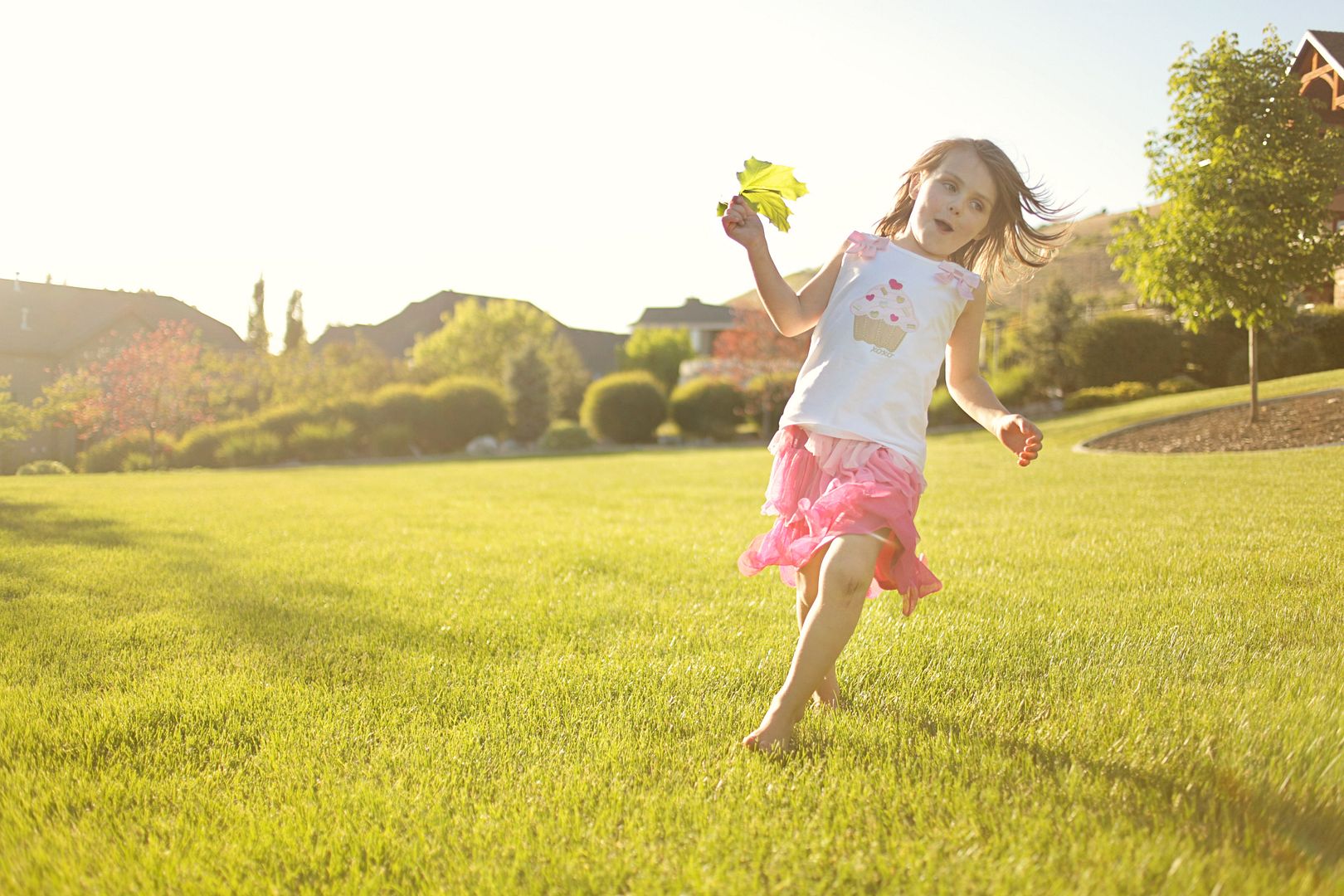 Even though there's more laundry, more drama, more patience needed.
There's also more purpose, more meaning, more love.
Even though I can get lost in my role as mother and
,
some say,
I might lose a bit of elizabeth… it's actually made me who I am and a better me.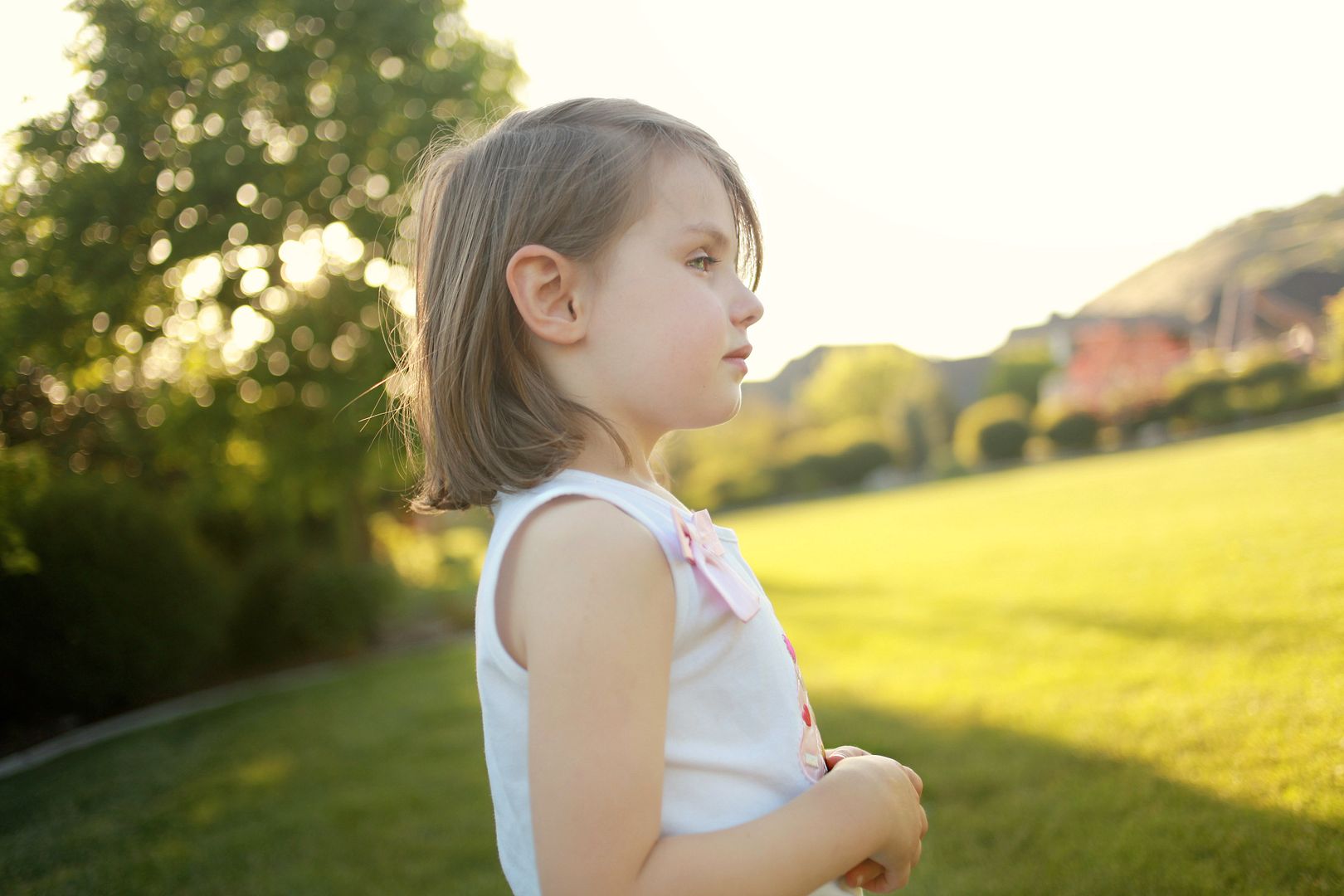 No matter what it is in life, the difficult times always makes us stronger. Sometimes I even get scared when things are going good because I think, okay, it's time for something horrible to happen. Like a Disney movie and their extreme movie plots, where the absolute worst thing has to happen before you can find happiness.
But slowly I am learning to trust that God has a plan for me & to not be scared. Instead treasure the light & the laughter and… just be prepared for the crap!
In other news: It's this girl's birthday today.
The birthday party will be another day which I am so glad we didn't plan today because she had a 103.2 temperature last night and we were on the phone with her Pop Pop who's also a Doctor making sure she's ok. She slept like a dream & is her same silly self today.
Happy Birthday my darling girl! xoxoxoxo
I was soooo giddy about the pictures I captured last night of my girls! My grandma sent Q&A those outfits so I promised her I would take pictures.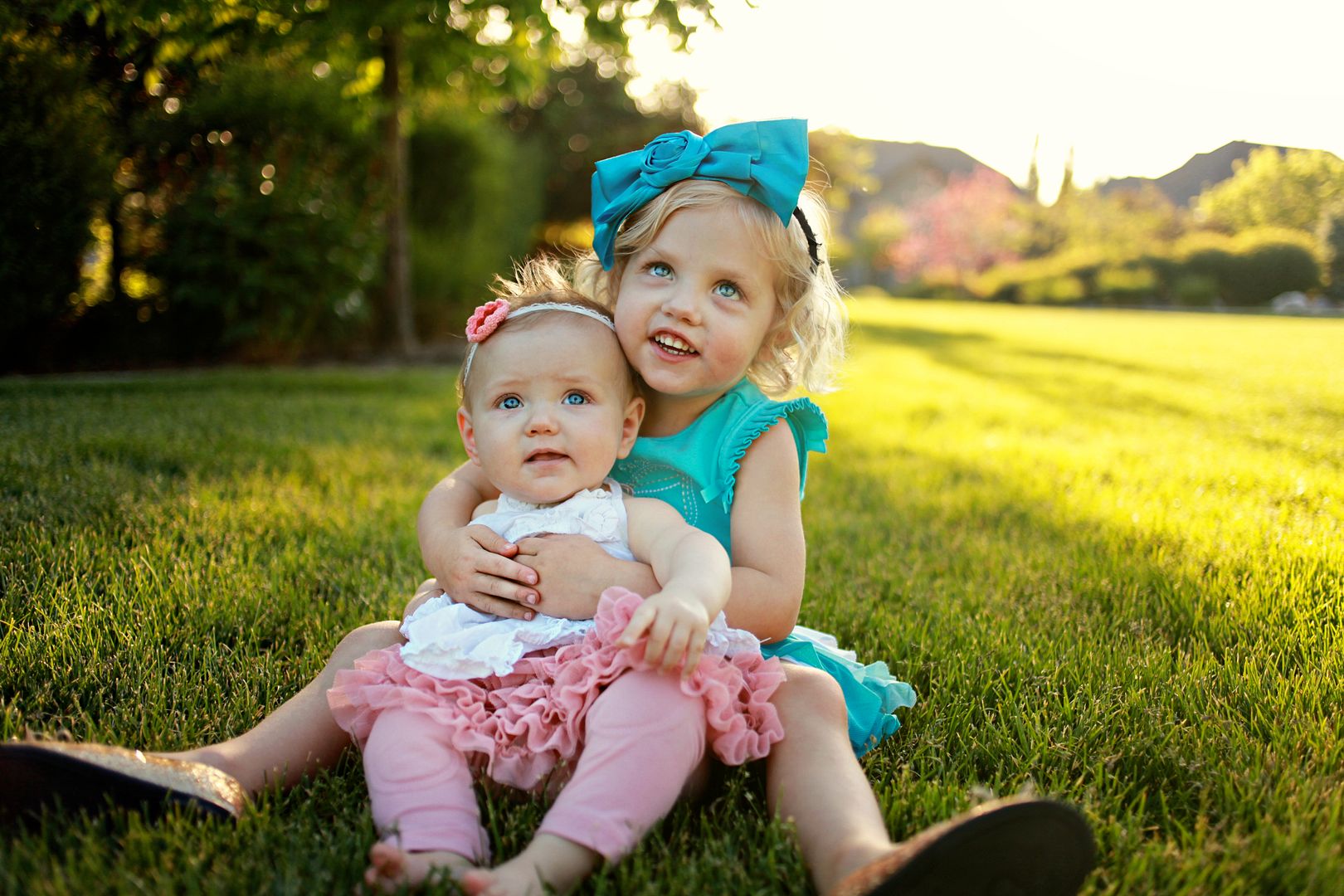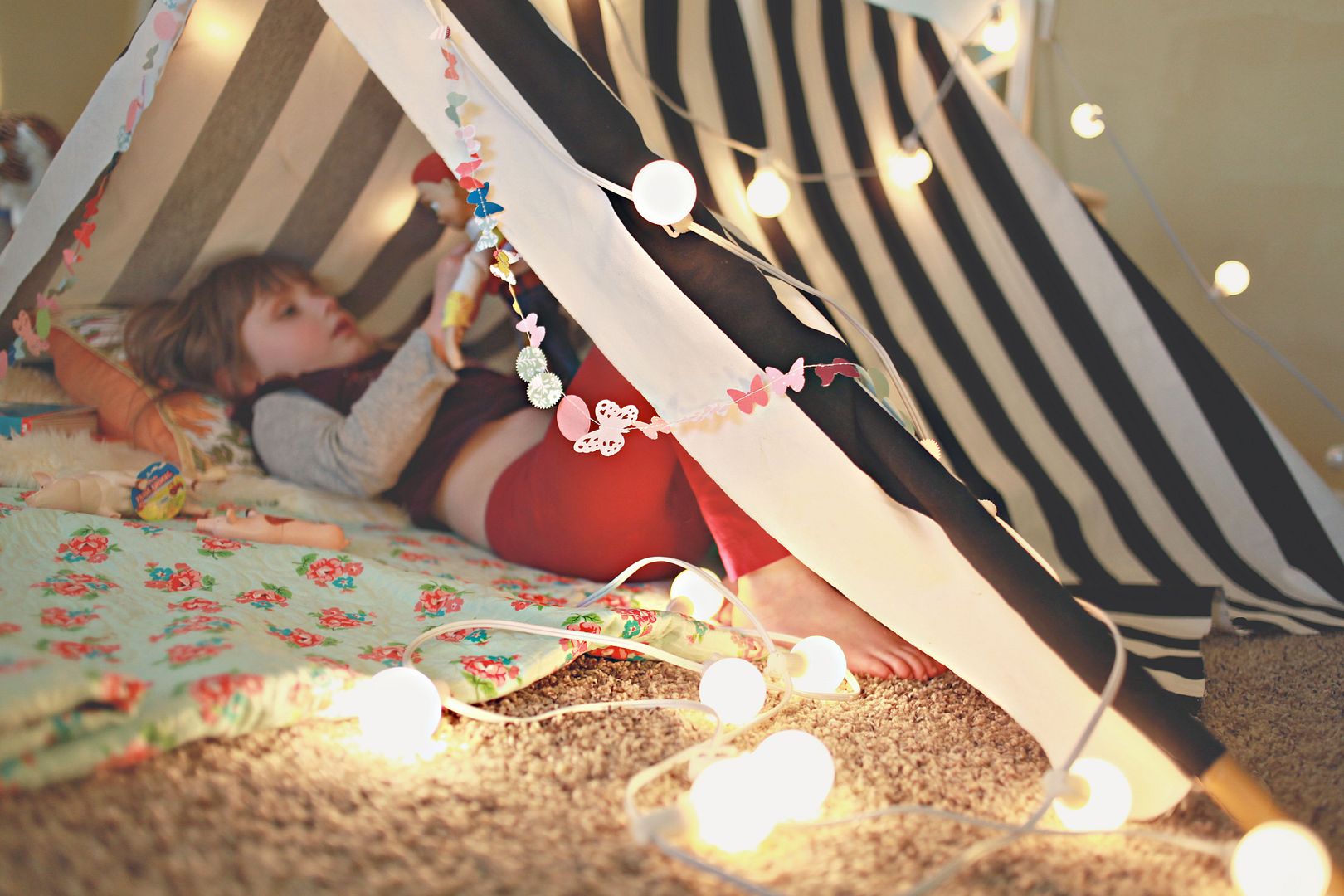 Resolution #15:
My 12 year old self would be quite disappointed if she could see future me… because sometimes I take life much too seriously. Last year, for my twenty ninth birthday, I received the following gifts from different members of my family and I'm not joking: Punky Brewster DVDs, a purple hula hoop and a vintage Minnie Mouse t-shirt. Coincidence? I don't think so. They were simple reminders that even though our lives are spotted with worry, stress, & lack of sleep don't let that turn us into a living Cruella Deville.
So, one of my resolutions is to play more.
Some ideas to consider while achieving this newly proclaimed mantra:
Walk lightly with a skip in your step, no slouching.
Kiss someone in the rain
Only eat mini marshmallows while throwing into air and catching them in your mouth
Roll down the car windows and sing "Nothing Compares To You" as loud as possible
Go bowling or roller skating
Leave love notes for people you adore
Never walk past a photo booth with out taking pictures
Be the one to plan a fun date or outing with friends
Build a fort every Friday
Okay, some of these are down-right unruly or verging on annoying but, hey, if it lifts your spirits and makes you smile then go for it.
I started off this resolution with building a fort. Once I finally got the fort figured out we had a fun time! Putting it together is definitely part of the play. First I tried hanging something from the ceiling: too heavy. Next I tried chairs: not cute. Then I found some pipe that I use for a tent: perfect.
If we are going to keep this up every Friday I definitely need to get this fort kit:
Crazy forts
. Just for the base pieces and use my own fabrics.
Lighting is also key to a great fort. (
bulb string
lights.)
Ta ta for now. Off to play.
I shared this resolution with
Mandi
over at her blog, and wanted to share it here too.
Liz is sitting here by me feeding our little Lola-bug as I type this. We haven't gotten much sleep this week, but then again, we haven't had a good night sleep since 2006. Sometimes I ask people who don't have little kids to tell me tales of "sleeping through the night" while I sit at their feet in disbelief. "What mythical creature is this…"alarm clock"? You mean a machine wakes you up?!"
Those of you who have read this blog for more than a couple weeks know there's 2 things I rarely am, and they're both "serious." But, today I wanted to share this glimpse with all of you, something that is very sacred and special to me. It's a video I made of Lola's birthday.
How do you capture the million emotions of waiting to bring a child into the world? Anxiety, nervousness, fear, anticipation….peace. We often talk about a curtain being placed over our eyes when we come to this Earth, something that makes us forget who we are, where we came from, who we were with. If we took that knowledge with us to this life, what would be the point?
A few times, sacred times, that curtain is thin. Very thin. So thin that for a brief moment there is no difference between the heavens and the earth. You feel the presence of our Creator, family members who have passed on before us….family members who have yet to join us. I think if we're lucky, we'll get maybe just a couple of those experiences in this lifetime that will feel almost like deja-vu. Our eyes will be opened from this mortal life…a life that is hard. Life that is stressful. Life that thickens our skin and makes us cynical and unsure of who we are. Last Tuesday at 5:11pm and the hours leading up to that moment, that curtain was thin, and all who were present could sense it.
Liz and I have dear friends who cannot, for some reason or another, bring children into this world. They are wonderful people who have cried their share of tears from this. They deserve just as much as anyone the chance to experience it. I don't know why we can when others cannot. All I know is they will, someday, and it may not be in this life but when they do it will be just as special and sacred a moment as ever.
I have a deep gratitude for what my wife has gone through for our family, and for all of you mothers, both current and one-day-will-be mothers who are reading this. I wasn't sure if this was too special to me to share with you all, but something told us we should. I've turned off the comments because I just want you to enjoy it. If you really would like to tell me what you thought, I'd love to hear from you. (pixelpopphotography@gmail.com)
(click on the
Love
link to watch it in HD as it was meant to be viewed
Love from Collin Kartchner
Getting in the spirit of Halloween around our home. Which means I need to finish my spooky tree using my
Girls' Paperie
… I told you I adore these
crepe flowers
!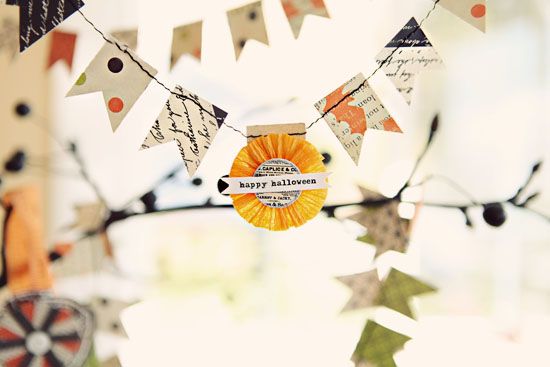 We have 2 of our 4.5 costumes ready. Collin & I are trying to figure out what we can dress up as this year. Collin suggested we paint a pumpkin on my tummy… now that's pretty much the scariest costume I've ever heard of.
So, really, any ideas for a preggo momma? I was going to take a year off but what's the fun in that?
I'm not the only one carrying around a pumpkin… this girl carries hers around all day since Saturday when she found the perfect one. She pretty much loves it. Perhaps because it's just her size.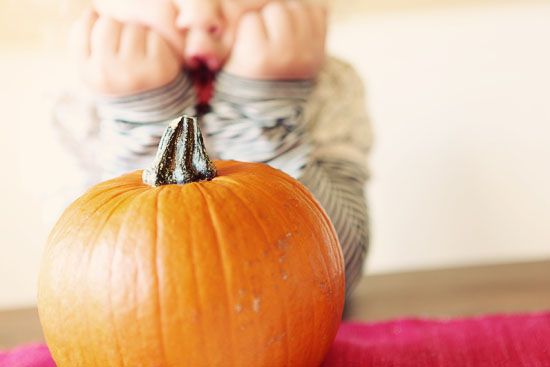 Despite the fact that the kids have been sick all weekend they've still been surprisingly chipper. Which is sooooooooo nice. Much better than sick + grumpy.
We've kept it low key around here and just hung out cozied up indoors. A little football, a little baking, a little crafting & a lot of
snuggle time
laziness.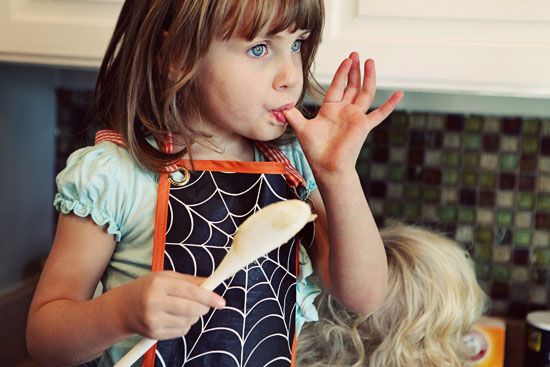 Hope you had a nice weekend & are enjoying getting ready for Halloweeeeeen.
Life is far from perfect. It is hectic & stressful at times but despite all of that I've felt overwhelmingly grateful & content lately. Probably since the past two events are behind me. Probably because I carry around an angel in my tummy all day. Probably because I love this time of year &
General Conference
started today. Probably because this little girlie squeezes my cheeks & I can forget about the flurry and frenzy of life for a moment.
When I got home from Vegas, Collin filmed a couple clips of video to show me how our
new camera
works. Just for fun I put it to music and tested out imovie. Thought I'd share it, but keep in mind that this was filmed on my tired-zombie day I previously mentioned.
Happy trash day!
Oh, is it not your trash day today? Happy Wednesday then.
My
Q
uincey
R
ose.
Photo By
Jefra Starr Linn
Yesterday I visited with a sweet friend of mine who recently lost someone very close to her. As soon as I saw her we embraced and cried. Her sad eyes linger in my head and I wish I could take all the pain away from her. Pain of losing someone… it hurts so bad. I wish I could tell her that it's okay, or it'll get easier but I can't. The only thing I can tell her–she already knows. That she'll see him again.
Life is so fragile.
Spent the afternoon following my busy Avery around. Didn't let myself get distracted by anything and just ran around the back yard doing whatever her curious mind wanted to do. We made mud pies, inspected all sorts of leaves, smelled dozens of flowers & picked each petal from a rose. At one point, while she chased a white butterfly across the grass, I got choked up.
(Surprise, surprise since I'm doing that lots lately
I was just so moved watching her eyes beam as she followed it & laughed each time she tried to grab it.
The next thing I know, she's in tears because it flew away. You know, those big crocodile tears girls can dish up so well. The tears that cause me to dig deep into my mommy skills to find the remedy. And all because she wanted to hold it.
"The butterfly will come back someday." I told her. Just like I told my friend… you'll see him again. And she will.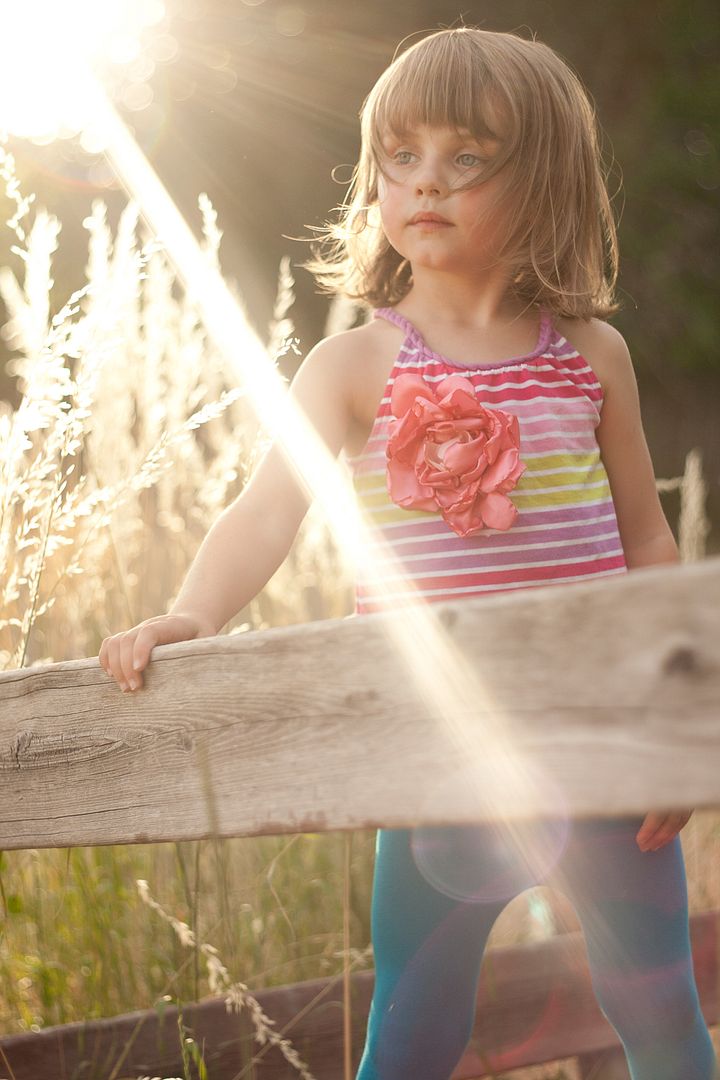 Remember when I was bragging about
Jefra
and the brilliant photos she takes? These are a couple photos she snapped of my beauties while we were setting up the
photo shoot
. Thanks Jefra! Love them. Love.