Currently viewing the category: "family"
We celebrated Lola bug's birthday yesterday. This girl is so cheerful, loves everything girlie, frilly, pink, rufflly! Loves dress up, crawling in our bed at 4 am, and dancing to Annie. And she's got some serious sass.
Her day started with a waffle breakfast & crown then a date with mom and dad of playing at her favorite trampoline-jump place, dinner, shopping and dessert. A tradition we started last year where mom and dad get one on one time with the birthday girl/boy… it's my new favorite thing! We went to Texas Road House and she was not shy about sitting on the saddle and yelling "Yeeeeeeehaw!!" Then she filled up my stroller with everything at the Disney store she could reach and ended up with an Aerial doll. Course.
Because if you want your daughter to look up to someone– it's the 16  year old princess who rebels against her dad for some boy she says she loves that she's never even talked to and then she runs away to find an evil, crazy person to help her who ends up tricking her and almost killing everyone. Haha! Love Disney movies.
Growing up my mom made sure that our birthdays were such a special day. I can remember a Strawberry Shortcake Doll cake she made and I even have an invitation in a keepsake box she sent out for my second birthday. Man these girls' birthdays sneak up on me but I managed to make some quick fringe garlands, ombre table cloth from last birthday and ballon garland… Trying to do my best for them to feel that same love I remember.
-BALLOON BANNER: this is so easy. Just blow up a bag of balloons and then tie them about 6 inches apart, depending on how big they are. Use twine or curling ribbon. Then hang it up.
-FRINGE BANNER: I shared how to make fringe banners in a previous post. Using plastic tablecloths and a rotary cutter. I hung up the fringe as garlands and also vertically on the ends of the balloon banner.
-PAPER GARLANDS: You can find some garlands at party supply stores or online that add some dimension to the decor.
-OMBRE TABLECLOTH I used RIT dye and some fabric and dip dyed the tablecloth… I've been wanting to make one for ages and thanks to this pipsqueak's birthday I had an excuse to do it.
I told my sister when she opened this dress from her that I guarantee she will sleep in it. And she did.

This morning was cake for breakfast & the after party! bwaha! xo, Lizzy
You can't tell the story of Zuzu without starting with the strength of her momma. Who is also my little sister, Ashley
aka: blondie blonde
aka: my little sister who would sneak my finger nail polish and paint it on her lips
I shouldn't be surprised at how Ashley rises above challenging times. When she was only 13 years old and our dad passed away she had a certain strength about her that helped all of us overcome such a trial.
Fast forward 17 years and you find the same blondie blonde all grown up living in a foreign country with her husband and daughter for Christopher's work. This past fall they were getting acquainted with the new language, new home, new routines while living in Paris. Then she found out through the broken english of her Doctor that their growing baby in her tummy had serious complications. Serious enough that they packed up and moved from Paris back to Utah. The story continues with doctor visits every week, bed rest, scary times of almost losing their baby. But Zuzu is a fighter, just like her mommy. She held on even though the doctors said there's 50% chance of having still born. Even when they said she won't make it past 32 weeks. Even when they said Zuzu's has Down Syndrom and her heart has four holes with a chance of heart failure she stayed strong. One day they went in for a routine check up and after an intense few hours she was born–February 4th at 36 weeks weighing 4 lbs 11 oz.
It was still a hard road for Ashley, Chris and Taimi. Long hours at the NICU (Newborn Intensive Care Unit) until she was healthy enough to go home. Then when she was home their goal was to keep her growing and eating so she could be strong enough to have open heart surgery. She still was on a heart monitor and  the words heart failure echoing in their minds.

Yesterday we listened to Ashley and Chris each give a talk about the strength they receive through our Savior. And Chris also gave Zuzu a blessing. I could barely hold myself together, seeing that I was sitting in the same chapel that my dad went to when he was a boy. My sister and Chris moved to Provo to be closer to the hospital and by chance it was the same church my dad attended. The spirit was strong there.
Today, at this very moment, our sweet Zuzu is having open heart surgery. With the steady hands of brilliant, guided doctors and helpful nurses they are closing the four holes in her heart, heart problems are common for babies who are diagnosed with Downs Syndrome. As she was when she was born. She is truly truly an angel and a fighter. I am in awe of my sister and Chris's strength… they are more brave & strong than afraid.
She's already strengthened our faith, increased the love our hearts can hold and brought a light and peace with her to our family. I can only imagine how astounding the rest of her life story will be…
Top Photos by Heather Telford Bottom: by Me & Collin Kartchner
Read Ashley's blog here
Despite the fact that Collin is outrageous in his humor and pseudo-personality Cleetus – He actually is a softy and wouldn't hurt a fly. (Except a couple days ago when he literally squished a fly with my Anthropologie catalogue, what a disgrace! ; ) As a hobbie and side job he enjoys making videos and is amazing at it! Being the giving person he is, he was looking for an opportunity to share his talents with video to help someone tell their story. The Koffard family contacted him and it was the perfect fit. He cried with the family during the interview and when he was editing I would peek in on him and he would be wiping tears.
Saturday night I went with Collin to view the video with this incredible family and it was touching.
As a mother, I think it's natural to worry about anything ever happening to our children. It's something I try not to think about too much but it's on my mind. I can't even fathom the thought of holding or kissing one of my girls for the last time. I think also having lost my father, I don't want to feel that desperate pain again. I really don't think that I could handle it with as much grace and hope as Jana has done so. She amazes me. The whole family does.
Now about the last song in the video, a few months ago I was asked to be in a video for BYU women's conference and the filmmaker introduced us to this song. Since then Collin learned it on the piano and it really is my favorite song he's ever played. It's called To Build A Home… The lyrics are moving. There's a tree in the Koffard's yard you'll see in the video and after they watched it Collin mentioned how when this trial came to blow them down they held onto each other and were stronger because of it.
By the cracks of the skin I climbed to the top
I climbed the tree to see the world
When the gusts came around to blow me down
I held on as tightly as you held onto me
I held on as tightly as you held onto me
'Cause, I built a home
For you
For me
Until it disappeared
From me
From you
And now, it's time to leave and turn to dust

Click here to watch the video!
Check out CooperRun.org! Come run with us July 28th to honor this sweet boy's memory and a good cause!
I've missed you all this week in blogland! ! I'm not kidding either.
We've had an eventful few days with family in town including my Auntie and my sister and family from Germany. After Ash flew in they came over for french toast and we stuffed our faces and laughed and it was like she never left. My Auntie Cheryl is also here from California who I've been so close to since I was a little girl. Every summer my sisters and I would fly out and spend a few weeks with my cousins. (Aren't cousins the best?!) One of those summer we sat by the pool and ate cream cheese + salsa & chips. It changed my life. I'm not kidding, try it! Just pour salsa over cream cheese and then dish out a little of both with a chip. Yum!
A couple evenings ago I was driving home from a meeting at American Crafts and thinking about how the last thing I want to do right now is make dinner, my phone rings and it's Cheryl calling because she and my mom were coming over to make my Grandma's homemade spaghetti sauce and noodles! Sweet! When can you move in? I asked.  While we cooked, or she cooked and I watched, we talked about how she wants to start a company to help people get organized in their home. I opened up one of my cupboards and our junk drawer and she seriously was salivating… literally excited to dig into all those loose paper clips, pennies and old phones! (Hey, what's this? A discman?) I'm not a hoarder but who knows when I may need a coupon that expired in 2007 or some dead batteries. Okay, I have a problem. ; )
Later that night my 2 sisters, mom and my auntie all chatted it up the pink room. Collin walked in for a second and walked right back out. I think it has to do with the volume, topic and the fact that we all talk at the same time. Someday that we will me with my girls and I'll wonder what happened to my babies?
It felt refreshing to have a break from the computer I might just continue that through this glorious weekend.
What are your weekend plans…?
PS I promise I haven't forgotten and will post the giveaway winner asap.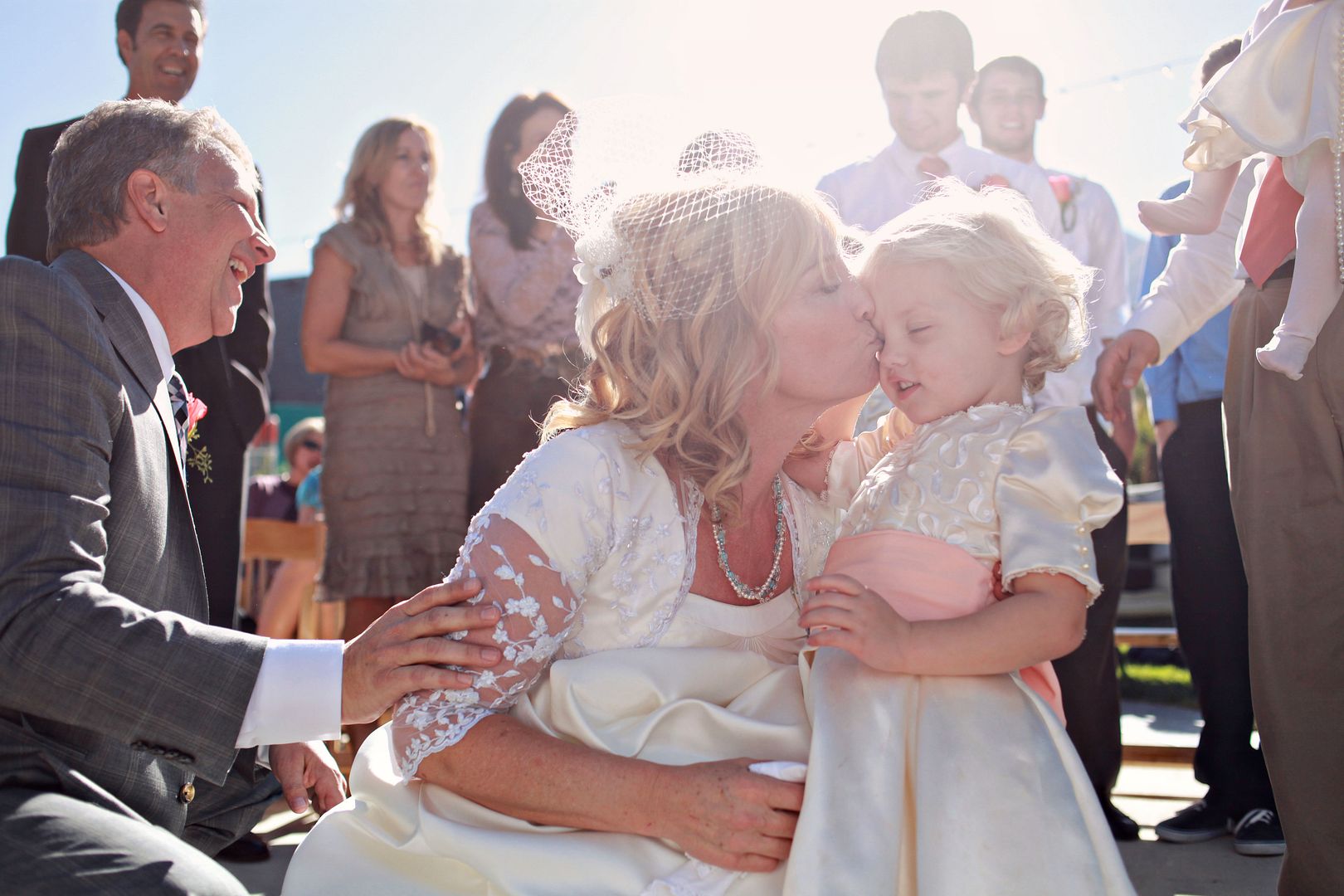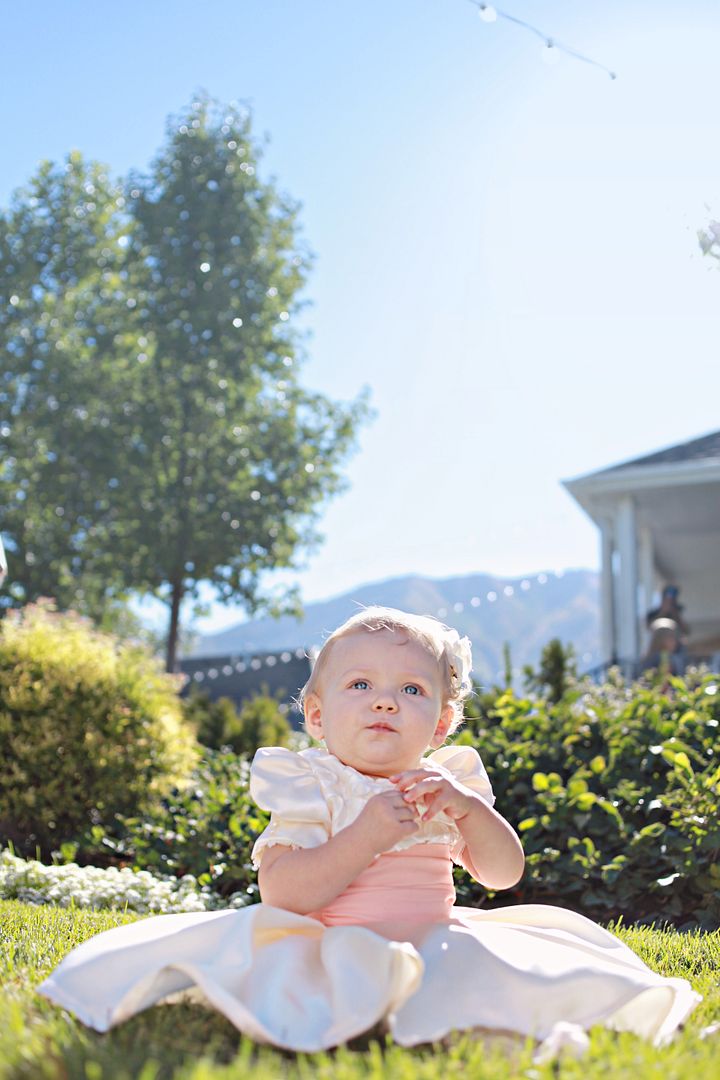 What you don't see in this picture: Collin and I doing anything in our power to get her to smile. Including making silly faces & noises and being obnoxious.
Stole a picture with Collin. I think all the kids were crying while we took this but I wanted one of us together before the wedding was over.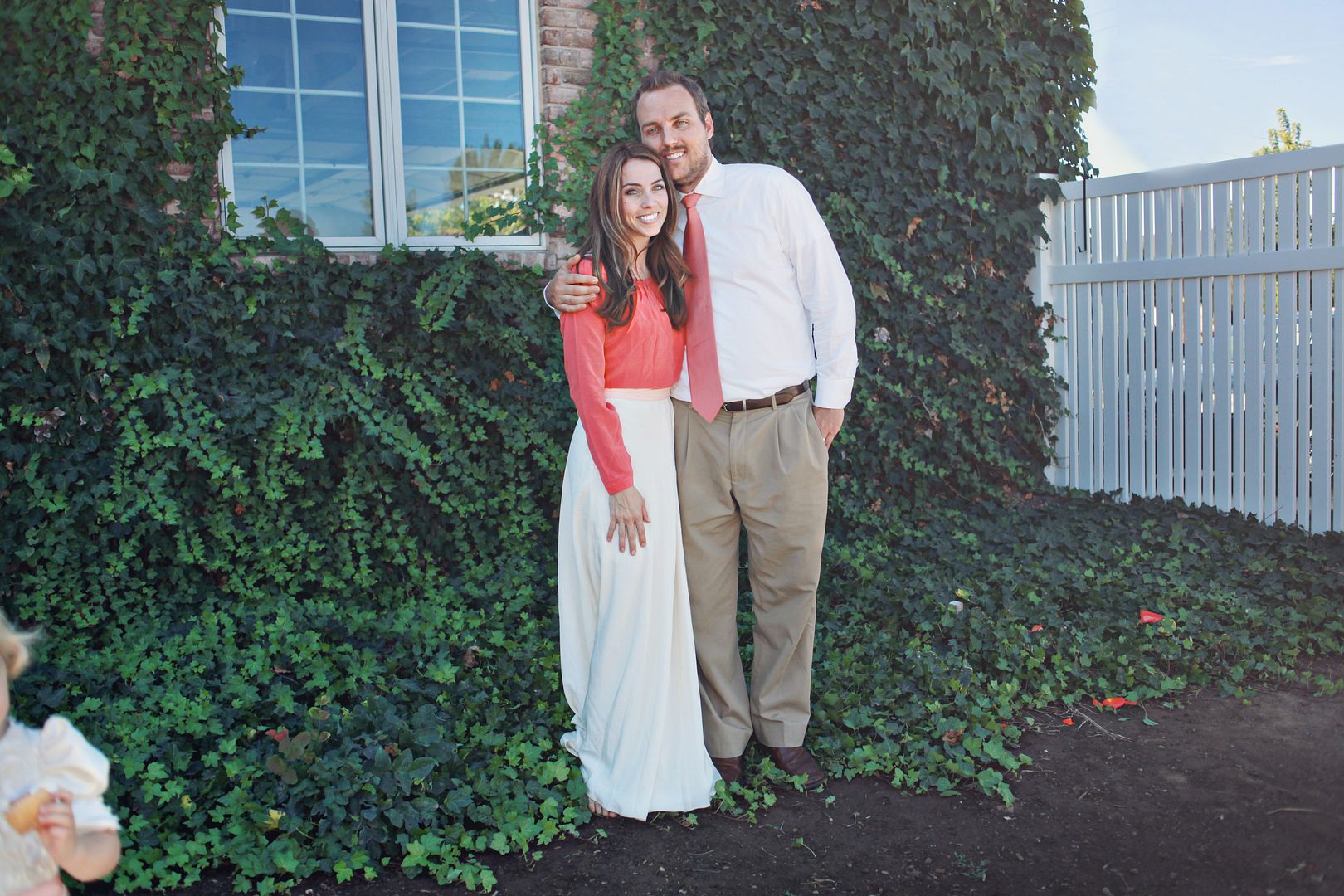 Flower girl dresses: Handmade
Dress: J Crew//Handmade sash//Blouse:

Ella Moss
I can't remember if this was before or after my new father-in-law's mother told me that Quincey will be the President someday. Sweeeet! She even had a list of reasons that nearly had me convinced. I told Collin and his reply was… "The president of what? Crazytown."
She's in that really darling yet sometimes defiant 3 year old stage! But we still love her… our little miss future President.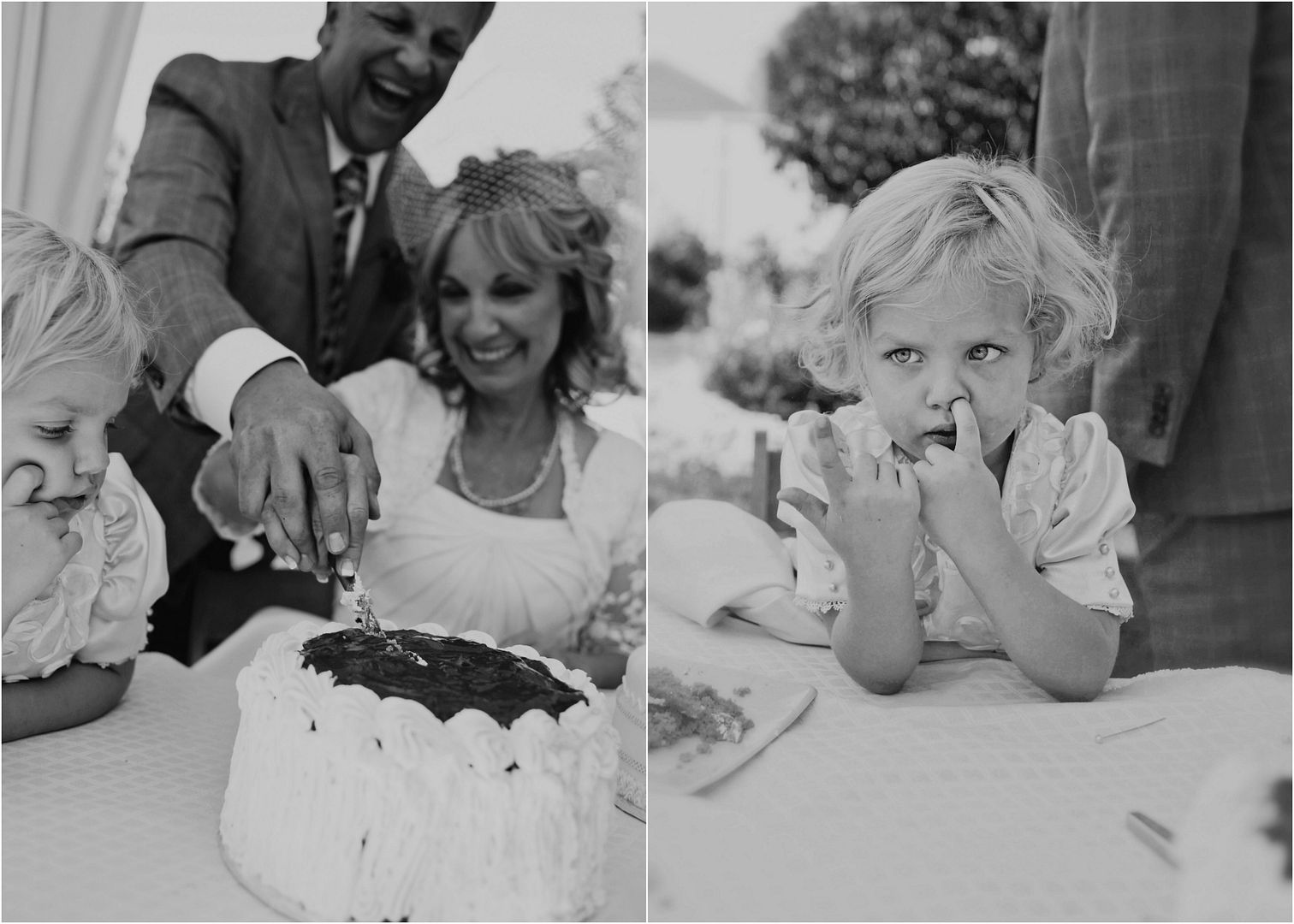 Sure, I could reminisce about the days before we had 3 munchkins… but those days don't have nearly the same warm light or contagious laughter.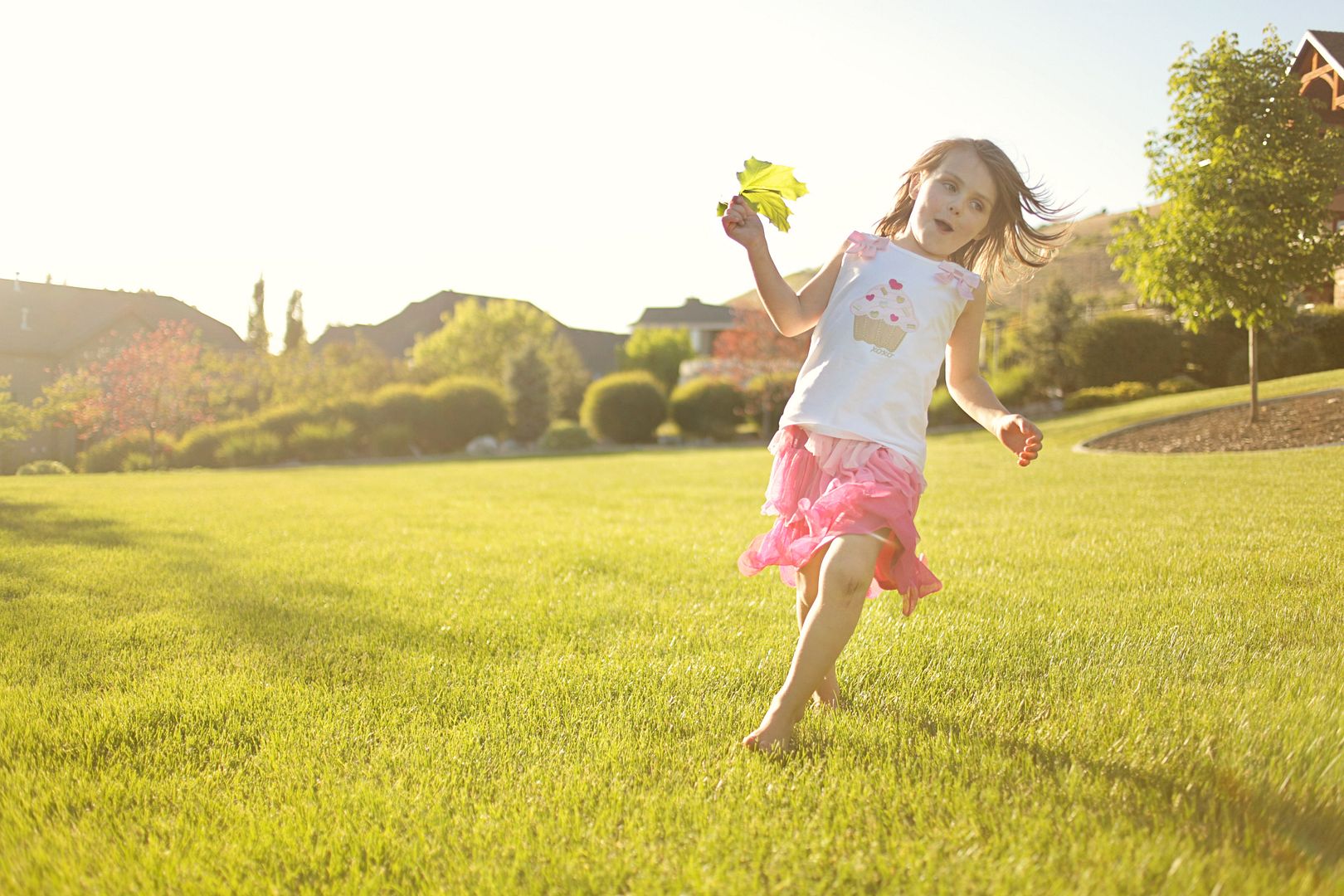 Even though there's more laundry, more drama, more patience needed.
There's also more purpose, more meaning, more love.
Even though I can get lost in my role as mother and
,
some say,
I might lose a bit of elizabeth… it's actually made me who I am and a better me.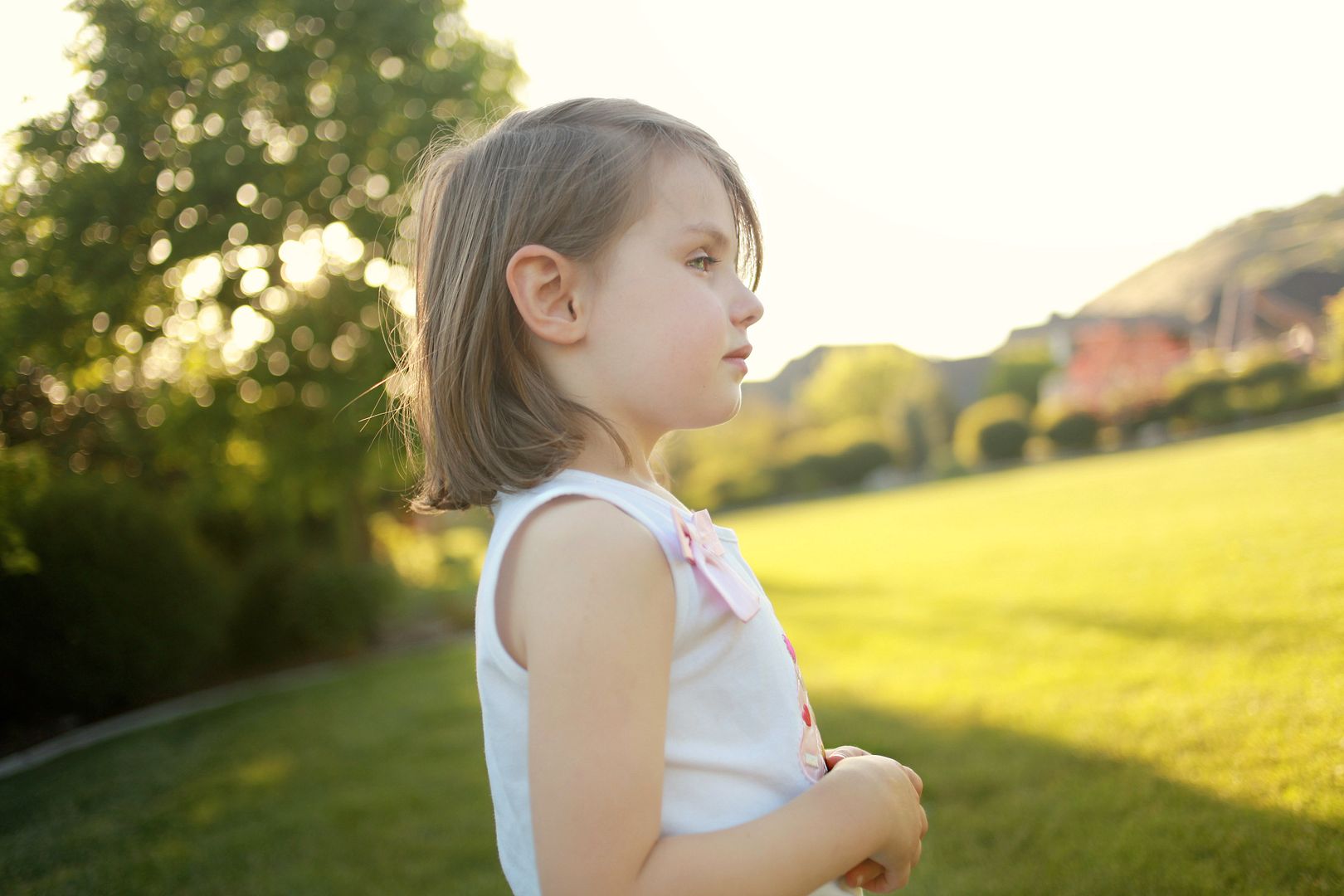 No matter what it is in life, the difficult times always makes us stronger. Sometimes I even get scared when things are going good because I think, okay, it's time for something horrible to happen. Like a Disney movie and their extreme movie plots, where the absolute worst thing has to happen before you can find happiness.
But slowly I am learning to trust that God has a plan for me & to not be scared. Instead treasure the light & the laughter and… just be prepared for the crap!
In other news: It's this girl's birthday today.
The birthday party will be another day which I am so glad we didn't plan today because she had a 103.2 temperature last night and we were on the phone with her Pop Pop who's also a Doctor making sure she's ok. She slept like a dream & is her same silly self today.
Happy Birthday my darling girl! xoxoxoxo
I was soooo giddy about the pictures I captured last night of my girls! My grandma sent Q&A those outfits so I promised her I would take pictures.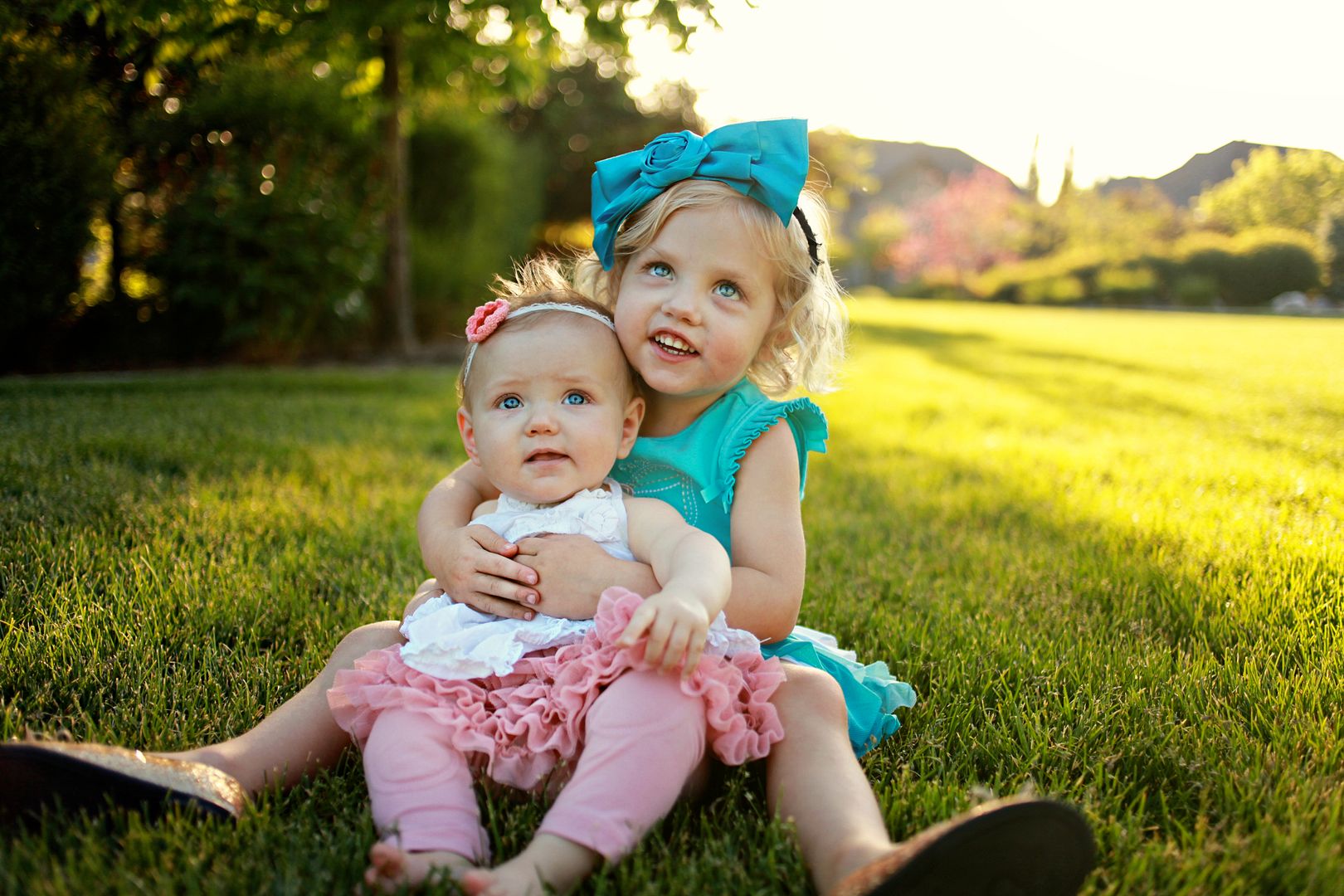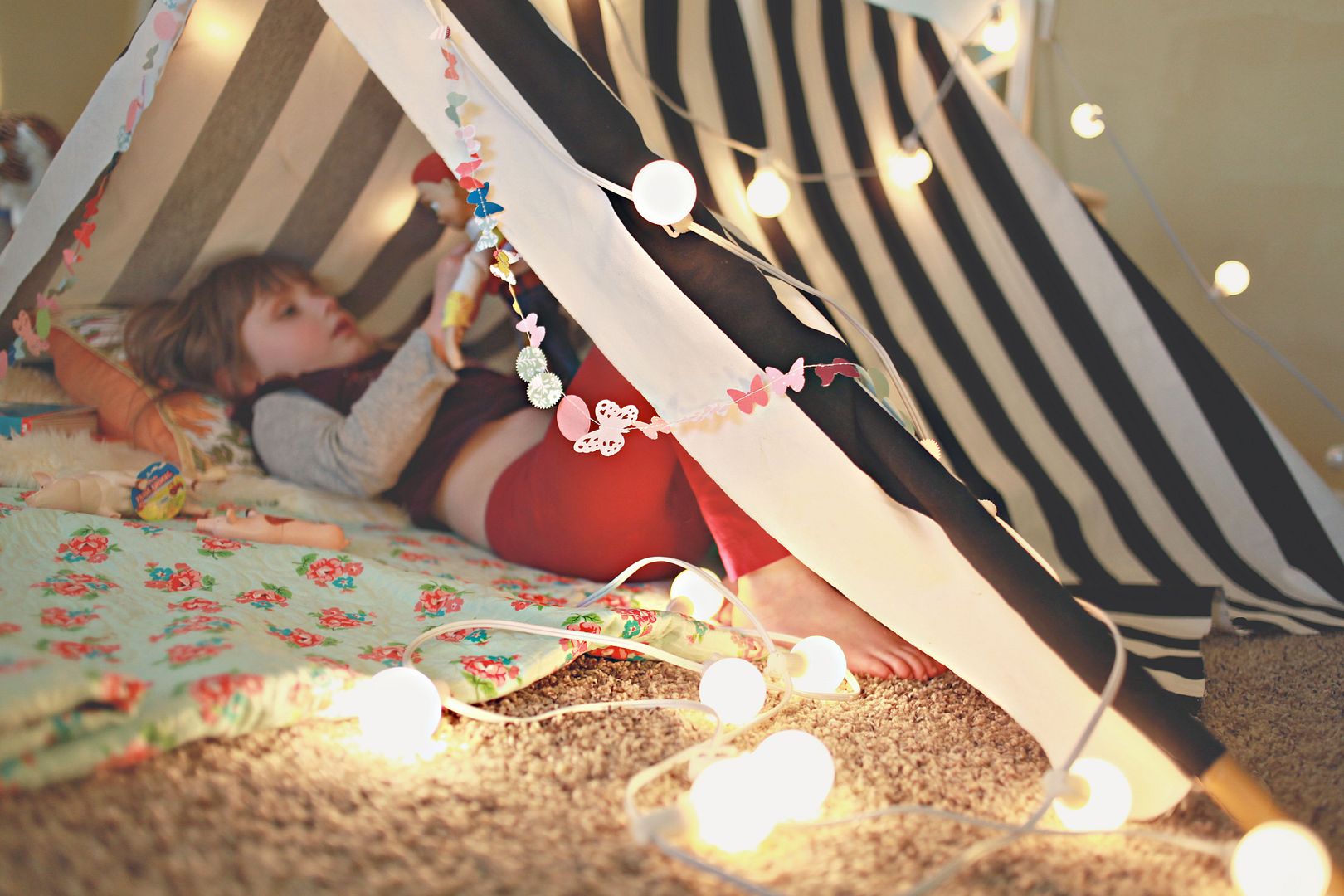 Resolution #15:
My 12 year old self would be quite disappointed if she could see future me… because sometimes I take life much too seriously. Last year, for my twenty ninth birthday, I received the following gifts from different members of my family and I'm not joking: Punky Brewster DVDs, a purple hula hoop and a vintage Minnie Mouse t-shirt. Coincidence? I don't think so. They were simple reminders that even though our lives are spotted with worry, stress, & lack of sleep don't let that turn us into a living Cruella Deville.
So, one of my resolutions is to play more.
Some ideas to consider while achieving this newly proclaimed mantra:
Walk lightly with a skip in your step, no slouching.
Kiss someone in the rain
Only eat mini marshmallows while throwing into air and catching them in your mouth
Roll down the car windows and sing "Nothing Compares To You" as loud as possible
Go bowling or roller skating
Leave love notes for people you adore
Never walk past a photo booth with out taking pictures
Be the one to plan a fun date or outing with friends
Build a fort every Friday
Okay, some of these are down-right unruly or verging on annoying but, hey, if it lifts your spirits and makes you smile then go for it.
I started off this resolution with building a fort. Once I finally got the fort figured out we had a fun time! Putting it together is definitely part of the play. First I tried hanging something from the ceiling: too heavy. Next I tried chairs: not cute. Then I found some pipe that I use for a tent: perfect.
If we are going to keep this up every Friday I definitely need to get this fort kit:
Crazy forts
. Just for the base pieces and use my own fabrics.
Lighting is also key to a great fort. (
bulb string
lights.)
Ta ta for now. Off to play.
I shared this resolution with
Mandi
over at her blog, and wanted to share it here too.
Liz is sitting here by me feeding our little Lola-bug as I type this. We haven't gotten much sleep this week, but then again, we haven't had a good night sleep since 2006. Sometimes I ask people who don't have little kids to tell me tales of "sleeping through the night" while I sit at their feet in disbelief. "What mythical creature is this…"alarm clock"? You mean a machine wakes you up?!"
Those of you who have read this blog for more than a couple weeks know there's 2 things I rarely am, and they're both "serious." But, today I wanted to share this glimpse with all of you, something that is very sacred and special to me. It's a video I made of Lola's birthday.
How do you capture the million emotions of waiting to bring a child into the world? Anxiety, nervousness, fear, anticipation….peace. We often talk about a curtain being placed over our eyes when we come to this Earth, something that makes us forget who we are, where we came from, who we were with. If we took that knowledge with us to this life, what would be the point?
A few times, sacred times, that curtain is thin. Very thin. So thin that for a brief moment there is no difference between the heavens and the earth. You feel the presence of our Creator, family members who have passed on before us….family members who have yet to join us. I think if we're lucky, we'll get maybe just a couple of those experiences in this lifetime that will feel almost like deja-vu. Our eyes will be opened from this mortal life…a life that is hard. Life that is stressful. Life that thickens our skin and makes us cynical and unsure of who we are. Last Tuesday at 5:11pm and the hours leading up to that moment, that curtain was thin, and all who were present could sense it.
Liz and I have dear friends who cannot, for some reason or another, bring children into this world. They are wonderful people who have cried their share of tears from this. They deserve just as much as anyone the chance to experience it. I don't know why we can when others cannot. All I know is they will, someday, and it may not be in this life but when they do it will be just as special and sacred a moment as ever.
I have a deep gratitude for what my wife has gone through for our family, and for all of you mothers, both current and one-day-will-be mothers who are reading this. I wasn't sure if this was too special to me to share with you all, but something told us we should. I've turned off the comments because I just want you to enjoy it. If you really would like to tell me what you thought, I'd love to hear from you. (pixelpopphotography@gmail.com)
(click on the
Love
link to watch it in HD as it was meant to be viewed
Love from Collin Kartchner
Getting in the spirit of Halloween around our home. Which means I need to finish my spooky tree using my
Girls' Paperie
… I told you I adore these
crepe flowers
!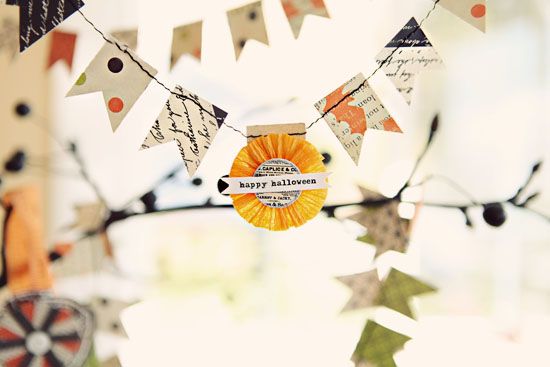 We have 2 of our 4.5 costumes ready. Collin & I are trying to figure out what we can dress up as this year. Collin suggested we paint a pumpkin on my tummy… now that's pretty much the scariest costume I've ever heard of.
So, really, any ideas for a preggo momma? I was going to take a year off but what's the fun in that?
I'm not the only one carrying around a pumpkin… this girl carries hers around all day since Saturday when she found the perfect one. She pretty much loves it. Perhaps because it's just her size.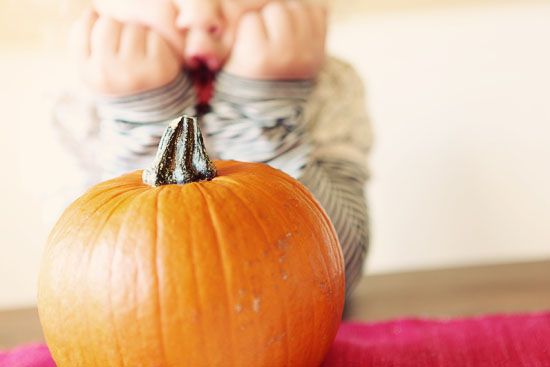 Despite the fact that the kids have been sick all weekend they've still been surprisingly chipper. Which is sooooooooo nice. Much better than sick + grumpy.
We've kept it low key around here and just hung out cozied up indoors. A little football, a little baking, a little crafting & a lot of
snuggle time
laziness.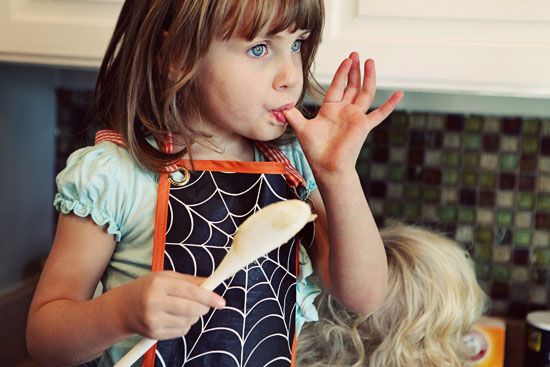 Hope you had a nice weekend & are enjoying getting ready for Halloweeeeeen.
Life is far from perfect. It is hectic & stressful at times but despite all of that I've felt overwhelmingly grateful & content lately. Probably since the past two events are behind me. Probably because I carry around an angel in my tummy all day. Probably because I love this time of year &
General Conference
started today. Probably because this little girlie squeezes my cheeks & I can forget about the flurry and frenzy of life for a moment.