Currently viewing the category: "crafty"
Something you may want to add to your Christmas list (and since we are all Santa might as well grab one for your workshop) the new Dear Lizzy product–triangle punch. It comes in two sizes 1.5″ and 2″ in length. That way you can layer them on top of each other. Yessss! I only have the 2″ but need to get the other size asap. It even comes in a darling mint green color too.
I have loved using it to add triangles here and there to projects and also it's perfect for making garlands. Save those paper scraps and punch away!
Lola approves.

Above papers from my Lucky Charm collection. Shop all sorts of Dear Lizzy goodies here.  Kisses, Lizzy
We had a blast making valentines one afternoon and thought these homemade valentines were a perfect way to spread some love. Quincey was so darling running around with us making her deliveries. She really enjoyed hanging with mommay & daddy and being our star of the show.
I especially loved when she yelled, "It's for Austin Moon!" When I asked who her valentine was for.
Click here to view a Happy Love Day message for you! Video posted just in time since V-day is almost over…
xo, Lizzy

This past weekend was so low key. We basically just hung out as you can see above.
We aren't really feeling that rush and panic for the holidays but doing out best to enjoy it instead.
The above picture is a giveaway I did on Instagram (@dearlizzy) Here is a link to the gold foil polka dot vellum I have had some requests for.
And the box of trees was the beginning of such a fun project that I am still giddy about!
If you remember I posted the trees from Tim Holtz booth at CHA and instead of cramming them all in my purse and making a run for it, I thought I should make my own. So I misted 40+ trees and they are colorful and yummy… and… and I love them.
I used these Tim Holtz bottle brush trees… and they are on sale.  Tim Holtz distress ink reinkers of every color. I will share a tutorial next…!
This morning I sharpened a pencil and filled out this Twelve things I am Grateful for in 2012 list…
My heart was bursting as I filled out those lines and I will spare you all the sappy prego hormone thoughts but I am quite thankful for the ordinary and the grand pieces of my life that fit together and make my heart burst.
and now my ADD mind wants to tell you how much I love a good pencil. I have a whole jar of them in my office. I made the fringe one so long ago… I should have put up the tutorial but never have.
Since my girls always steal my nice pens I made some fancy pencils from recycled tissue paper, that was wrapped around something I bought from Urban Outfitters. They fulfill my wishes of distracting my daughters from my nice pens!!! : )
I am thinking this Grateful printable would be really cute to size down to about a 4″x6″ and include it on the table for dinner or dessert. Don't you think?
Today I need to make some Thanksgiving favors, cute decor and finish planning Lola's birthday. My baby is 2… (pass me a tissue!)
Since I was little, and could fold a piece of paper and write everyone's name on it, I have been in charge of the place cards for dinner. I will not take offense to why I wasn't given a greater responsibility like the turkey… but what I will do is take this job very seriously. So that's where I will be if you need me…
Here are my favor boxes/place cards from way back in '0 10 and some more links to some fun kids' crafts!

A few things that I spotted online and am loving lately:
♡ This October stamp and just this pic in general that seems to encompass so much of what I love about fall. pic by Tina//stamp by Kelly
♡ This clever idea of using wooden spools for place setting. Cute for a craft night with your girlfriends or any fall event.
♡ I've been wanting to make a floral crown for one of my girls so I was excited to see a tutorial on how to do it. via The house that lars built 
♡ These crepe paper lights would be a fun addition for halloween decor. DIY Fringe string lights
"Here we goooooooooo!!!" Said like Peter Pan, of course. Which is quite fitting since we are off to Disneyland! That's right people. The kind of vacation where you are more exhausted when you get home. But you don't complain because… it's Disneyland. I will be eating my share of churros, pushing a sexy double stroller, and taking pictures of my kids standing by adults dressed in giant mouse costumes. Collin is already planning out the Splash Mountain pose for the pic. He wanted to be reading a book, or pouring a bowl of cereal… I'm scared.
Last night, I couldn't sleep because I had taken a non-drowsy allergy pill and earlier I drank a Diet Coke. This must have been a toxic combination. I was still going strong to the wee hours of the morning. But I'm glad because now I have this little book and what do I have to show for our last Disneyland trip? Nothun.  I haven't done anything with my pictures. This trip I am prepared with 4 cameras. This isn't a joke. : ) I don't want to lug my slr around everyday so I have some smaller options. Clearly, I am determined to document our time togetha. I grabbed some of my favorite supplies for a travel art kit.
Starting with Kraft Cardstock I used my Cameo and cut quite a few pages with one or two words on each.
Then I added some elements to about 5 of the pages. So they are ready to go. I am mostly going to add Instax to the album and possibly some Instagrams.
I spray painted the coils with gold metal paint and used my Bind-It-All to put it together.
The only adhesive I packed is my Glossy Accents since it is tiny.  And it's my favorite adhesive for the wood accents. Can you tell I am obsessed with SC's veneer pieces??!! Just slightly.
Also packed the least deadly scissors I own. The memory marker is perfect because I will use it for journaling & to stamp with my Dear Lizzy roller date stamp.
I painted my cloth bag with neon pink using a stencil. And I put together two journals for the girls. Because we have a 12 hour drive ahead of us…!
The striped paper is one of my favorite papers from my Neapolitan line and the little bow is too.

Everything fits perfect into my bag. I might even squeeze my Tim Holtz Tiny Attacher in there too.
Also, here is the Kid's Art journal kit I put together last year for our Lake Powell trip. Which had a lot more down-time and worked out great!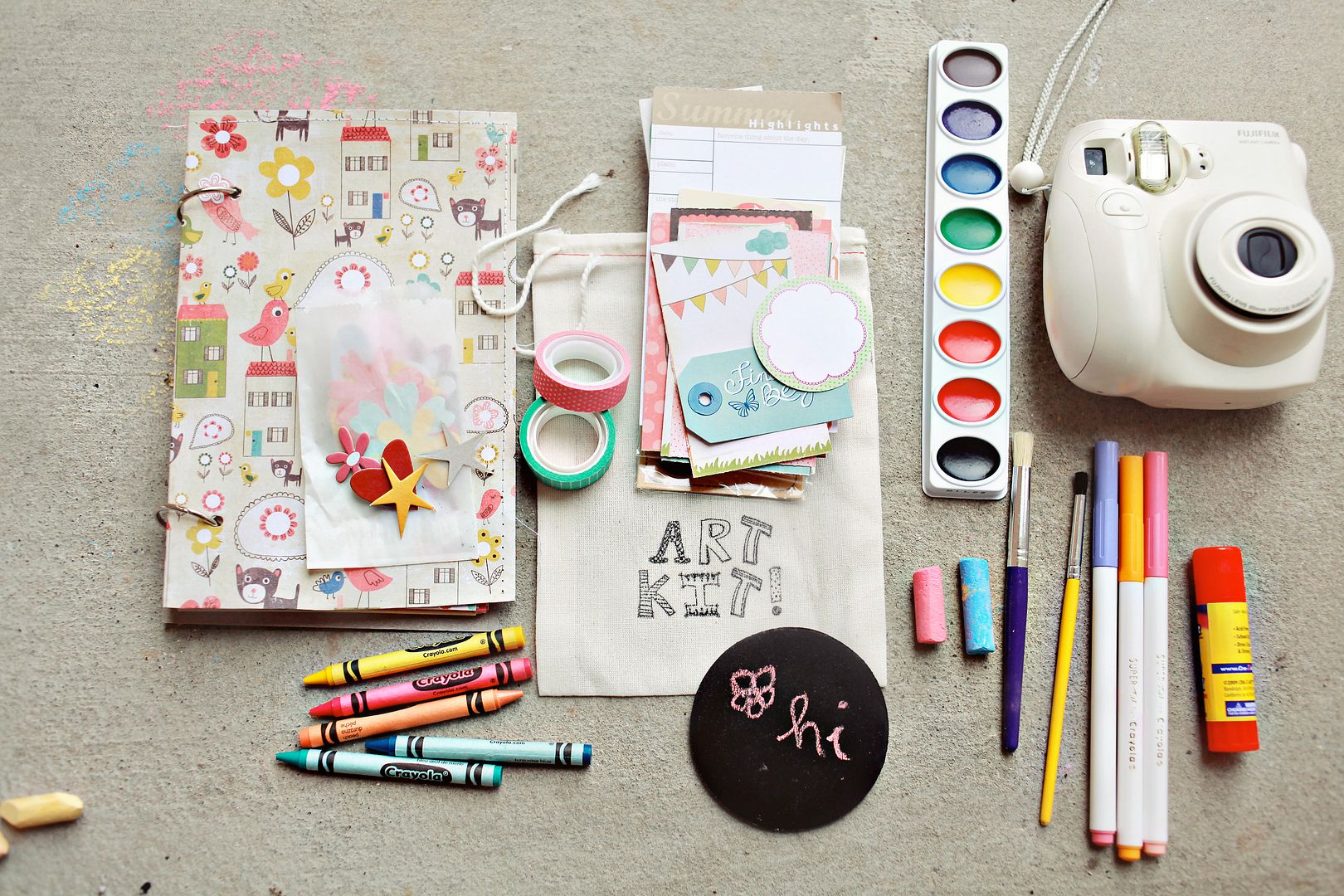 Leaving in an hour… gotta go pack!
xo, Lizzy
Click on the images to check out the supplies:
This is another installment of Love Triangle: a mini blog series inspired by geometric shapes. Today one of my crafty friends Ann-Marie shares a fun triangle banner. I met Ann-Marie at American Crafts and she is so darling… I adore her and her paper crafting style! Her project is super dooper easy. All you need are scissors and paper! No excuses because we all have those on hand. For Avery's pretty pow-wow birthday party next month I plan on making one of these.
Take it away Ann-Marie (passing the mic)… Since the banner trend has been around for a while and doesn't seem to be going anywhere, it's always fun to experiment with different shapes to keep things fresh and interesting. The best thing about this triangle banner is that it only requires two supplies: paper and scissors. No adhesive necessary! And while it may look tricky at first, once you get the hang of it, you'll want to make one for every room in your home (or maybe that's just me?)! Either way, I know you will love the end result!
INSTRUCTIONS:

1. Cut a 4×6″ strip of cardstock (or any other type of paper that will hold it's shape when folded) and fold in half.
2. Leaving your paper folded (as if you were making a greeting card), cut off the two outer edges at a 60 degree angle.
3. Allowing for approximately a 0.75″ border, cut an actual triangle out of the center of the cardstock. When you open it up, it should like the number eight.
4. To connect multiple triangles together, leave one of the triangles folded in half (orange paper) and open the other triangle (cream paper). Using the open triangle, straddle the closed triangle by pulling one end over each side.


5. Repeat step 5 with as many triangles as you desire and enjoy your new banner!
Check out the other Love Triangle projects: 
Washi Tape Deco Art///Polymer Clay Earrings///Leather Stamped Pillow
PS Last month a bunch of you joined in on a photo challenge–taking 12 photos on March 12th. It was neat to learn about even more blogs that do a similar tradition… probably because it is quite fun! So, I wanted to do it again this month. Tomorrow actually!! Take 12 photos of your day with your fancy slr or even your phone.
Join in on the Daily Dozen!!
See last months post here!
My sister's friend needed a banner for a bridal shower and when someone needs some crafty help I am there, to the rescue! Like Superman… only I don't have any cool super hero powers or a cape. But I do have a diecutting machine and glitter.

Jenna was happy with the banner and that's all that matters. But since I also had fun making them I put together a bunch more with cute sayings that I'm going to sell at Bijou, a local handmade market, and also online. If you want a custom banner email me at Lizzy@MakeSomethingSplendid.com
I'm glad I could help because she seriously was busy with all the other details of this cute shower! How darling is that hanging umbrella? Not to mention, make your own fruit pizzas were on the menu! Had I known this information I would have crashed the party.

I also diecut some mustaches and lips for a game called, Who Said It? Another fun idea.

**Are you coming to Bijou Market? It's a handmade market that my sister, Emily, started with her two friends. Shop this Friday, April 13th-April 14th at the handmade market at Historic Southworth Hall in Provo, Utah!!
photos credit: Jylare
As seen in Ruche's Bridal Guide (Ruche giveaway still open below)
How To: Start with 2 pieces of vellum and cut out a heart shape.
Next, stitch around the edge using a sewing machine or needle and thread. Leave about a 2 inch opening and fill with confetti of your choice. Try: paper confetti, tissue confetti, glitter, sequins, candy sprinkles, bird seed etc.
Once you've added your confetti sew the rest of the heart shut.
I made the card using some paper and my Silhouette Cameo.
This little machine impressed me when I found out it could print then cut. Using the software the Cameo comes with, you can design something then decide which parts will be printed or die cut. You send the paper through your printer then through the Cameo. I tried it with this card and was happy with the results. One of the things I learned while using the Silhouette is to always click the second box on the top right with the black corners to see check your registration marks and to make sure what you are making is within the margins.

Next, I added some of my Dear Lizzy Ruffle Paper and some twine to keep it together.

SUPPLIES:
Ruche, one of my favorite online boutiques, released something new on their site… a Bridal collection! It's so lovely and definitely had me wishing I could plan my wedding all over again. Everything from the dresses to the hair accessories–I am absolutely gushing over!
Today they released a Bridal Guide, along with their Bridal Lookbook they launched last week, and they asked me to contribute something to the guide. Since I'm still awe-struck by confetti I made a vellum + confetti heart. A perfect match, if you asked me. (I will share a tutorial for the confetti hearts next.)


You've got to browse through the To Have & To Hold look book… It's so pretty! 
And a couple images from the Enchantment Lookbook…

Leave a comment to win a $50 gift card to shop at RUCHE!!
Extra comments for posting on Twitter/Facebook/Blog/Pinterest!