Posts by author: Elizabeth Kartchner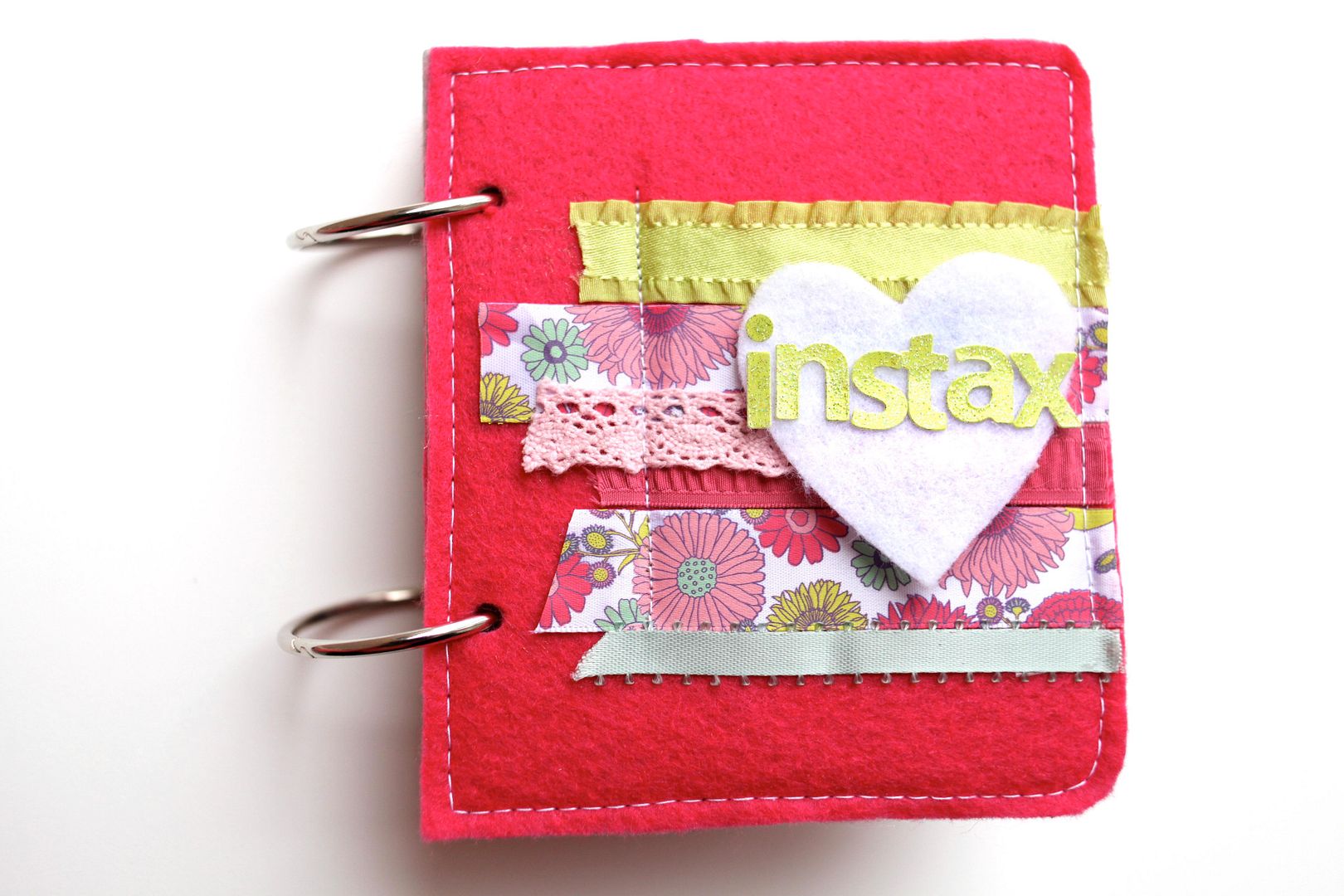 Surprisingly, I am loving all the rain that is pouring down today!
With day light savings the kids were up this morning when it was pitch black outside. I wish they knew how lovely it was to sleep in. I think they are keeping us in-check before the baby comes so it's not a huge adjustment. (Sleep… what's that?) The good thing is you can get a lot done when your kids are up at the butt crack of dawn.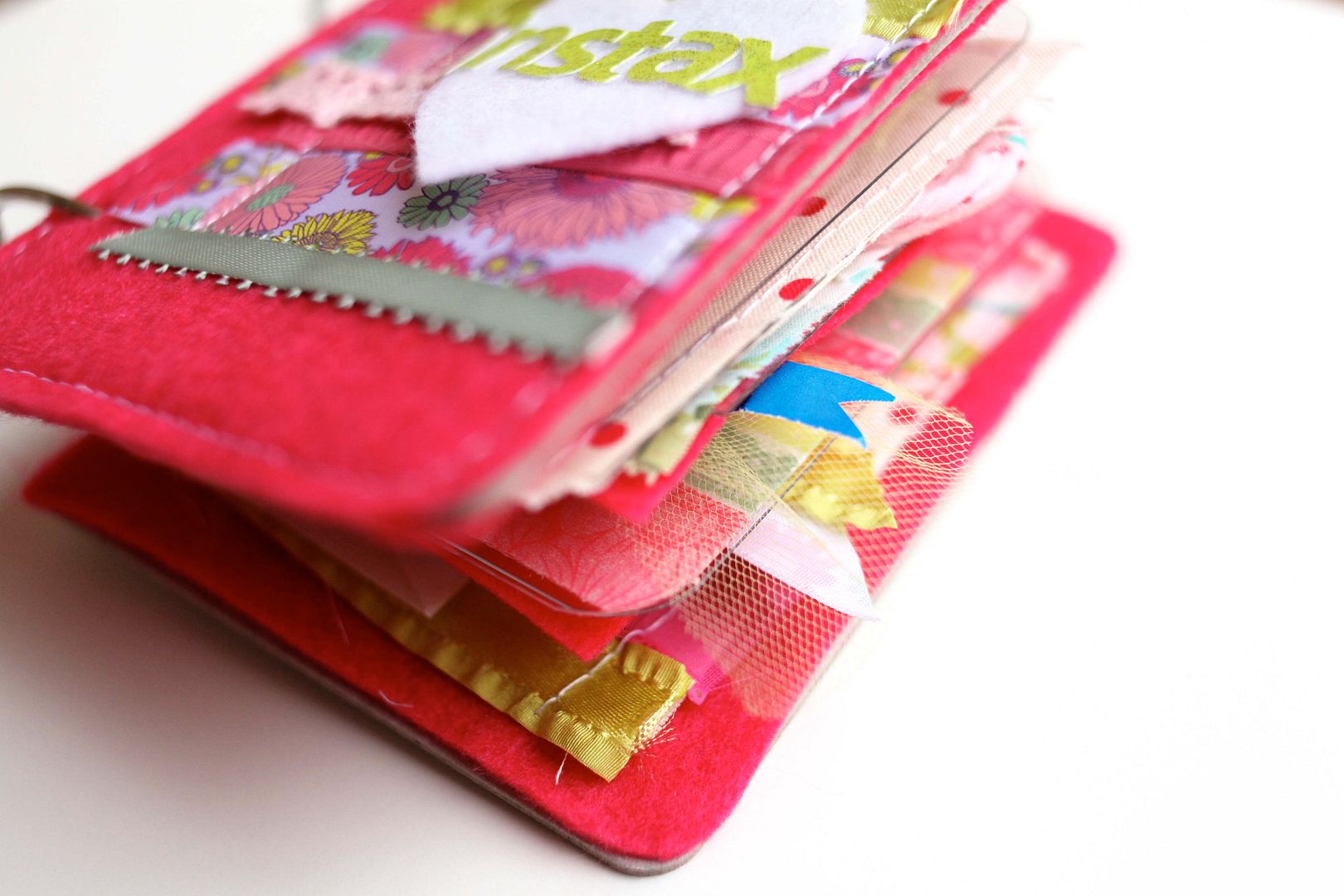 While watching a movie over the weekend I put together this really random album of felt, fabric, envelopes, acrylic pages, Dear Lizz
y
tape
,
ribbons
&
instax
photos from our family vacation in July.
I'm putting together a gift list of ideas for Christmas & that includes the
Instax camera
… I love mine. I carry it in my purse everywhere I go.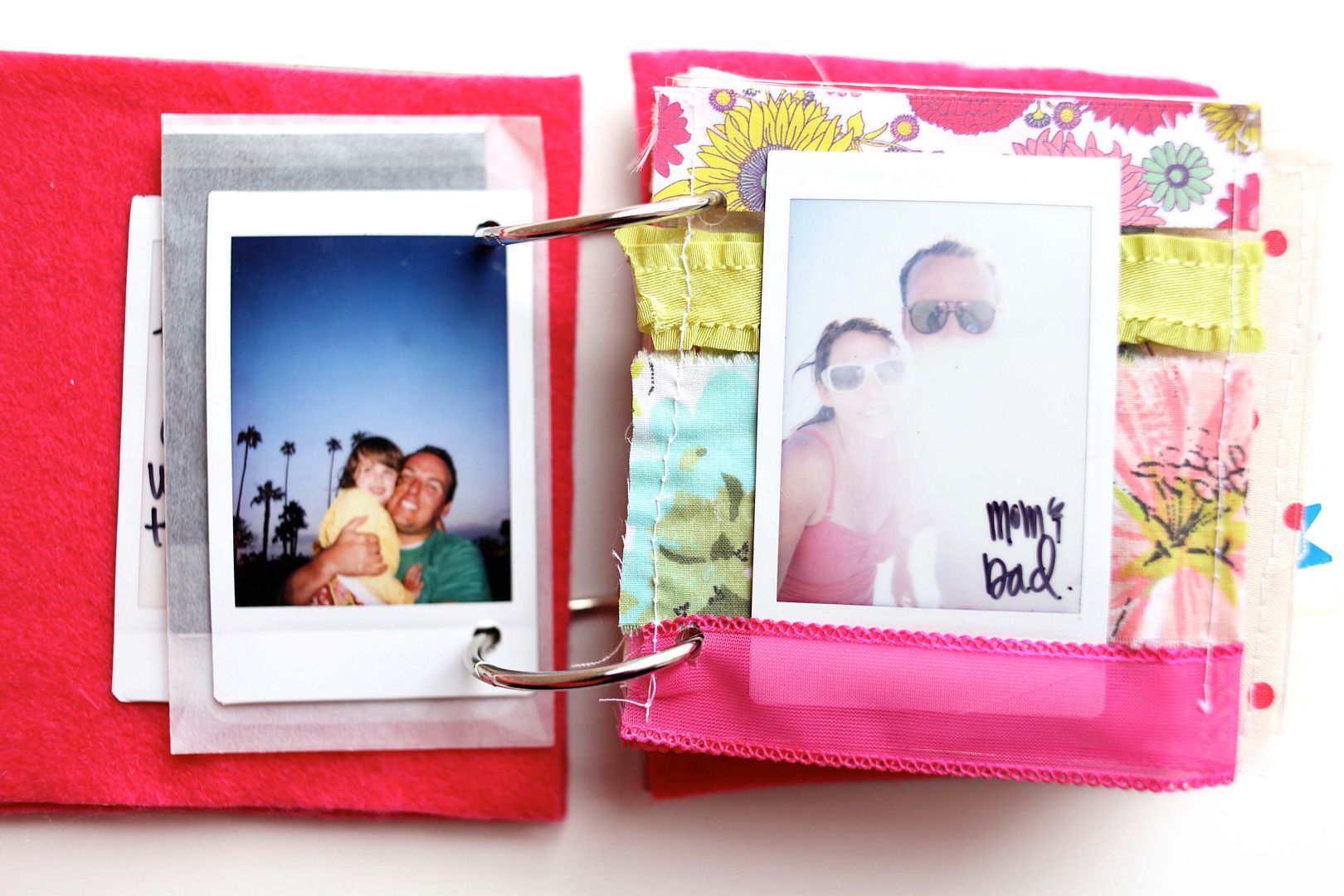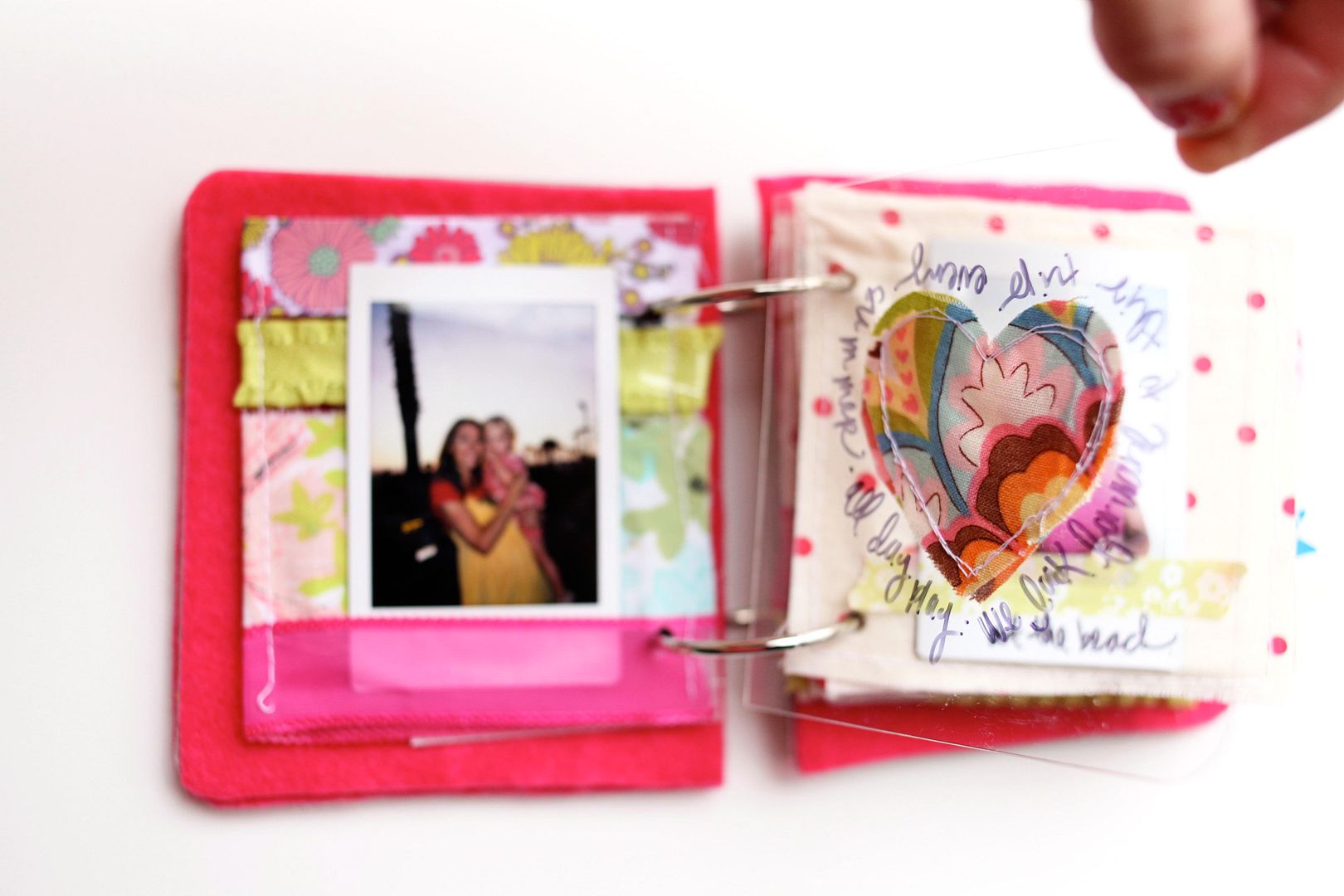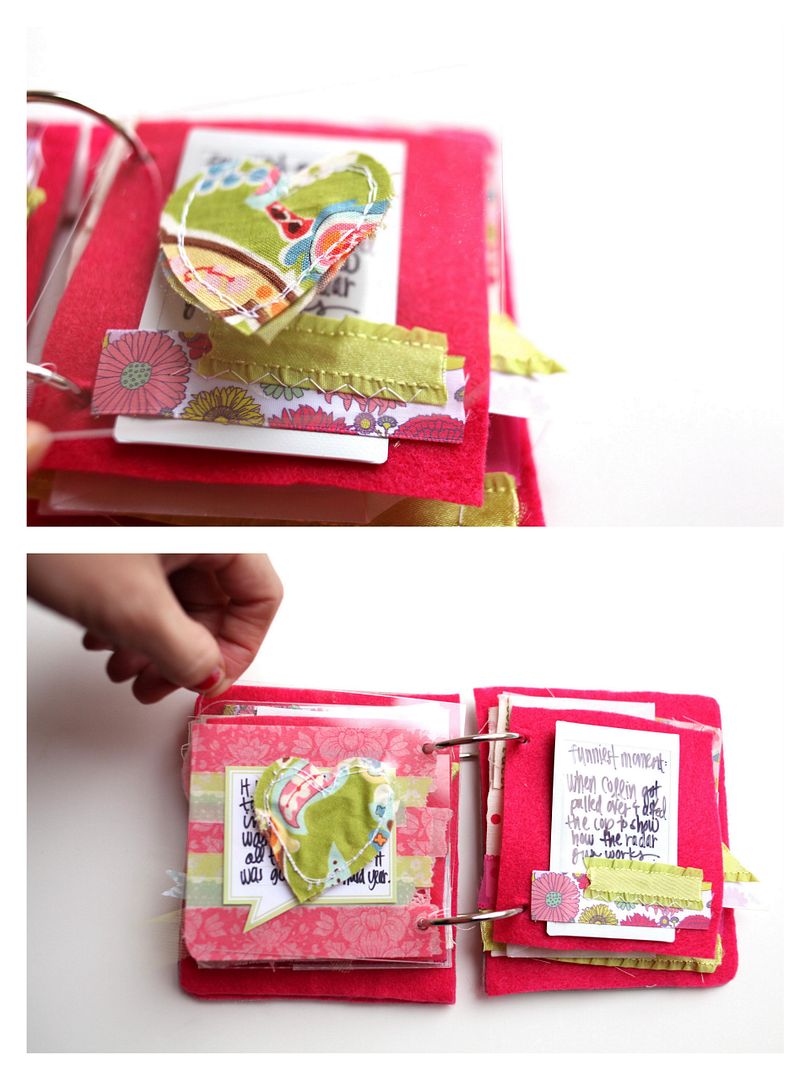 Strips of Dear Lizzy
tape
on an acrylic page & a fabric heart sewed to center of another acrylic page.
Mini envelopes holding extra instax photos.
-American Crafts
Slick Writer
to write on over-exposed polaroids & acrylic pages.
-Christmas wish-list must have:
Instax C
amera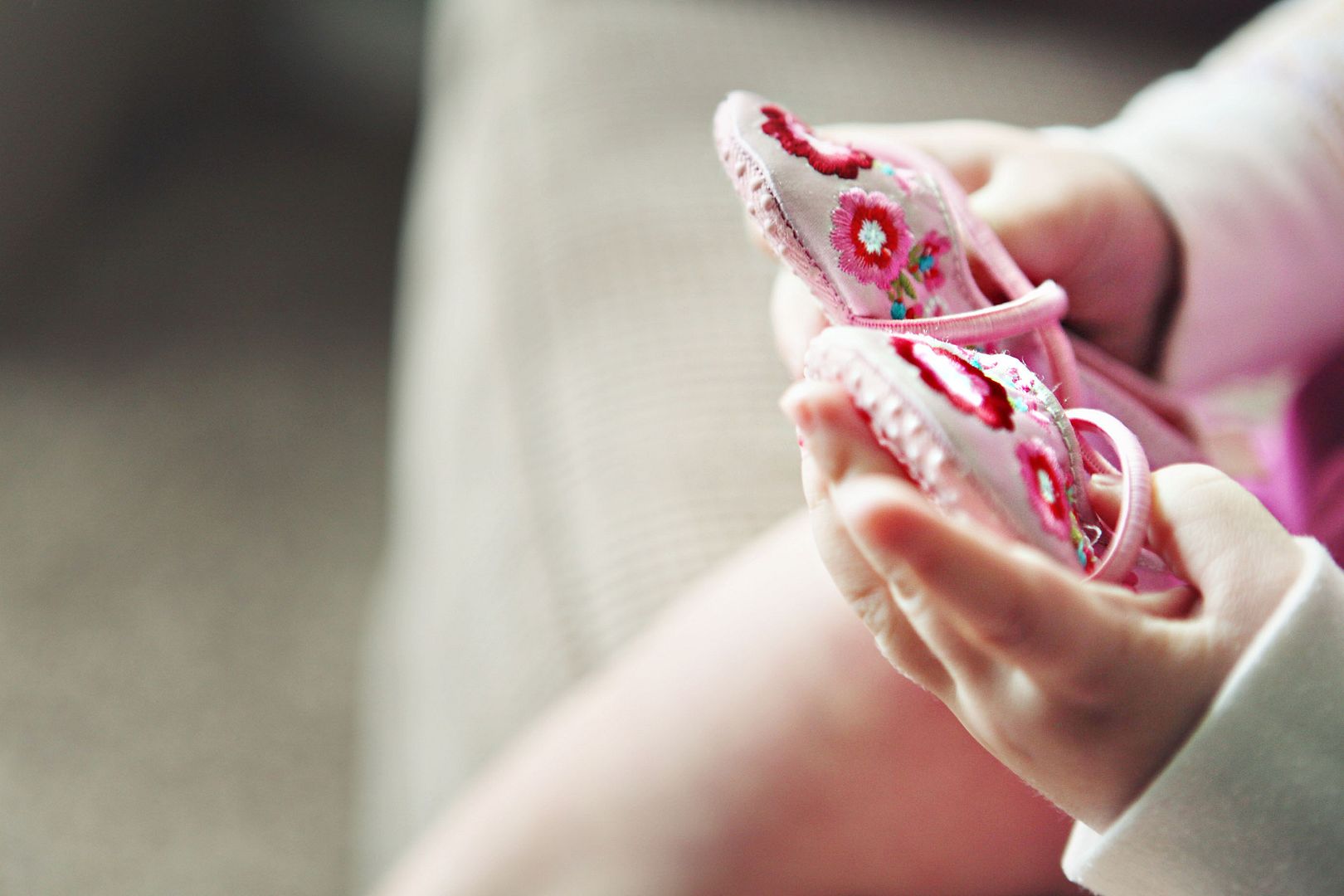 Miss Quey Rose has a shoe fetish. I wonder where she gets it from? ha.
When she gets a new pair of kicks she even wants to wear them while she sleeps. Trying to squeeze the shoes over her footie pjs is a little tricky.
She walked into the
work-in-progress
baby room & her eyes lit up when she saw the pretty shoes.
Can't believe at one point these were too big for her.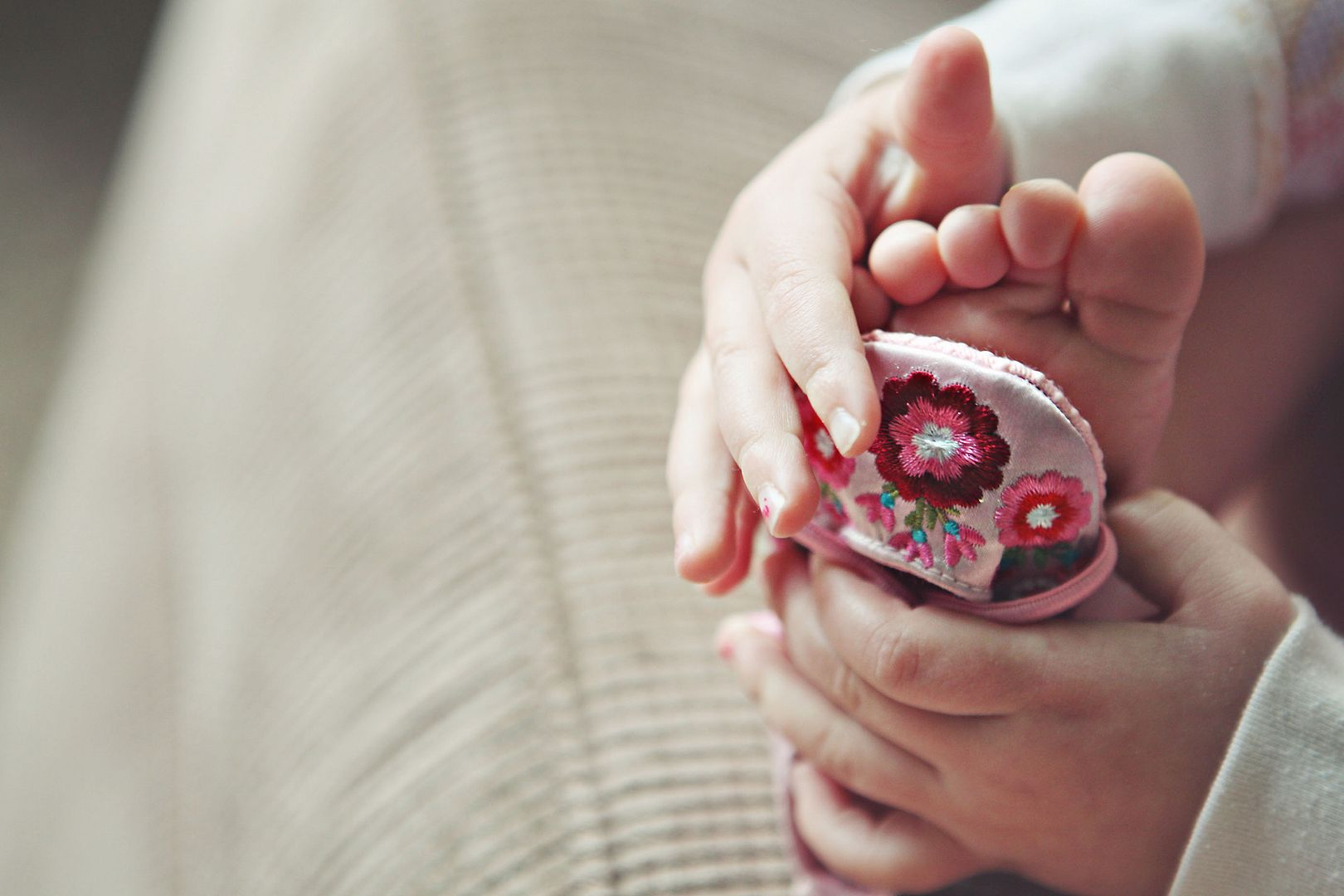 So much to do still… the less-than-three-weeks countdown will be busy.
I moved my studio to the basement and my teal studio will now be our babies room. I ordered
this bedding
that I am really excited about!!
I found a seamstress that will sew crib bedding out of the king bedding. Since the crib set is sold out but I wanted something to still match the room. I could attempt this project, but let's face it, Quincey's crib bumper is still waiting to be sewed together.
On my shopping list I still need:
-A car seat cover (Does anyone know where to get some cute ones?)
-Baby carrier: (I can't find my
Moby Wrap
I bought for Quincey that I love. How do you misplace 10 yards of fabric?
-Fresh, white onesies. Oh, my favorite.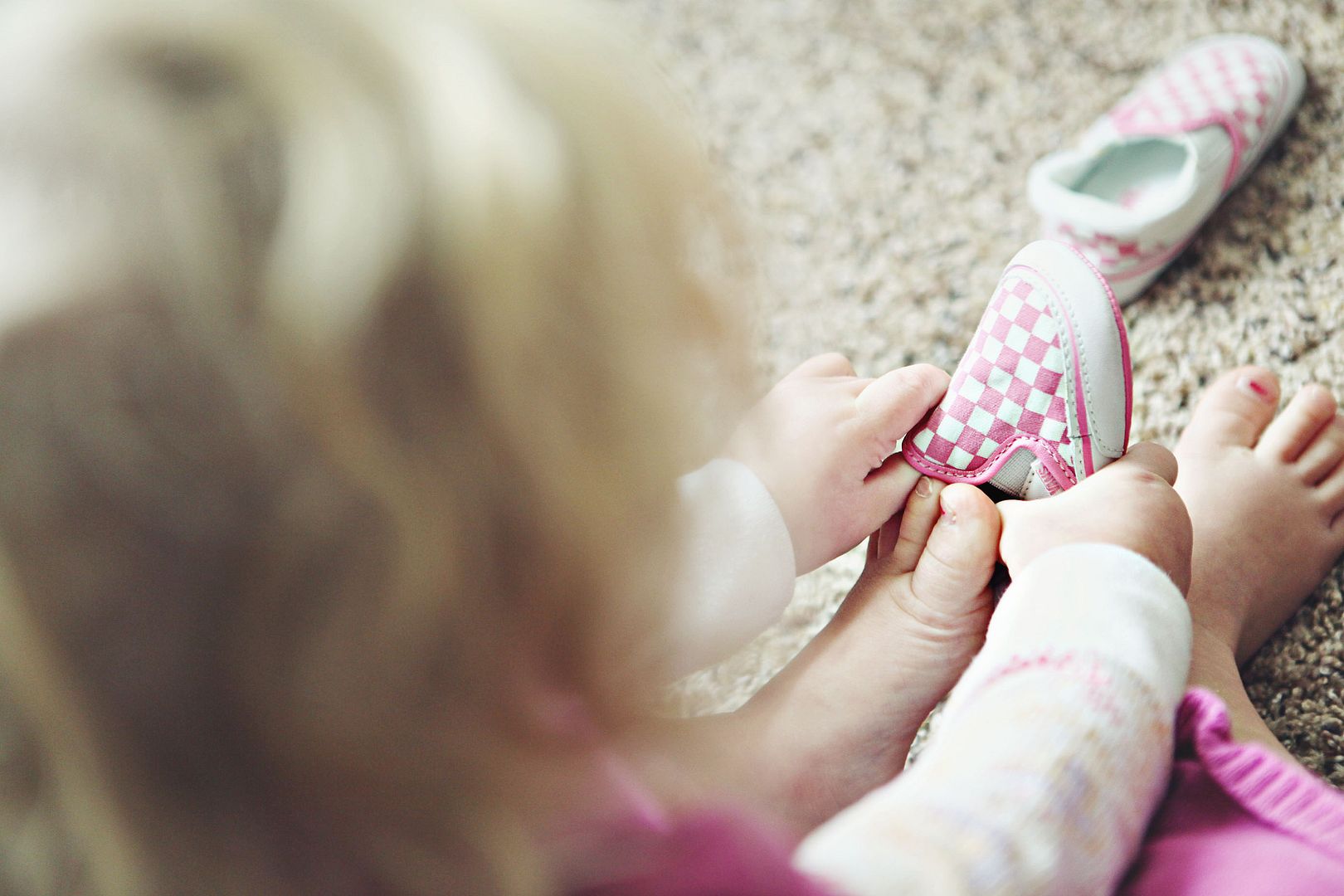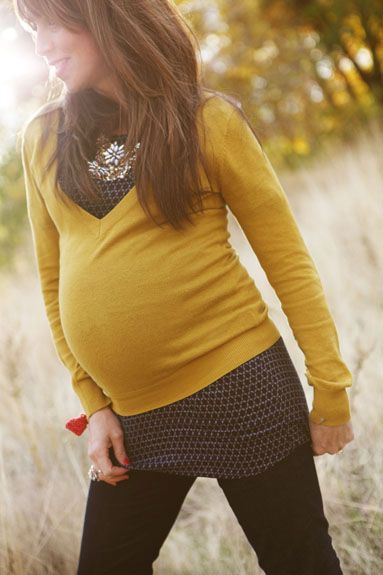 I'm quite certain that we are closer to holding our sweet pumpkin–and not because that's what my iPhone ap tells me.
3 weeks people!!!! aelkna fairoasjkdfgn. Sorry, I freaked out there for a second.
I'm quite certain that I have 3 weeks left since I'm completely uncomfortable standing, sitting, walking, even laying down after a bit and have to switch sides. Hmmmm, that doesn't leave me with a whole lot of options. Actually, I haven't tried headstands yet.
I'm quite certain since my belly button has popped out like the turkey button on Thanksgiving.
I'm quite certain because her once sweet motions are now swift kicks to the ribs. Good thing I have plenty to spare.
I'm quite certain since Collin has to roll me off the couch when I want to stand up.
(haha. That one made me laugh picturing it.)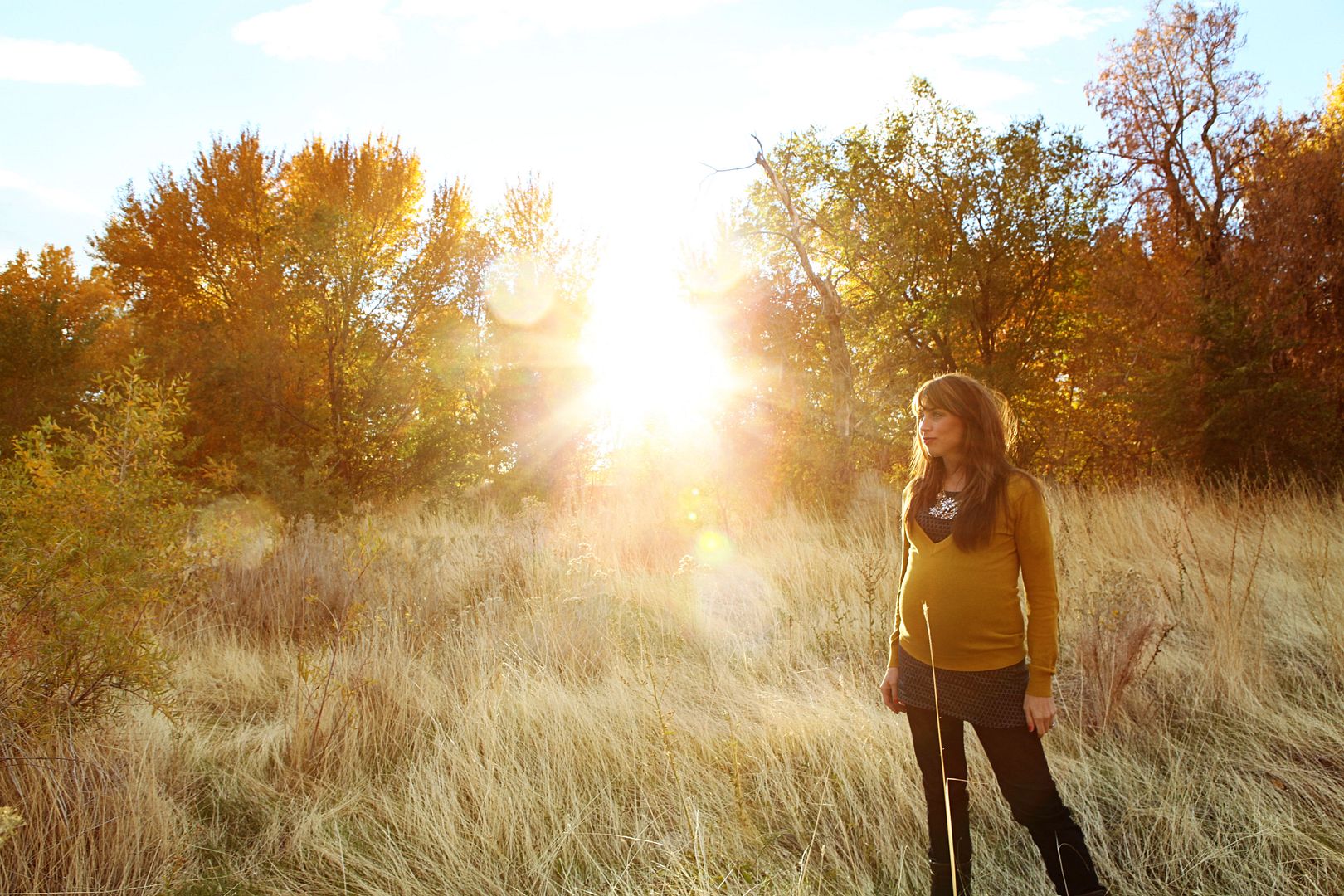 I'm quite certain that I am undeserving of this angel.
That when I think about her at this very moment, despite all the aches, pains & heart burn I'm filled from head to swollen ankles to toe with complete happiness.
I'm quite certain that her name is perfect. But we will have to see once we meet.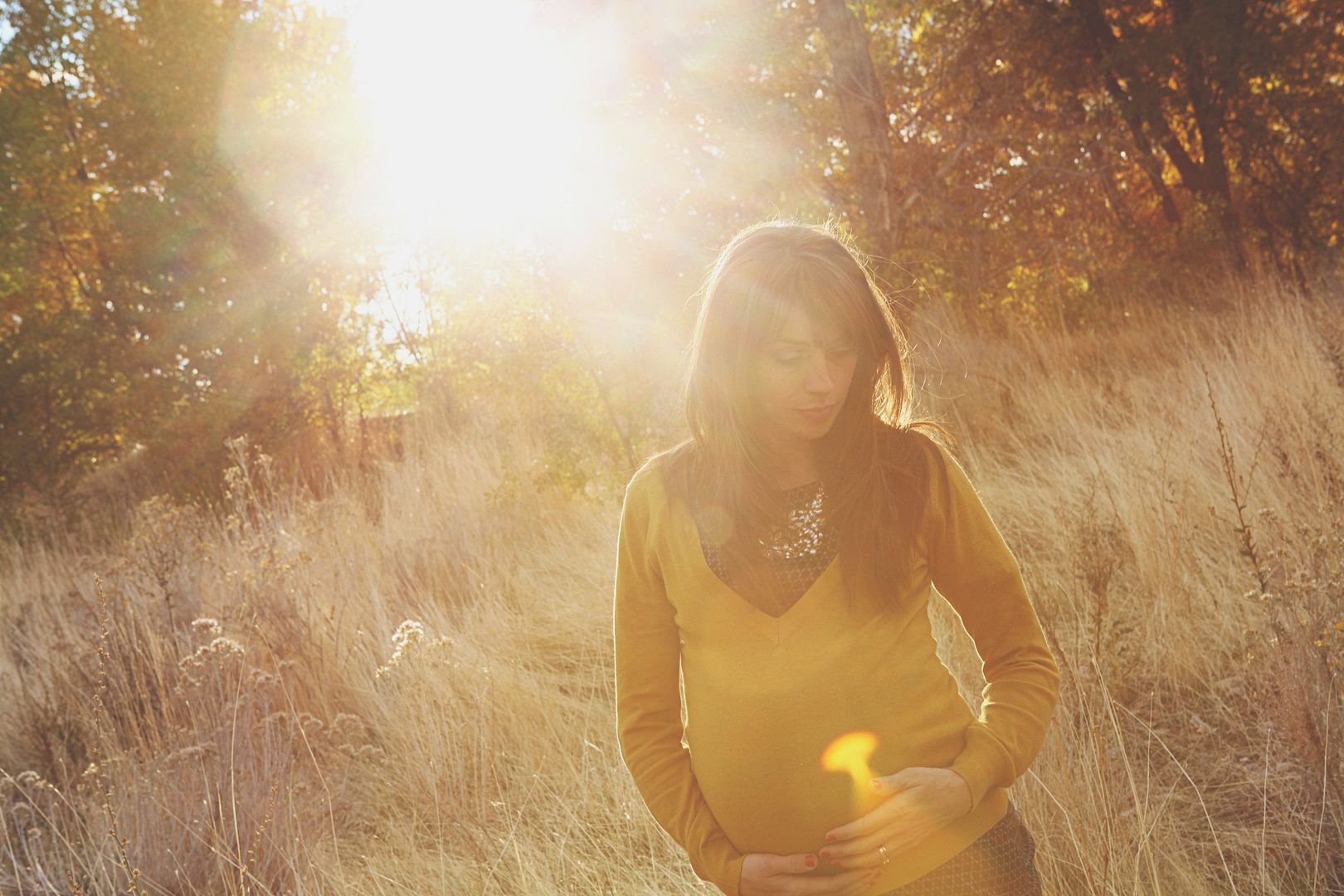 Collin calls it my Dwight Schrute sweater: Forever 21
Just browsed through this free online magazine, Gifted, brought to you from the genius behind Creature Comforts. I loved it so much I had to share it with you. Leaves you anticipating Christmas like crazy. Includes some fun diy projects, party dress outfits & packaging ideas.

Reminds me that I need some striped straws and bakers twine… asap!
PS My Dear Lizzy Christmas line has a bunch of
cute new stuff
in stock. The rose
ruffle ribbon
has rhinestones attached this time around. Love.
PPS I'm glad you enjoyed a good laugh at our
Halloween costumes
. It was fun. Last year we were
nerds
and this year was even more fun. Sadly, Gladys is gone but I'm okay with that. It was weird sharing my makeup anyway.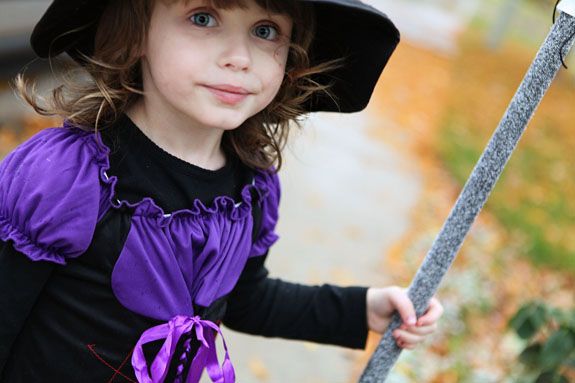 It took Avery about an hour this morning until she asked where her candy was. Candy, what candy? (As I was hiding the kit kat in my hand.) Poor thing did all the hard work last night and here I was reaping the benefits. But this girl doesn't hold her sugar well, so I traded the goods for a chance to watch her favorite movie.
Avery changed her mind a few times of what she wanted to be for Halloween. First, it was Ariel then Strawberry Shortcake, until finally she settled on a witch. My favorite was when I handed her a glittery broom and she replied so excited–"Oh, goody! So I can clean like a witch!"
Quincey fit the part of Minnie Mouse perfectly, posing and prancing around.
Meet Cliff & Gladys: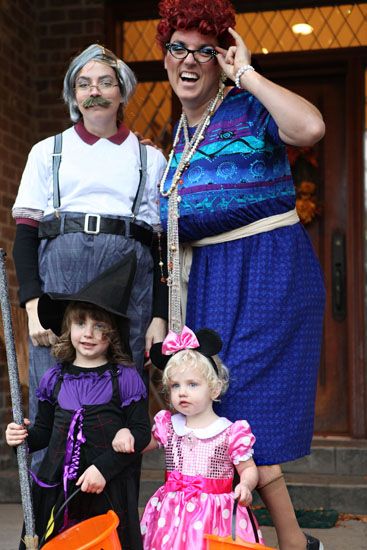 I woke up in an ornery mood on Halloween so my outfit was quite fitting. And if I didn't already feel not very cute at the moment… why not make it worse and be an old fart named Cliff with a comb-over and mustache? Good thing I have my saucy wife named Gladys to lift my spirits! Collin played the part the whole night. We were laughing so hard… and I continue to laugh every time I see these pictures.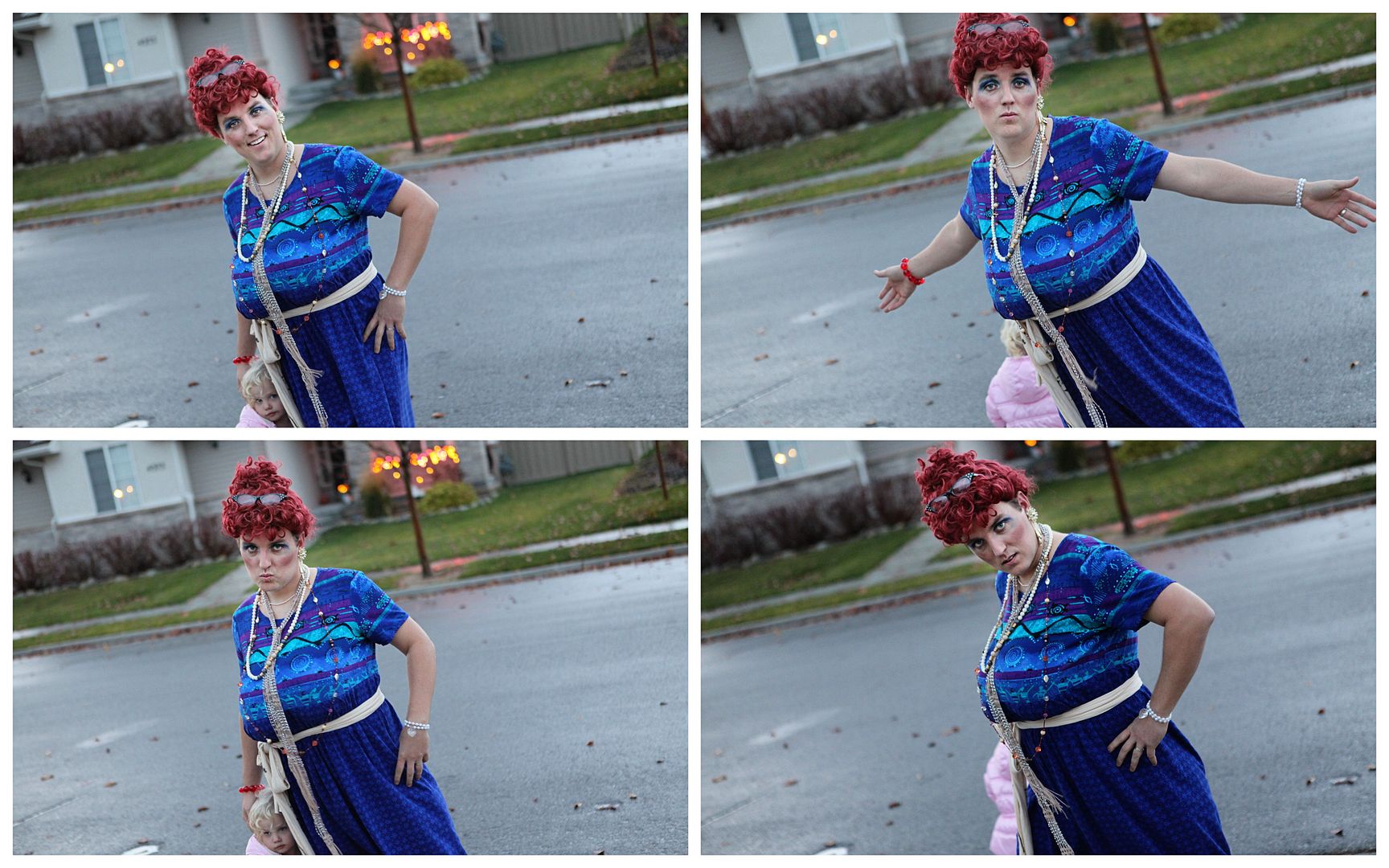 It's just not right.
Oh my.
I wasn't kidding about the snow we woke up to on Tuesday. The only 2 people left smiling in our home were Q&A. Oh, make that three including the pumpkin with his blingin' tooth.
Thank goodness it melted in a few hours.
Your costume suggestions were great. I
think
we figured out what we are going to be… just need to pick up a couple pieces for it.
Some of you might remember the costume cookies I posted about last year for Halloween. I am preparing some roll-out sugar cookie dough again so we can make these with our cousins tomorrow. I used a knife and hand-cut designs & then pushed in some sucker sticks before baking them.
As if sugar cookies couldn't get any better in my eyes, Cookie magazine tempts me into making costume cookies for Halloween! I love this idea because, hey, I love any excuse to eat frosting
and I like being a dork. Which is how you feel when you make your husband hold up a mustache cookie while you hold up a scary tooth cookie.
After doing a little research I need to order these cookie cutters for next year: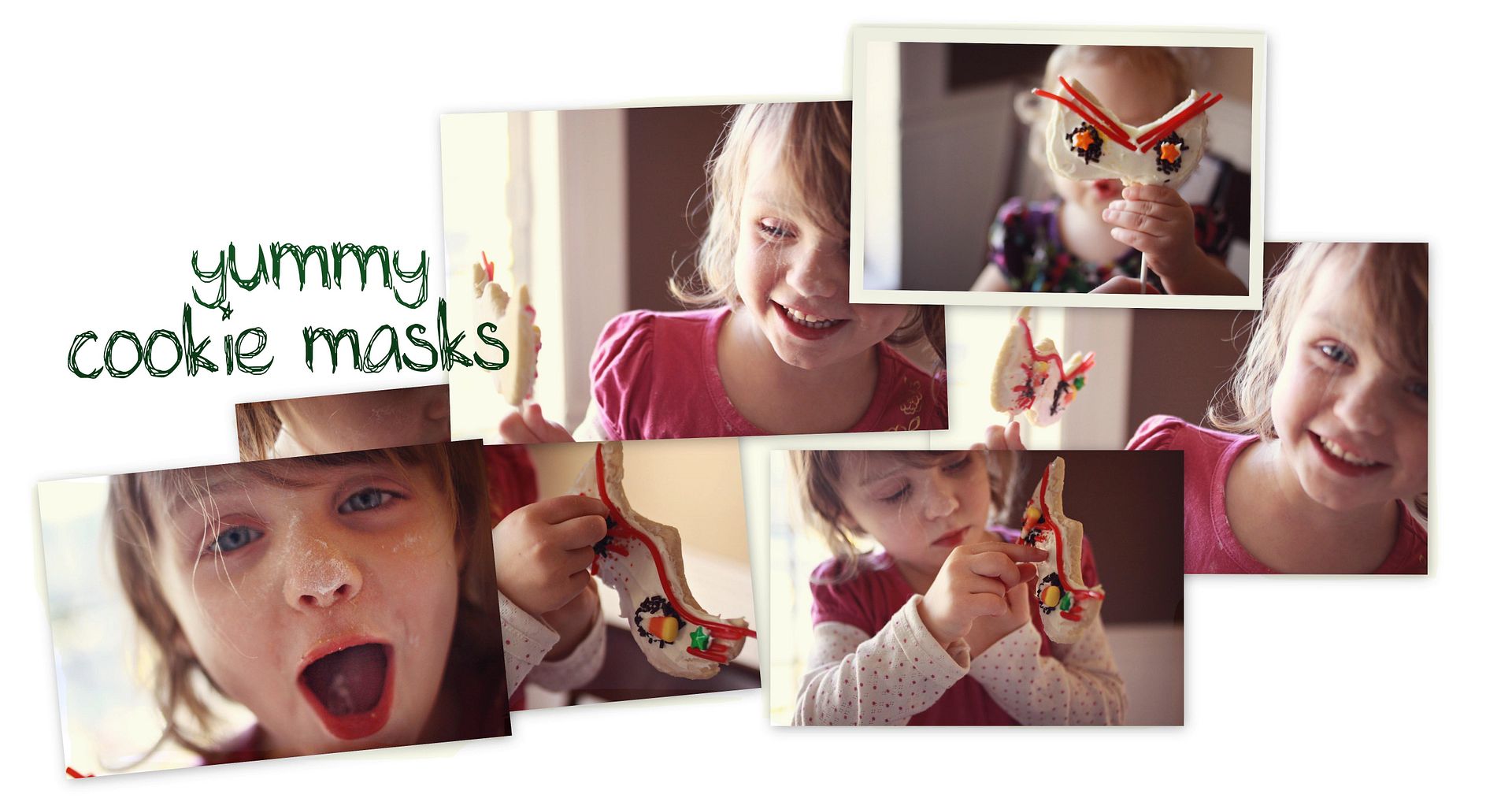 Just a quick page to share on this snowy, autumn day. That doesn't sound right? Yep, we woke up to a few good inches of that fluffy white stuff.
I made this page a bit ago and added some of my Dear Lizzy
lace paper
& a
ticket
sticker from my Enchanted collection. I am so thrilled to finally have some of the
lace paper
to design with!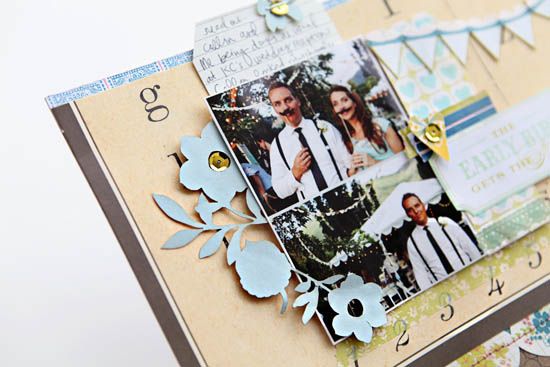 I had to laugh when Collin asked where the journaling was on my page… which is hidden behind the photos. I guess that means he really does enjoy reading the gushy stuff I write about him!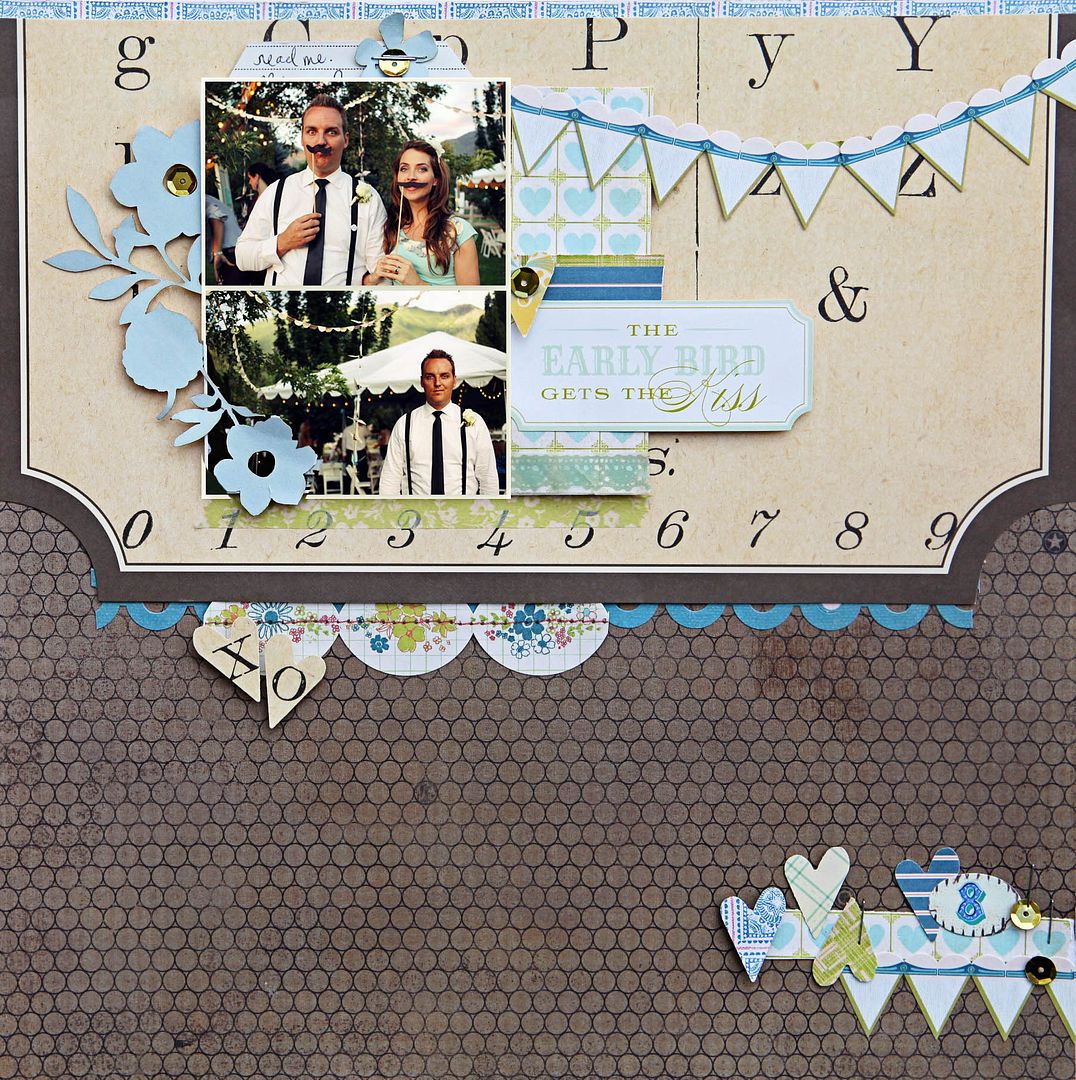 Basic Grey: Kraft paper with
circles
Misc: Staples, Sequins
Getting in the spirit of Halloween around our home. Which means I need to finish my spooky tree using my
Girls' Paperie
… I told you I adore these
crepe flowers
!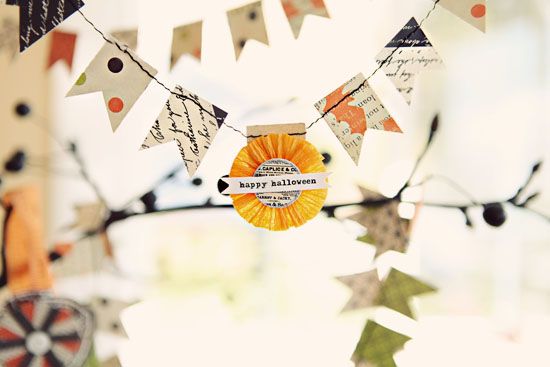 We have 2 of our 4.5 costumes ready. Collin & I are trying to figure out what we can dress up as this year. Collin suggested we paint a pumpkin on my tummy… now that's pretty much the scariest costume I've ever heard of.
So, really, any ideas for a preggo momma? I was going to take a year off but what's the fun in that?
I'm not the only one carrying around a pumpkin… this girl carries hers around all day since Saturday when she found the perfect one. She pretty much loves it. Perhaps because it's just her size.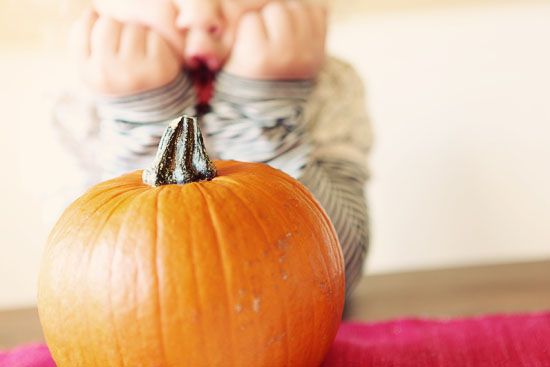 Despite the fact that the kids have been sick all weekend they've still been surprisingly chipper. Which is sooooooooo nice. Much better than sick + grumpy.
We've kept it low key around here and just hung out cozied up indoors. A little football, a little baking, a little crafting & a lot of
snuggle time
laziness.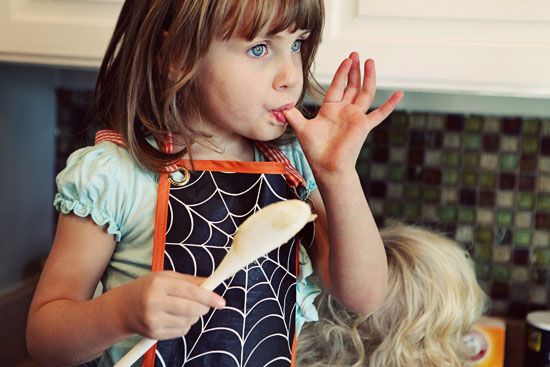 Hope you had a nice weekend & are enjoying getting ready for Halloweeeeeen.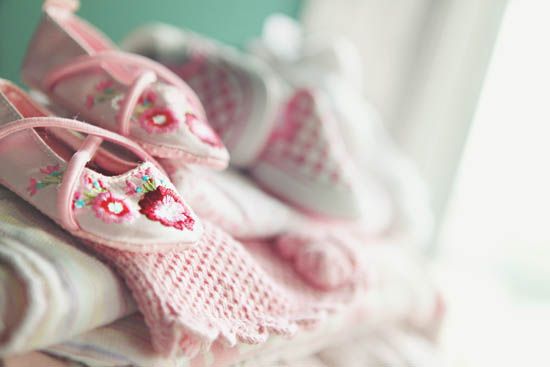 I braved the dark, cold storage in the basement to bring up the baby bins full of pink onesies & blankeys to wash and organize.
As I pulled out each item of clothing so many memories emerged.
Some worn by both girls, some by just one but each have a memory attached.
A first smile, a first giggle, sleepless nights and early mornings together. I can remember Collin holding Avery while watching a Yankees game & teaching her all about baseball or singing lullabies or
with Quincey
what seemed like
endless crying.
I can remember feeling desperate & exhausted but happy & fulfilled.
Remember moments when I felt so overwhelmed with gratitude for my own mother & wanted to call her right then to thank her for all she'd ever done for me… although 3 am didn't seem like the opportune time.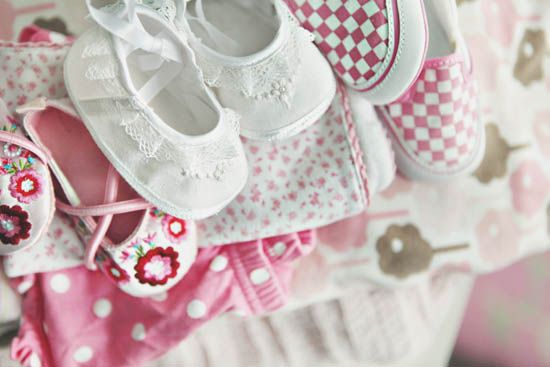 Grateful for a friend's perfect advice yesterday who assured me that it'll take time but I'll get into the swing of what my new 'normal' is. That was exactly what I needed to hear.
(Thanks Rhonna & Happy Birthday!)
Looking ahead at more laundry, more pictures, more love.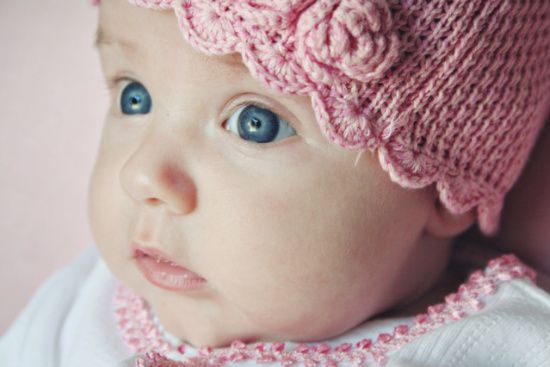 Not only did I dig through bins of baby clothes but also my hard drive to find these pictures of little Avery. That little nose kills me.
If this little baby could have talked then she would warn me about year 2 when she begins the tantrums and dramatics… & enjoy year 4 with all her singing and movie quoting.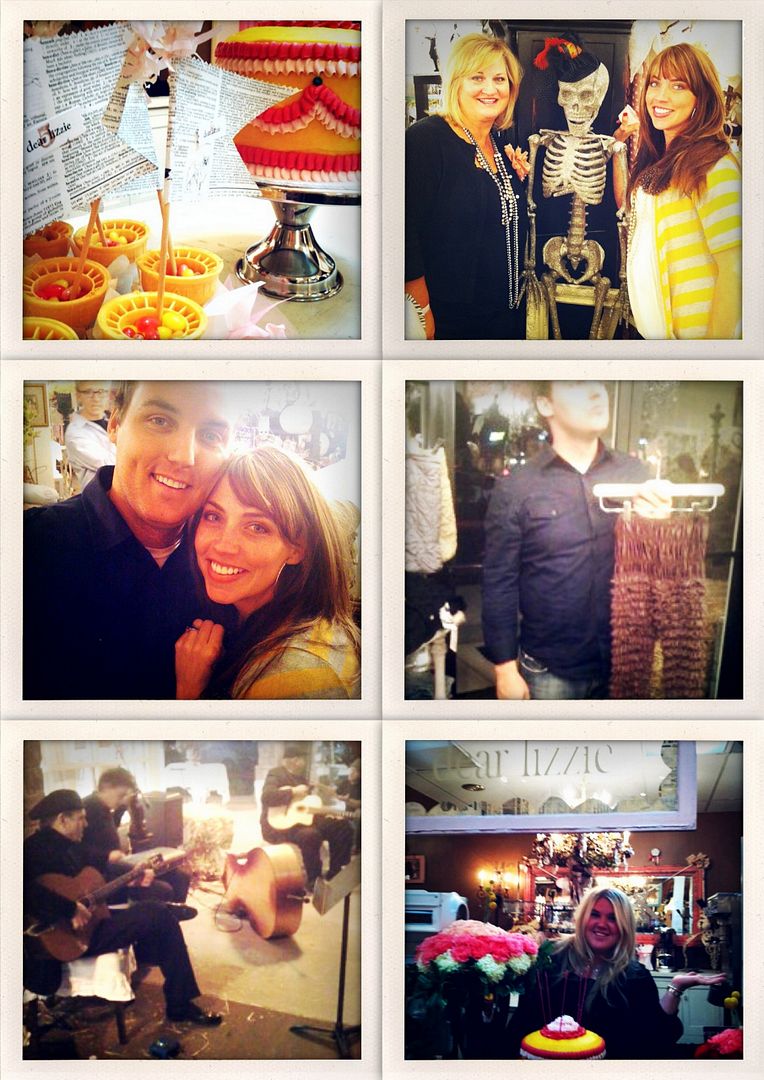 Digging deep for whatever self-control I can find to avoid eating my leftover piece of cake from last night… because first this baby needs a nutritional breakfast. But that doesn't mean it won't make a delectable afternoon snacky.
Last night we went to Dear Lizzie,
the cutest boutique & bistro I've ever stepped these swollen ankles into,
for their 5 year Birthday Gala. Collin came with me, with the understanding that there would be sweets & boy there was!
Not to mention a live band & of course shopping shopping shopping! I talked him out of those lace pants-thank goodness!
Needless to say, Laura
and her wonderful side kicks dazzled us like they always do!
Thanks Margie for the photos…! I'm definitely going to cover a skeleton with glitter this weekend. Hello Modge Podge!