"Here we goooooooooo!!!" Said like Peter Pan, of course. Which is quite fitting since we are off to Disneyland! That's right people. The kind of vacation where you are more exhausted when you get home. But you don't complain because… it's Disneyland. I will be eating my share of churros, pushing a sexy double stroller, and taking pictures of my kids standing by adults dressed in giant mouse costumes. Collin is already planning out the Splash Mountain pose for the pic. He wanted to be reading a book, or pouring a bowl of cereal… I'm scared.
Last night, I couldn't sleep because I had taken a non-drowsy allergy pill and earlier I drank a Diet Coke. This must have been a toxic combination. I was still going strong to the wee hours of the morning. But I'm glad because now I have this little book and what do I have to show for our last Disneyland trip? Nothun.  I haven't done anything with my pictures. This trip I am prepared with 4 cameras. This isn't a joke. : ) I don't want to lug my slr around everyday so I have some smaller options. Clearly, I am determined to document our time togetha. I grabbed some of my favorite supplies for a travel art kit.
Starting with Kraft Cardstock I used my Cameo and cut quite a few pages with one or two words on each.
Then I added some elements to about 5 of the pages. So they are ready to go. I am mostly going to add Instax to the album and possibly some Instagrams.
I spray painted the coils with gold metal paint and used my Bind-It-All to put it together.
The only adhesive I packed is my Glossy Accents since it is tiny.  And it's my favorite adhesive for the wood accents. Can you tell I am obsessed with SC's veneer pieces??!! Just slightly.
Also packed the least deadly scissors I own. The memory marker is perfect because I will use it for journaling & to stamp with my Dear Lizzy roller date stamp.
I painted my cloth bag with neon pink using a stencil. And I put together two journals for the girls. Because we have a 12 hour drive ahead of us…!
The striped paper is one of my favorite papers from my Neapolitan line and the little bow is too.

Everything fits perfect into my bag. I might even squeeze my Tim Holtz Tiny Attacher in there too.
Also, here is the Kid's Art journal kit I put together last year for our Lake Powell trip. Which had a lot more down-time and worked out great!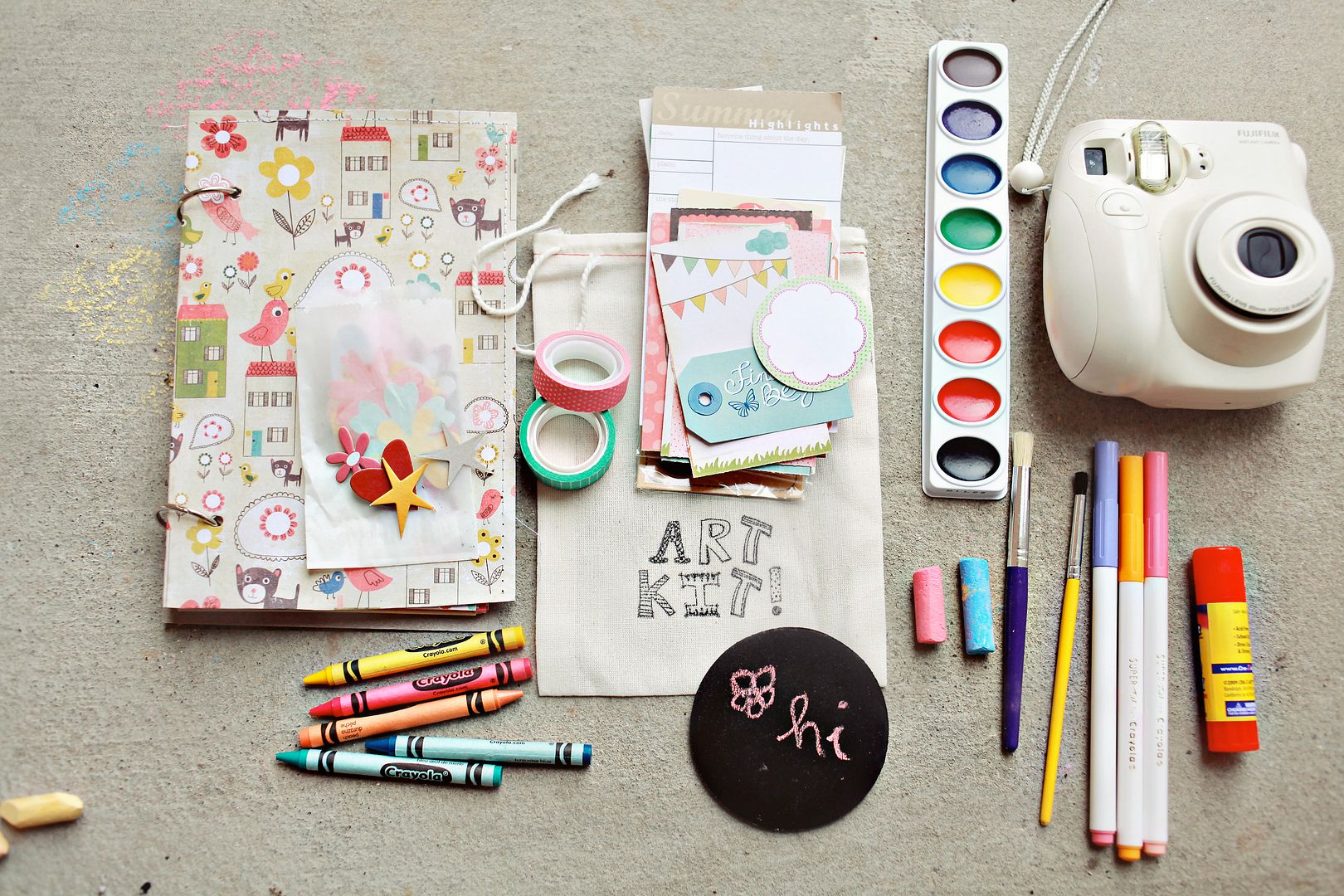 Leaving in an hour… gotta go pack!
xo, Lizzy
Click on the images to check out the supplies: